The year is off to a slow start for deals activity in the automotive sector.
Deals activity by geography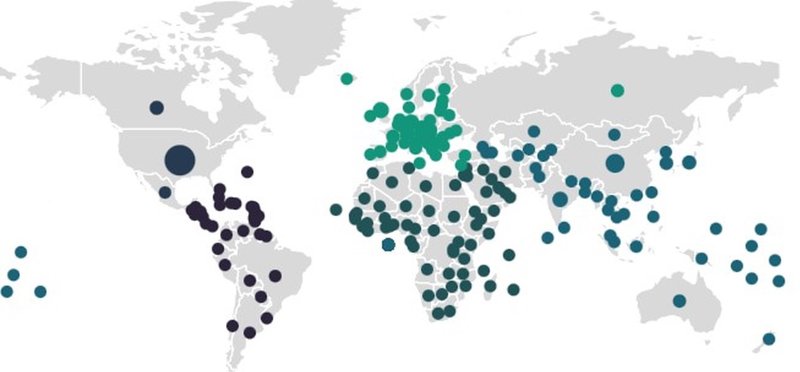 The year is off to a slow start. Deals activity, as tracked and measured in GlobalData's deals database, is down this year – measured by both value and the volume of deals – in the major regions of North America, Europe and Asia-Pacific.
So far this year, North America leads on the value and volume of deals in the automotive sector.

Deals activity by theme
Deals activity in automotive grouped by major thematic categories shows that activity is centred in areas of advanced and emerging technologies that are especially relevant to this vertical – especially batteries (electric vehicles) and the Internet of Things (connectivity which includes in-car e-commerce).
There are also strong showings for AI, robotics and digitalization – technological themes that will be shaping the long-term outlook for the industry's participant companies. Much of this activity has been in the supplier area of the industrial supply chain, but this year is seeing a strong showing for vehicle manufacturing and 'future mobility'.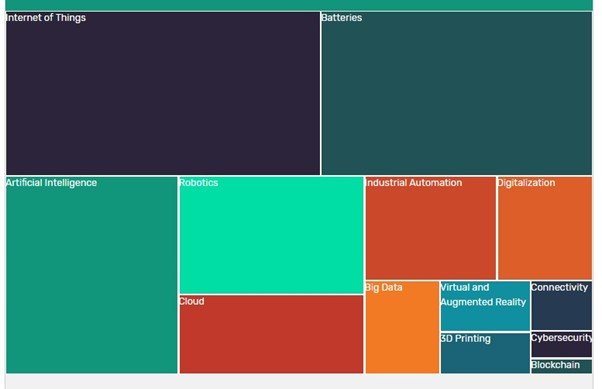 Deals by sector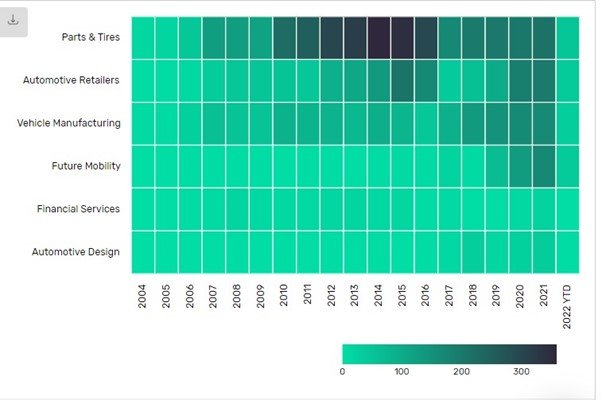 Note: All numbers as of 23 March 2022. Deals captured by GlobalData cover M&As, strategic alliances, various types of financing and contract service agreements.
For more insight and data, visit GlobalData's Automotive Intelligence Center
Latest deals in brief
SK acquires US EV charging company EverCharge
South Korean SK E&S acquires EverCharge, a US manufacturer of electric vehicle (EV) charging equipment based in California. EverCharge operates 4,600 EV charging stations.
BMW takes over Alpina
The BMW group and Alpina Burkard Bovensiepen have reached an agreement which they said would "secure the long-term future of the brand". BMW Alpina vehicles are pre-assembled on BMW production lines before final assembly of the vehicles in workshops in Buchloe.
Denso to acquire stake in planned TSMC chip plant
Japanese automotive components manufacturer Denso Corporation plans to acquire a minority stake in a new semiconductor manufacturing partnership between Taiwan Semiconductor Manufacturing Company (TSMC) and Sony Semiconductor Solution Corporation.
BYD signs strategic MoU with UzAuto
BYD likely sees the partnership with a local OEM possessing established distribution networks as key to higher future sales in central Asia.
Harman acquires Apostera
Samsung Electronics subsidiary Harman has acquired Apostera, a German automotive technology company. Harman said Apostera's augmented reality (AR) and mixed reality (MR) software products would expand its automotive product offerings and "position the company at the forefront of automotive AR/MR experience design".
Valeo to hold 100% of Valeo Siemens eAutomotive
Valeo has signed an agreement for it to hold 100% of Valeo Siemens eAutomotive. Integration of Valeo Siemens eAutomotive within Valeo's Powertrain Systems Business Group, will be after 1 July 2022.