Renault's
e-mobility boost
WAR IN UKRAINE DECIMATES AUTOMOTIVE MARKET FORECASTS AND DISRUPTS SUPPLY CHAINS
The largely unexpected invasion of Ukraine by Russia which began at the end of February is first and foremost a humanitarian crisis, but its effects have had major impacts for economies and generated negatives and uncertainties for industrial sectors, including automotive.
Western sanctions have prompted Western automotive brands to cease trading in parts and finished vehicles with Russia and disrupted supply chains have also led to indefinite suspensions of manufacturing activity at vehicle manufacturing plants in Russia.
Looking at companies, data from GlobalData's Light Vehicle Sales Forecast shows that Russia's local automakers including Lada (AvtoVAZ), UAZ and Gaz carry the greatest exposure, earning 92.2%, 89.5% and 86.7% of their sales from the country respectively. Clearly, these players are not going to stop sales in their home country, but they are likely to struggle to secure the parts and components they need if more auto companies opt to halt or limit sales in Russia. Lada's parent AvtoVAZ is around 68% owned by Groupe Renault and could face significant difficulties if its French partner was to pull out.
On the international stage, budget brands Skoda and Dacia carry relatively high exposure to Russia thanks to their popularity in the country. Both OEMs sold around 90,000 vehicles in Russia in 2021, accounting for 10.7% of global Skoda sales and 10.2% of global Dacia sales – making Russia the second-largest single market for both.
Supply chain disruptions – on top of existing semiconductor issues – have been a consequence of disrupted parts supply (such as wiring harnesses) from suppliers in Ukraine, impacting vehicle manufacturing factories in Western Europe.
The global economy is also being negatively impacted by upward pressure on energy prices, on top of other headwinds. Top-line sales forecasts have been revised down by analysts, with major geopolitical uncertainties presenting downside risk for vehicle market outlooks this year and next. LMC Automotive has cut its European light vehicle market outlook by 9% or 1.8 million units to 16 million (sown 4% on 2021). Much if the cut so far has been to the Russian and Ukrainian market forecasts. The light vehicle market forecast for Russia this year has been halved to around 700,000 units, with the real possibility that it will be reduced further.
Similarly, a negative economic background has also prompted a reduction to LMC's US light vehicle market forecast for this year; it has had 600,000 units removed and now stands at just 15.3 million (just 2.6% ahead of last year).
The global light vehicle market is forecast to reach 83 million units this year, still well under pre-pandemic levels (2019 was 90 million). A look at the seasonally adjusted annualised rate (SAAR) of sales in the global market by month shows how a sales constrained market has struggled through 2021 with a dip also evident in February 2022.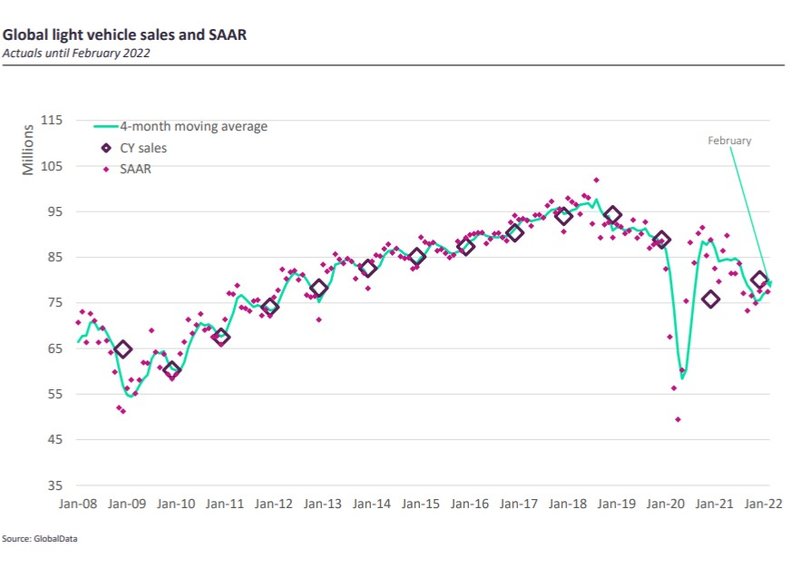 FORD RAMPS UP E-MOBILITY PLANS FOR EUROPE
Ford has announced a range of actions to boost its electric vehicle strategy for Europe to 2026. The latest plan includes new all-electric models and Ford maintains it paves the way for a 'thriving EV business in Europe, while also making a positive contribution to society and reducing emissions in line with the Paris Climate Agreement'.
The Ford Europe announcement builds on the recent news that Ford has created distinct global business units to focus on its ICE and EV businesses. "This is why we have created Ford Model e – allowing us to move at the speed of a start-up to build electric vehicles that delight and offer connected services unique to Ford and that are built with Ford-grade engineering and safety," said Jim Farley, Ford president and CEO.
Ford has also reaffirmed its intention to deliver a 6% EBIT margin in Europe by 2023 and a company EBIT margin of 10% by 2026.
Under the latest plan, Ford is introducing seven new electric vehicles to be built in Europe by 2024 – three new passenger vehicles and four new commercial vehicles.
Ford is increasing the planned production of electric vehicles at its European EV manufacturing hub – Cologne – to a cumulative 1.2 million units over six years. The investment includes a new battery assembly facility scheduled to start operations in 2024. Ford expects its annual sales of electric vehicles in Europe to exceed 600,000 units in 2026 (and 2 million globally).
On the car side (business unit 'Ford Model e') Ford plans two electric vehicles to be built in Cologne – the first a medium sized cross-over, starting in 2023. A second electric vehicle, a sports crossover, will be built in Cologne, starting in 2024.
In addition, the Romanian-made (Craiova plant) Ford Puma will get an EV variant in 2024.
Ford has also signed a non-binding MoU with SK On Co., Ltd. and Koç Holding to jointly create one of Europe's largest commercial vehicle battery production facilities in Turkey. It is planned that the joint venture will be located near Ankara and will manufacture high Nickel NMC cells for assembly into battery array modules. Production is intended to start mid-decade with an annual capacity likely to be in the range of 30 to 45 Gigawatt hours
VW PLANS NEW WOLFSBURG EV PLANT
Volkswagen has announced a new factory for the Trinity electric model would be built close to the main plant in Wolfsburg at a cost of EUR2bn. The supervisory board approved the new factory which, the automaker said, "is a key component of the largest modernisation programme in the history of Volkswagen's main location".
Construction in the Warmenau district of Wolfsburg is to begin in spring 2023. The net carbon-neutral Trinity model is due to roll off the assembly line from 2026.
The decision to build the new factory on a greenfield site was preceded by an analysis of several options, including an intensive review of the feasibility to locate Trinity production within the Wolfsburg plant. Apart from higher efficiency in the medium term, factors favouring the construction of a new factory in Warmenau include in particular the fact that this option does not disrupt ongoing series production or ramp-ups of important models such as the Tiguan and Tayron or the Golf facelift scheduled for the coming years.
GAC claims 'graphene-based' fast-charging battery breakthrough
Guangzhou Auto (GAC) Group says it has achieved a breakthrough in graphene-based fast-charging battery technology and that its vehicle model Aion V will be equipped with the new battery, which is to start production in September.
GAC says that in recent years, graphene, a new material with excellent electrical conductivity, has been the key to breakthroughs in battery technology.
Aion V, the first vehicle to be equipped with the new battery, underwent winter testing and is initially scheduled for mass production in September this year.
At the "2020 GAC Tech Day" held last July, GAC Group demonstrated its 3DG (three-dimensional graphene) production technology with independent intellectual property rights, solving the issue of high costs of graphene, it is claimed. It says the simple, stable, and efficient production method reduces costs to only one-tenth of the conventional method.

After achieving low-cost and large-scale production of graphene, GAC Group says it has also made major breakthroughs in the downstream application of its use. Among them, the electric vehicle industry is most interested in the graphene-based super-fast-charging battery. This graphene-based battery has a 6C fast charge capability, combined with a 600A high-power charger, can be recharged to 80% capacity in 8 minutes. GAC says the battery has also passed the most stringent safety test - Battery Shooting Test, possessing quality and reliability of the highest standard.
GAC says the graphene-based battery technology will significantly shorten charging time, as well as greatly extend battery life, solving the current "pain points" of pure electric vehicles.
VW 'Project Trinity' car to lift EV/AV strategy
Volkswagen says it is planning an electric car to be built in Wolfsburg from 2026 that will set new standards in terms of range, charging speed and digitization – and will be able to drive highly automated according to SAE Level 4.
The project for the car is named Trinity and stands for three crucial themes: (1) a newly developed electronics platform, (2) the simplification of the supply structure, and (3) fully networked and intelligent production at the main plant in Wolfsburg.
"Trinity is a sort of crystallization point for our 'Accelerate' strategy, a lighthouse project, our software dream car," says Ralf Brandstätter, CEO of the Volkswagen brand. VW says the newly developed vehicle architecture will set standards in terms of range, charging speed ("charging as fast as refuelling") and digitalization.
In addition, VW claims Trinity will make autonomous driving in the volume segment possible for many people. By the planned start of series production in 2026, VW says Trinity will already reach Level 2+ and be technically ready for Level 4. "We are using our economies of scale to make autonomous driving available to many people and to build a learning neural network. In this way, we are creating the conditions for the continuous exchange of data from our vehicle fleet – for example, on the traffic situation, on obstacles or on accidents," says Ralf Brandstätter.
VW claims that Trinity gives people time and saves them stress. After a long highway trip, for example, you arrive at your destination relaxed 'because you have been driven by a chauffeur to your vacation or to your home after work'.
"Trinity therefore becomes a kind of 'time machine' for our customers," says Ralf Brandstätter.
With the production of the series version, the Wolfsburg plant will become a showcase for an intelligent and fully networked production processes, VW says. "We will completely rethink the way we build cars and introduce revolutionary approaches. Digitalization, automation and lightweight construction play an important role here," says Ralf Brandstätter.
VW maintains that future vehicle models such as Trinity will be produced with considerably fewer variants, and the hardware will be largely standardized. The cars will then have virtually everything on board and customers will be able to activate desired functions "on demand" at any time via the digital ecosystem in the car. This will significantly reduce complexity in production, the company says.
By developing the automobile into a software-based product, Volkswagen says it is creating the conditions for new, data-based business models. Entry barriers to individual mobility are to be lowered while at the same time offering 'even more attractive usage packages'.
Volkswagen intends to generate additional revenue in the usage phase – for charging and energy services, for software-based functions that customers can book as needed, or for automated driving. "In the future, the individual configuration of the vehicle will no longer be determined by the hardware at the time of purchase. Instead, customers will be able to add functions on demand at any time via the digital ecosystem in the car," says Ralf Brandstätter.
VW says that all-electric vehicles are expected to exceed 70% of European and 50% of Chinese and US sales volumes by 2030.
Half Daimler suppliers commit to carbon neutral
Almost half of about 2,000 Daimler suppliers have signed an Ambition Letter of Intent and are committed to supplying only CO2 neutral parts, said Gunnar Guethenke, head of procurement and supplier quality for Mercedes-Benz Cars.
Under its 'Ambition 2039' plan, Mercedes-Benz wants to offer a CO2 neutral new car fleet in less than 20 years. The switch to electric mobility poses supply chain challenges because, compared to ICE vehicles, the production of an all-electric is twice as CO2 intensive, mainly because of the lithium-ion batteries. But, despite the higher energy demand for production, plug-in hybrids and electric vehicles offer a clear advantage in terms of CO2 emissions compared to conventional drives already today, since only when the entire life cycle of the vehicles is considered a realistic picture emerges: electric vehicles can make up for a large part of the initially higher CO2 emissions from the upstream value chain due to their emission-free driving.
R&D head Markus Schaefer said: "With the electric EQS luxury sedan, we have already achieved important milestones in close cooperation with our partners - for example by purchasing CO2 neutrally produced battery cells.
"When awarding contracts for our subsequent electric vehicle platform - Mercedes-Benz Modular Architecture (MMA) for compact and medium-sized cars - we are already applying CO2 as a key criterion."
The automaker said it was talking with all other suppliers to jointly develop strategies for CO2 reduction.
Climate-neutrality is incorporated into contractual terms, and the ambition letter is a key criterion for awarding contracts. From 2039 at the latest, only production materials which are completely CO2 neutral will be purchased and any supplier declining to sign the ambition letter will not be awarded new contracts.
Mercedes-Benz will additionally focus on materials and components that are particularly CO2 intensive in manufacturing and processing until 2039 - items such as battery cells, steel, and aluminium which account for about 80% of the CO2 emissions in the supply chain of a fully electric vehicle.
CATL (Contemporary Amperex Technology) and Farasis Energy have committed to supply battery cells that are produced using electricity from renewable sources such as hydropower, wind, and solar energy. This reduces the CO2 footprint of an entire battery by more than 30%. The rest of the supply chain will be included next.
The goal is to consistently reduce the use of primary raw materials for electric drives by 2030 and gradually increase the share of secondary and renewable materials in vehicles.
Mercedes-Benz plants, including the global battery production network, will produce on a CO2 neutral basis worldwide from 2022. This will make them role models for the supplier network. In line with plant procedure, suppliers are required to avoid and reduce emissions as a fundamental principle. Only then can compensation via high-value projects be considered. The areas of approach for climate-neutral production are diverse, and range from reducing consumption to purchasing energy from renewable energy sources.
The company aims to have plug-in hybrids or all-electric vehicles to make up more than 50% of its car sales by 2030. Other major goals include involvement in shaping the charging infrastructure and agreeing to specific CO2 measures with suppliers.
Tesla opens Berlin factory
Tesla has finally opened its delayed Berlin manufacturing plant, a move that secures a major capacity expansion for the company. The first German-made Tesla cars to be delivered were Model Y models. When fully operational the plant will employ around 12,000 people and is Tesla's third major global plant – the other two being in the US and China. GlobalData forecasts that Tesla production globally will around 2.5 million units a year by the end of the decade – comparable with BMW and Mercedes-Benz.
Nissan to build two new EVs in Mississippi
Nissan's US unit has said it will "transform" its Canton assembly plant in Mississippi into a centre for US EV production, starting with two new BEVs. The investment in EV production will total US$500m, "preserving and upskilling nearly 2,000 jobs", with production expected to begin in 2025. The announcement is part of Nissan's so-called Ambition 2030 plan, calling for 23 electrified models for the Nissan and Infiniti brands globally, including 15 BEVs, by 2030.
Autoliv to collaborate with Polestar on 'climate-neutral car'
Autoliv has announced its intent to collaborate with Polestar in its 'Polestar 0' initiative. The goal is to develop a truly climate-neutral car by 2030. The "Polestar 0" project unites companies across the automotive supply chain to leverage innovation and collaboration to address the climate crisis and change the view of how to manufacture cars in a sustainable way. The collaboration is in line with Autoliv's commitment to be the first automotive safety supplier to become carbon neutral in its own operations by 2030 and aim for net-zero emissions across its supply chain by 2040.

General Motors ups investment in Cruise
General Motors is committing more funds to the autonomous rideshare startup, Cruise. GM is to acquire SoftBank Vision Fund 1's equity ownership stake in Cruise for $2.1 billion and separately will make an additional $1.35 billion investment in Cruise, replacing a previous commitment made by the fund in 2018. GM acquired a majority ownership stake in 2016 and maintains that Cruise has made 'self-driving cars a reality and is a leader on the pathway to commercial autonomous ridesharing and delivery, creating significant value for both GM shareholders and Cruise's minority shareholders.
Hyundai targets 1.87m annual BEV sales by 2030
Hyundai Motor Company is planning to spend KRW 19.4 trillion ($16.1bn) and targeting annual sales of 1.87 million BEVs by 2030 in a ramp-up of its electrification strategy. Hyundai Motor has raised the annual BEV sales target to 1.87 million units by 2030 from previously announced 560,000 units by 2025. The company aims to take 7% market share in the overall global BEV market. The company is planning to introduce 17 new BEV models by 2030; 11 for Hyundai models and six for the Genesis luxury brand. It also said it will boost BEV production capability centred on high-demand regions and that it is considering a new dedicated BEV production facility.