In the news: Toyota and Subaru to jointly develop EVs and electric SUVs
Toyota and Subaru are again to develop a vehicle jointly but this time it's a battery electric SUV and not a niche sports car.
Overall
Toyota and Subaru have agreed to jointly develop a platform dedicated to battery electric vehicles (BEVs) for midsize and large passenger vehicles and to jointly develop a C-segment-class BEV SUV model for sale under each company's own brand.
"By combining their respective strengths, such as the all-wheel-drive technologies that Subaru has cultivated over many years and the vehicle electrification technologies that Toyota is employing to bring together other companies that share its aspirations, the two companies intend to take up the challenge of creating attractive products with appeal that only BEVs can offer," Toyota and Subaru said in a joint statement.
Since concluding an agreement on business collaboration in 2005, Toyota and Subaru have deepened cooperation in various fields, including development, production, and sales.
Examples include efforts that led to the start of sales of the jointly developed rear-wheel-drive Toyota 86 and Subaru BRZ in 2012 and the start of sales of Subaru's Crosstrek Hybrid original plug-in hybrid electric vehicle (HEV) in the United States, to which was applied knowledge related to Toyota's HEV technologies. Subaru's US plant in Indiana also contract-built the top selling Camry sedan for some years.
"The automotive industry is in the midst of a once-in-a-century period of profound transformation," the statement added.
"Starting with responses to the new CASE domains of car connectivity, autonomous or assisted driving, new mobility or car-sharing, and electrified powertrains and components, both Subaru and Toyota are required to conduct technological development with a sense of speed across a broader-than-ever spectrum of initiatives.
"Building on their collaborative ties thus far deepened, the agreement announced today represents a new area of collaboration that especially focuses on the urgent need to respond to CASE's 'E' domain, or electrified powertrains and components.
"In addressing vehicle electrification, due to significant variation in the energy situations of each country or region and in government policies, as well as due to resulting differences in environmental regulations, in the stages of infrastructure preparation, and in market needs for electrified vehicles, efficient and speedy development of appropriate products is a must.
"Furthermore, the commercialisation of BEVs requires the use of large-capacity batteries, and, along with the popularization of BEVs, demands of a new dimension will be placed on battery supply.
"In addition, stemming from differences in how cars will be used due to maximum cruising ranges and the state of infrastructure construction, sales methods with a new approach will also be needed. These and other issues present a growing number of challenges related to costs, supply, and ways of selling.
"To respond with a sense of speed to the diversifying needs of these markets and to multiple challenges, both Subaru and Toyota believe that it is necessary to pursue a business model that goes beyond convention, crossing over industrial boundaries together with various types of other entities that share their aspirations.
"As a first step in this direction, while accelerating productization by bringing together technologies that represent each company's strengths and cooperating where possible, the two companies will jointly develop a BEV-dedicated platform. The platform will be developed in a way that will make it broadly applicable to multiple vehicle types, including C-segment-class and D-segment-class sedans and SUVs, as well as to efficient development of derivative vehicle models."
While Toyota has led in technologies for hybrid and fuel cell vehicles, it has trailed behind rivals such as Nissan Motor, Volkswagen and Tesla in bringing fully electric vehicles to showrooms.
As the smallest of Japan's major automakers, Subaru is struggling to independently invest in and develop lower-emission vehicles and on-demand transportation services widely seen as necessary to survive technological upheaval in the global auto industry.
It is also struggling with a spate of recent production- and quality-related issues, the side effects of rapid growth to keep up with booming for its Legacy sedans and Forester SUV crossovers in the United States, its biggest market.
In the news: SEAT to re-enter China market 'in next 2-3 years'
VW Group says it is expanding its business in China and ramping up plans to add the SEAT brand to its biggest market with a focus on electric cars.
Volkswagen Group China, SEAT and the Chinese auto manufacturer JAC, together form the joint venture JAC Volkswagen, which will continue to drive SEAT's market entry strategy. The Spanish brand aims to enter the Chinese market in the coming two to three years, VW says.
The Spanish brand was withdrawn from the Chinese market in 2014 due to poor sales.
The JAC Volkswagen joint venture was founded in 2017 and focuses on the development, production and marketing of pure battery vehicles. China, VW says, plays a central role in the global transformation of the Volkswagen Group and its decarbonisation program.
VW says that by 2028, more than half of the 22m e-cars planned by the VW Group will be produced in China. The goal is to deliver around 1.5m electrified vehicles, most of them pure e-cars, to customers by 2025.
The joint venture owned R&D centre in Hefei is described as an important pillar in developing future mobility solutions for the Chinese market. It also provides resources for the co-development of battery vehicles and components. The centre is currently under construction and is expected to open in 2021. In addition, JAC and SEAT plan to develop their own platform for smaller e-cars.
Dr. Herbert Diess, CEO of Volkswagen AG and Chairman of the Board of Directors of SEAT said: "In the world's largest market for electric mobility, the close cooperation between SEAT and JAC will allow us to create synergies, which will significantly increase our market coverage. Notably, the smaller electric cars segment is growing rapidly and offers a lot of potential. "
Luca de Meo, CEO of SEAT: "The signing of this agreement is a new step forward in the strategic plan for the globalisation of SEAT. With the introduction of our business in China, we are boosting the future of the company and of electric mobility at the same time. Today, China is the benchmark country for electric vehicles. We aim to be a part of this ecosystem in order to exchange knowledge and make progress in achieving global mobility that is more sustainable."
A Volkswagen spokesperson told reporters that SEAT is set to become a shareholder of the JAC-Volkswagen joint venture by the end of 2019 with at least 1% of the equity. Relaunching the SEAT brand should help the Volkswagen group increase its exposure and market share in the world's largest vehicle market. Industry analysts believe annual sales of new-energy vehicles in China, comprising mainly electric vehicles, will reach 6-7m units by 2025.
Smart City Project enables development of future mobility solutions
In addition to the next steps for the JAC Volkswagen joint venture and SEAT, another agreement was signed to focus on the development of future mobility solutions.
In a smart city partnership with the city of Hefei in the Anhui province, requirements and demand for future mobility in a fully connected city are to be tested and smart mobility solutions will be developed. The strategic framework agreement was signed by Volkswagen Group China and its associated mobility company Mobility Asia, as well as JAC and the government of Hefei.
Dr. Stephan Wöllenstein, CEO Volkswagen Group China: "Volkswagen Group China is already exciting millions of Chinese customers with a wide range of vehicles. With this cooperation, we demonstrate that we are working hard to take a leading role in the field of smart mobility solutions in the Chinese market as well. "
The initiative will give Volkswagen the opportunity to test new technologies, business models and products in a connected smart city environment. The focus of the partnership is the development of autonomous driving. Volkswagen Group China, Mobility Asia and JAC will pool their resources and collaborate on autonomous mobility services, including self-driving vehicles (robotaxis) and autonomous fleet management. In addition, the Smart City partnership includes areas such as ride hailing or car sharing.
Around 8m people live in the city of Hefei, which aims to become a smart city with the help of this partnership.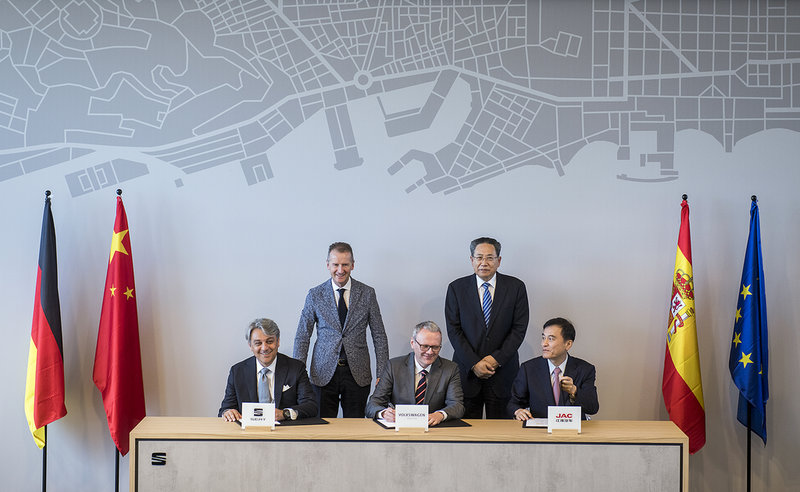 Left to right, SEAT President Luca de Meo, Volkswagen Group CEO Dr. Herbert Diess, Volkswagen Group China CEO Dr. Stephan Wöllenstein, Anhui province Governor Li Jinbin and JAC Chairman An Jin
In the news: Volvo inks decade-long CATL/LG Chem battery deal
Volvo has signed long-term agreements with battery makers, CATL and LG Chem to ensure supply of lithium ion batteries during the coming decade for next generation Volvo and Polestar models.
The agreements cover the global supply of battery modules for all models on the upcoming SPA2 and the existing CMA modular vehicle platforms.
In 2017 Volvo Cars made the commitment all its new passenger vehicles launched from 2019 would be electrified. The company has since stated it aims for fully-electric cars to make up 50% of its global sales volume by 2025.
"The future of Volvo Cars is electric and we are firmly committed to moving beyond the internal combustion engine," said Volvo Cars President and CEO, Håkan Samuelsson.
"The agreements with CATL and LG Chem demonstrate how we will reach our ambitious electrification targets."
CATL of China and LG Chem of South Korea are battery manufacturers, both of which have track records supplying lithium ion batteries to the global automotive industry. In China, battery supply will benefit from the scale of the wider Geely Group.
"With today's agreement we effectively secured our battery supply for the upcoming decade," said Volvo Cars procurement SVP, Martina Buchauser.
"By having two suppliers available in each region we also ensure that we have flexibility in our supply chain going forward."
Volvo Cars' first battery assembly line is currently under construction at its manufacturing plant in Ghent, Belgium.
It will be finalised by the end of this year and the first fully electric Volvo to be built in Ghent is the XC40 small SUV. Already now, plug-in hybrid variants of the XC40 are manufactured there.
The Compact Modular Architecture (CMA) currently underpins the XC40, as well as the fully-electric Polestar 2 fastback and several models sold by Lynk & Co, Volvo's sister brand which it co-owns with Geely.
As of this year, all three models will be built on a single production line at a Volvo-operated manufacturing plant in Luqiao, China.
The upcoming SPA2 architecture is the next generation of Volvo's in-house developed Scalable Product Architecture (SPA) and will be launched early next decade.
SPA currently underpins all Volvo models in the 90 and 60 Series. The first Volvo to be launched on SPA2 will be the next generation of the XC90 large SUV.
Earlier this year, Volvo Cars revealed a number of upgraded and newly-developed electrified powertrain options, to be made available across its entire model range. It has upgraded its existing T8 and T6 Twin Engine plug-in hybrid powertrains, with plug-in options now available on every model it produces.