Vehicle manufacturers gear up for electrification
The battery electric vehicle (or BEV) is what most people think of when the words 'electric car' are used. In some ways the Holy Grail of vehicle electrification advocates, the BEV was a popular alternative at the turn of the 20th century. It was smooth, quiet, emitted no fumes or smoke and was ideally suited for shorter urban travels – unlike its competitors powered by either internal combustion or steam. The invention of the electric self-starter in 1912, however, put petrol-engine cars ahead of the pack – and the rest is history.
Low-speed electric vehicles: not quite
For roughly 80 years, from about 1930 to 2009, the only electric vehicles had been low-speed electric cars, neither capable of motorway speeds nor designed to meet new-vehicle safety standards. The UK licenses them as quadricycles, the US as neighbourhood electric vehicles. While they have four wheels, their top speed is capped at 25-35mph, and their weight at 3,000lbs. They also must have four-wheel brakes, safety glass, a full suite of lights and signals, windscreen wipers, mirrors and seat belts.
They are largely used on closed campuses or industrial estates by fleets and commercial customers, though some retirement communities in temperate regions have built secondary roadways just for these low-speed electrics. In many cases they resemble glorified golf carts, and that's how most civilian users view them – hardly a ringing endorsement for upcoming BEVs.
The year 2009 saw the return of the highway-capable electric car after a hiatus of 80 years. Between 2009 and the end of 2012, Tesla Motors managed to deliver virtually 2,500 fast, sporty, two-seat electric Roadster models − which served essentially as a proof of concept for modern BEVs powered by lithium-ion cells. Its 'Model S' luxury electric sports sedan went into production in mid-2012, and is now sold in North America, Europe, and China.
Mitsubishi, then Nissan
During the summer of 2009, Mitsubishi offered for sale an electric version of its smallest vehicle, with deliveries starting a few months later to beat Nissan to the sales floor.
Mitsubishi has so far done well with its I-MiEV A-segment hatchback model, which it also provides to Peugeot-Citroën for sales under both of those brands. By the end of 2012, it had delivered more than 20,000 battery electric cars.
Higher-volume full battery modern-day electric vehicles went on sale in 2010, most notably the Nissan Leaf, one of a planned series of electric cars from Nissan and its alliance partner Renault. By mid-2014, global sales of the Leaf had crossed into six figures and continued to accelerate each month.
The two alliance companies have staked a considerable amount on the success of their BEVs, and CEO Carlos Ghosn has repeatedly made aggressive projections for the volume of electric vehicles the companies intend to sell by 2020 − though the rest of the industry largely discounts those numbers. He has now back-pedaled on his estimate that the two companies together will build more than 500,000 pure electric vehicles a year in 2015 or before, including commercial as well as passenger vehicles. Nissan remains by far the world's highest-volume electric car maker, however, and will launch several new and updated electric vehicles in 2016 and thereafter.
The year 2009 saw the return of the highway-capable electric car after a hiatus of 80 years.

Many more to come
Virtually every major vehicle maker has shown electric concept cars over the last few years, most adapted from gasoline cars − from electric versions of the Smart ForTwo minicar through the Toyota RAV4 EV, an adaptation of that maker's C-segment SUV.
BMW built a test fleet of several hundred Mini E conversions, and followed it with a like number of BMW 1-Series electric saloons. Both cars provided data to finetune its i3 carbon-fiber electric urban car, launched in 2013 with first deliveries in Europe late that year. The company has said it expects to build perhaps 30,000i3s per year.
There are also "compliance car" BEVs sold by several makers in the US to meet California regulations for sales of zero-emission vehicles. These cars are created solely to meet the regulations, and are not serious offerings in the market, though they are all engineered to production-car standard. They include the Chevrolet Spark EV, Fiat 500e, Honda Fit EV, and Toyota RAV4 EV, as well as (arguably) the Ford Focus Electric.
While we may see a flurry of BEVs as halo cars, production of most of them is likely to be measured in no more than the thousands until 2015 or later − with the notable exceptions of Nissan, Renault, Tesla, and now BMW.
Volkswagen Group moves the dial with a flexible platform
For its electric offensive, Volkswagen Group has said that it plans to spend EUR€20bn to roll out 80 new electric cars across its multi-brand group by 2025, up from a previous goal of 30.
Moreover, it wants to offer an electric version of each of its 300 group models by 2030.
The electric strategy is based on the VW Group's modular electric drive matrix (MEB), a technology platform developed specifically for electric vehicles. Production of the Volkswagen ID, the first series vehicle based on the MEB, will begin in Zwickau at the end of 2019. September 2018 saw Audi unveil the e-tron, its first electric series-produced vehicle.
As VW Group continues to grapple with the challenges and fallout from 'dieselgate', it is aiming to base its corporate strategy on electrification and is aiming for leadership in the field of electrification. By 2025, VW could be selling 25% of its vehicles as BEVs, but is hedging forecasts on how the market develops.
Daimler flips the switch
Other vehicle makers have announced similar plans to add electrified models to their ranges.
Daimler is perhaps notable for developing its electric vehicle strategy explicitly as part of its strategy to address other megatrends such as the shift to car sharing and driverless operation.
Daimler says its new generation of electric vehicles will be based on an architecture developed specifically for battery-electric models, which is scalable in every respect and usable across all models: the wheelbase and track width as well as all other system components, especially the batteries, are variable thanks to the modular building-block system. The vehicle concept, Daimler maintains, is optimised to meet every requirement of a future-oriented, battery-electric model family. The electric vehicle architecture builds on a multi-material mix of steel, aluminium and carbon fibre. This, Daimler maintains, ensures that the requirements in terms of lightweight design, strength and cost efficiency are ideally met and the basic architecture is suitable for SUVs, saloons, coupés, cabriolets and other model series. The first in the series is the EQ C.
Daimler has also reorganised its operations so that it can focus more heavily on ensuring that it is investing in the right areas, strategically, out to 2030. Electric vehicles are clearly going to be a key element in that, for all carmakers, but they won't be the only one. Much will depend on how we want to move around our cities and how environmentally responsible that can be (and at what cost). Electrified propulsion for vehicles will undoubtedly be a big part of the picture.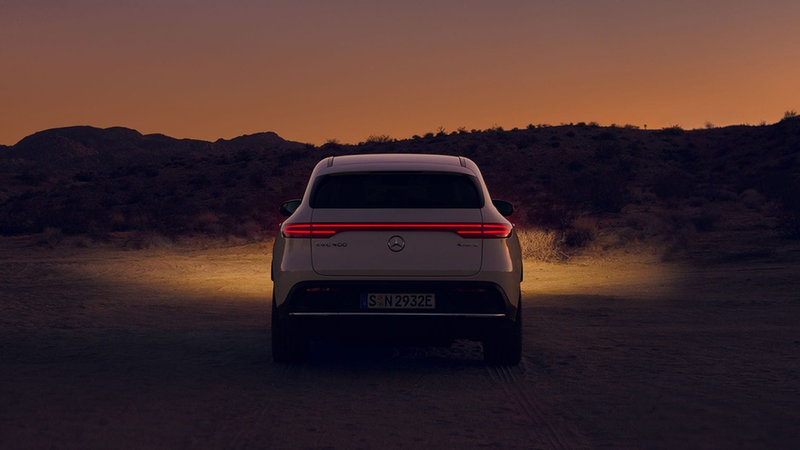 Mercedes Benz adds the EQ C electric SUV to market in 2019 – it will be the first in a family of fully electric models