Active and passive safety systems: Are we safe at any speed?
Every 13 minutes, someone in America dies in a traffic accident. Every ten seconds, someone is injured. Traffic accidents in the US alone claim about 41,000 lives and result in more than 3 million injuries each year. Given such gruesome statistics, is it really any wonder why safety sells? Matthew Beecham reports.
Active safety systems
An active safety system works to prevent an accident. These systems are continually active while you drive. They include advanced driver assist systems that use sensors such as forward collision warning, lane departure warning and adaptive cruise control.
No driver required
The Society of Automotive Engineers' (SAE) define six levels of driving automation, spanning from 'no automation' (you do all the work, level zero) to 'full automation' (sit back and be driven, level 5). These levels as defined by the SAE are also referred to as key stages towards automated driving, namely feet-off (L1), hands-off (L2), eyes off (L3), and brain off (L4).
A key distinction is between level 2 and 3. An L2 car has an automated system that can conduct some parts of the driving task, while you continue to monitor the driving environment and perform the rest of the driving task. An automated system of an L3 car, however, can both conduct some parts of the driving task and monitor the driving environment in some situations, though you must be ready to take back control when the automated system requests. While manufacturers say their technology will allow cars to drive themselves, legislation in some parts of the world is holding them back.
Although L5 cars are not yet available to the public, more and more models across all segments are offering some form of advanced assistance to the driver.

While manufacturers say their technology will allow cars to drive themselves, legislation in some parts of the world is holding them back.
Driver assistance systems use a combination of warnings and some degree of active intervention to help steer the driver away from trouble.  Although the accent is on giving assistance to the driver rather than take control away, motorists are still wary about cars that supposedly drive themselves.  While active intervention clearly holds many possibilities, it is also fraught with difficulty. 
Advanced driver assistance systems (ADAS) are increasingly being incorporated in cars across the board, from luxury vehicles to small city cars. 
Many of the driving assistance systems fitted to the Mercedes-Benz B-Class are carried over from the S-Class. Just like the S-Class, the B-Class can be driven semi-autonomously in certain situations. Using camera and radar systems, it can anticipate traffic up to 500 metres ahead while using map and navigation data for assistance functions. For example, Active Distance Assist Distronic as part of the driving assistance package is able to support the driver in many route-specific situations, predictively and conveniently adjusting the speed, e.g. when approaching bends, junctions or roundabouts. Also on board are Active Emergency Stop Assist and Active Lane Change Assist. Other ADAS technologies include Active Brake Assist, which can help mitigate the severity of rear-end collisions with slower-moving, stopping or stationary vehicles ahead. While the driver assistance pack is one of the most comprehensive available, we found that it occasionally interferes – via audible warnings, adjusting the steering or brakes - when no real road danger exists.
At the other end of the car segment, the latest Kia Rio provides a good example of just how far we have come in terms of ADAS fitment on a supermini. Electronic stability control and vehicle stability management mitigate against skids when cornering or accelerating on surfaces with uneven levels of grip. Forward collision-avoidance assist with forward collision warning, lane keeping assistance are fitted as standard. A new feature – Straight Line Stability – senses any difference in applied brake pressure between the right and left of the car and intervenes to keep it straight. Another new feature is Cornering Brake Control, which delivers asymmetrical brake pressure when braking in tight curves to counter loss of traction. All versions of the Rio also have hill-start assist to prevent the car from rolling backwards when setting off on steep inclines.
Driver assistance is also available in voice form. "I'm Casey, your new passenger. Are you ready to get started?" Voice assistants such as Alexa, Siri, Google, Cortana, and Bixby have taken charge of smart households, control lighting and the vacuum cleaner - Bosch now puts the voice assistant behind the wheel. The newly developed technology frees drivers from distractions so that they can concentrate on their essential task.
Vehicles that operate autonomously and/or in defined environments may not require the same levels of crash protection. This, in turn, implies different designs and materials choices that have implications for vehicle lightweighting. For instance, safety standards may be relaxed, allowing for a steel framework to be replaced by lighter plastics. In addition, changes in design could include a lower emphasis on visibility outside the car, and a greater emphasis on communication and entertainment in the vehicle. Further out, plastic content in light vehicles could again start to rise due a number of factors such as electric vehicle penetration and if there's significant autonomous vehicle take up, i.e. if you don't crash then you don't need all those crumple zones.
Passive safety systems
A passive safety feature is one that lies dormant until it is called to action, e.g. airbags and seatbelts.
New car assessment programmes, such as EuroNCAP have also contributed toward raising consumer awareness of passive safety technologies. More than 78,000 lives have been saved since Euro NCAP's crash safety tests were launched in 1997. Safety technologies that were non-existent or at most optional back then - such as driver and passenger airbags, side protection airbags, belt reminders and electronic stability control – are now standard on all cars sold in Europe. Regulatory drivers have also seen side airbag fitment increase in North America and front airbags in Argentina and Brazil.
As far as 2020 is concerned much depends on prospects for the economy and measures that Beijing may introduce to stimulate demand.
Pump up the volume
Airbag applications are also broadening beyond frontal airbags to curtain, knee, foot, seatbelt and pedestrian bags. While most cars today contain an average of seven airbags and rising. Some believe that as many as 23 airbags could be needed to protect occupants from every conceivable injury. Radars and cameras currently used for the latest active safety systems will trigger external airbags under each of the doors if a side impact is deemed unavoidable.
Star products
A seatbelt for every seat and airbags for the front seat occupants are the norm these days. Although the airbag is a mature product, manufacturers continue to innovate and find new applications. For example, Autoliv has developed a front centre airbag. The new airbag helps avoid driver-to-interior and driver-to-passenger impact. The inboard seat mounted airbag deploys in the space between the driver and the front-seat passenger, providing protection for them from colliding during a side-impact and reduces risk of trauma to head, shoulder and chest. The supplier says the new airbag will be introduced in 19 car models this year.
ZF has developed a pre-crash safety system prototype that uses an external side airbag deployed a split second before a collision. It provides an additional lateral crumple zone, says the supplier, which can help save lives and reduce occupant injury severity by up to 40 per cent. To make this possible, ZF has networked the airbags to the vehicle's sensor systems and developed algorithms that are capable of determining if a crash is imminent and decide whether or not to deploy the airbag.
Veoneer used the 2020 Consumer Electronics Show (CES) to reveal a range of new driver support, collaborative driving and self-driving solutions. Its showcase included cars equipped with sensors, computers and software, which are either available today, or just around the corner.
For its part, Hyundai Motor Group has developed the world's first multi-collision airbag system that improves performance in multi-collision accidents. Multi-collision accidents are those in which the primary impact is followed by collisions with secondary objects, such as trees, electrical posts or other vehicles, which occurs in three out of every 10 accidents. Current airbag systems do not offer secondary protection when the initial impact is insufficient to cause them to deploy. However, the multi-collision airbag system allows airbags to deploy effectively upon a secondary impact by calibrating the status of the vehicle and the occupants.
The parts and service arm for Hyundai Motor, Hyundai Mobis has developed a "Safety Integrated Control Module" which it says ensures increased efficiency and safety in operating automotive safety devices. This new development combined two separate ECUs for airbags and electronic seatbelts into a single unit. It also receives real-time data from advanced radar sensors enabling enhanced protection of passengers upon different driving situations.
Hyundai Mobis is also planning to secure the technology for predicting the position or movement of the passenger in this process and optimise the airbag by the end of this year. Based on the vehicle sensor data related to speed, this technology estimates the position of the passenger when the accident occurs, and deploys the airbag according to this data to minimise passenger injuries. As it controls the airbag deployment time and pressure according to the position and movement of the passenger, it will be possible to deploy the airbag optimally even if an accident occurs.
Finally, Honda has developed a new passenger front airbag technology that it claims is designed to better protect occupants in a wide range of frontal collision scenarios, including angled crashes between vehicles or a vehicle and another object. Honda states that it will apply its advanced airbag design to new products in the US this year.
Global market volumes of all active safety systems fitted to newly-assembled light vehicles, 2014-2034, ('000s units)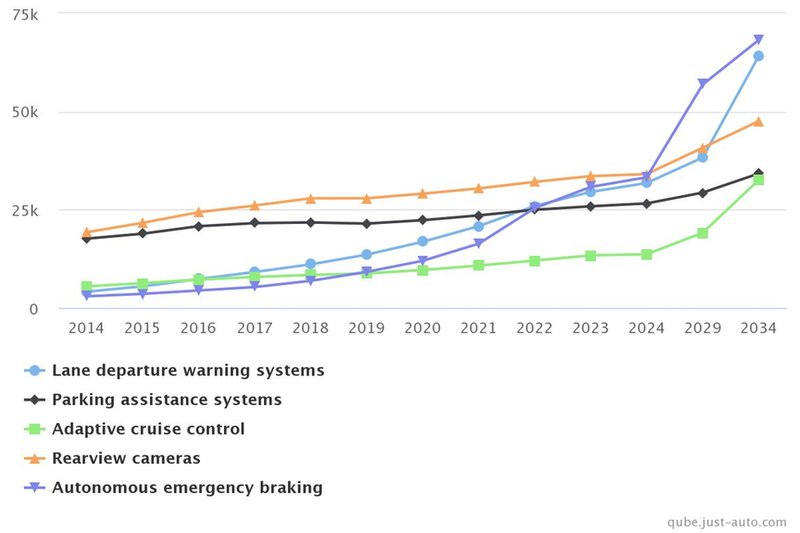 Larger, curved screens
Jump into a new car today and you are almost sure to find a tablet-style touchscreen infotainment system positioned centre stage of the dash. It acknowledges that most of us no longer use maps to find our way around but expect the car to guide us to our destination and remain connected throughout the journey. For example, the Volvo XC90 comes loaded with semi-autonomous and connected car features, most of which are displayed on an intuitive centre console touchscreen.
As with most new technologies, what starts in the luxury market often trickles down the car segments. Inside the new Honda Civic, positioned at the top of the piano-black finish centre console - and drawing the eye as the push start is pressed - is a Honda Connect 2 seven-inch touchscreen, serving as the main point of contact to control the infotainment and climate control functions. This second-generation of Honda's infotainment and connectivity system incorporates Apple CarPlay and Android Auto integration.
Tomorrow's cockpits, according to Harman, will have more curved screens designed using OLED technology. The main advantage of an OLED display is that it works without a backlight, enabling it to blend into the interior.
Screens are becoming larger, too. The Tesla Model S features a huge 17-inch screen. But that is just the tip of the iceberg. China's Byton has debuted its first concept car. A notable feature of the electric SUV is a colossal 49-inch screen stretching the width of the dash.
Whether or not such high-tech wizardry will actually make it onto the road, the above concepts demonstrate the direction the auto industry is taking.
Voice recognition
While giving instructions in our cars is nothing new, putting questions to the likes of Alexa and Cortana while on the road is. Automakers are fast adopting virtual assistants, confirming that speech is becoming the preferred interface for tomorrow's cockpit.
Voice recognition is seen by some as the answer to eliminate many controls that have traditionally been manually operated. Voice can play an important part of a multimodal HMI solution for inputting information or for cutting through layers on the menus by requesting a function directly. Traditional voice control was centred on a set of fixed commands with catatonic responses which required some level of driver training prior to operation of the system. With the advent of the new low power, high performance microprocessors, smarter voice command engines linked into the HMI logic are now available. Even natural language and grammatical analysis are becoming more achievable.
Voice recognition, although already an option, looks set to play a bigger role as cars gradually become more autonomous.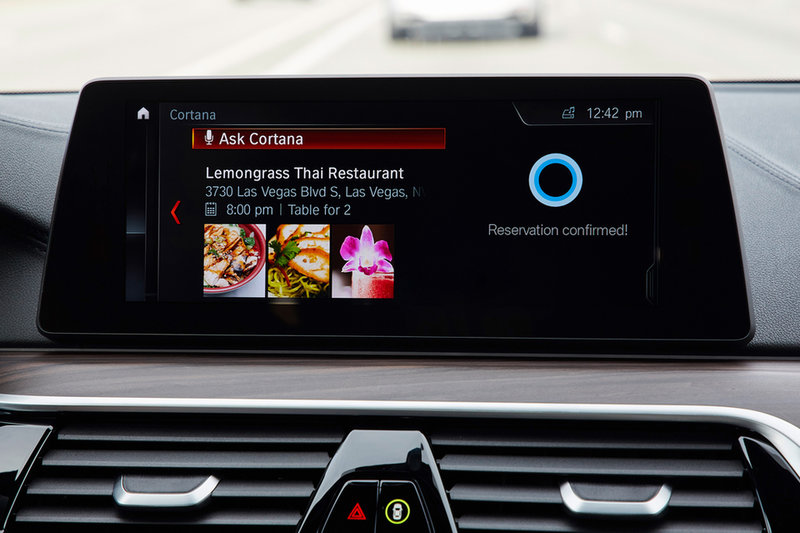 If in doubt, ask: Microsoft's Cortana AI system forms part of BMW's Connected Car vision.
Gesture recognition
Looking down at a touchscreen (without haptic feedback) can be distracting. Gesture recognition is therefore said to be the Next Big Thing, regarded as the logical next step from touchscreens and buttons. Gesture control operates via a stereo camera within the cabin that can recognise certain hand movements for pre-programmed adjustments and functions. Rotating your finger clockwise at a screen could turn up the volume or a finger gesture could answer or decline a call. While such novelties will make life simpler for the driver, it should also simplify interior design and liberate space for storage options.
Interior lighting trends
Advances have also been made in the interior lighting department. Not so long ago, interior lighting consisted of central and side headliner lights, complemented by low-level ambient lighting located mainly in the cockpit area. Today, the accent has changed, thanks to widespread use of LEDs enabling personalisation of car interiors. For example, during night time driving, the Mercedes-Benz E-Class takes on an entirely different feel thanks to the ambient interior LED lighting that can be personalised using a palette of no fewer than 64 colours. It really does start to feel like a cockpit, adding illuminating highlights to the trim, the central display, the front stowage compartment on the centre console, handle recesses, door pockets, front and rear footwells, overhead control panel and mirror triangle.