News round-up: A selection of recent industry news items from just-auto
Global light vehicle sales figures in January 2020 should make for alarming reading.
"At the first-ever Detroit auto show, Henry Ford said he was working on something that would strike like forked lightning," said Bill Ford, executive chairman, Ford Motor Company. "That was the Model T. Today, the Ford Motor Company is proud to unveil a car that strikes like forked lightning all over again. The all-new, all-electric Mustang Mach-E. It's fast. It's fun. It's freedom. For a new generation of Mustang owners."
Ford says it brought the Mustang Mach-E to life through a development process concentrated entirely on customer needs and desires. The result, it claims, is a sleek, beautiful SUV that delivers spirited ride and handling, with connected vehicle technology that makes Mach-E even better over time.
When it arrives in late 2020, Mustang Mach-E will be available with standard and extended-range battery options with either rear-wheel drive or all-wheel drive powered by permanent magnet motors. Equipped with an extended-range battery and rear-wheel drive, Mach-E has a targeted EPA-estimated range of at least 300 miles, Ford says. In extended-range all-wheel-drive configurations, Mach-E is targeting 332 horsepower and 417 lb.-ft. of torque – with the standard all-wheel-drive variation targeting quicker times to 60 mph than the base Porsche Macan series.
Ford also will offer two special performance versions. The GT is targeting 0-60 mph in under 4 seconds, making it faster off the line than a Porsche Macan Turbo3. The GT Performance Edition, meanwhile, is targeting a comparable 0-60 mph in the mid-3-second range to a Porsche 911 GTS.3 Both GT configurations are targeting an estimated 342 kW (459 horsepower) and 830 Nm (612 lb.-ft.) of torque.
Coronavirus leads to global vehicle sales nosedive
Global light vehicle sales figures in January 2020 made for alarming reading.
Just 6.2 million units were sold in January, the lowest since January 2012 when 5.9 million units were delivered, according to GlobalData, the data and analytics company which owns just-auto.com.
Driving the drop in sales was the emergence in December 2019 of the coronavirus (COVID-19) in Wuhan, China.
To avoid becoming infected, consumers in China and other exposed regions have employed strict outbreak control measures with many barricading themselves at home until the danger subsides. This has created a knock on effect for both vehicle sales and production with dealerships devoid of customers and factories at a standstill with no one to operate them.
GlobalData automotive analyst Mike Vousden said: "While the drop in January vehicle sales on a global scale is alarming, sinking 13.9% compared with the same month in 2019, it is positively disastrous in China itself.
"Sales in the world's single largest vehicle market sank 33.1% compared with January 2019 to just 1.66m units. Adding insult to injury is the fact that January 2019's figure was already 8% down on the same month in 2018, following a decade long period of strong increases."
Anecdotal reports suggest sales declines are likely to accelerate into February. Domestic sales were said to be down 96% year on year in the first week of February.
Cui Dongshu, secretary general of the China Passenger Car Association, said: "There was barely anybody at car dealers in the first week of February as most people stayed at home."
Many established automakers and suppliers have hinged their business plans on China in light of its previously reliable sales growth, especially as western markets began to contract having reached peak 'motorisation'.
China's latest sales figures will be a significant cause for concern for these companies, potentially requiring them to scale back revenue and profit forecasts.
Vousden added: "The longer term effects are difficult to quantify but it is likely that sales growth will continue to be stunted throughout the rest of 2020, even if the spread of COVID-19 can be contained.
"This is because many of the components that go into building vehicles all over the world are produced in China, in factories that are currently standing still because it is too risky for workers to return.
"The auto industry is poorly prepared for such supply chain shocks because many operations run on a 'just-in-time' basis, with very limited numbers of stockpiled parts."
Already, companies such as Jaguar Land Rover have confirmed they've had to resort to flying parts in from China to meet production demand.
Others, including Toyota and PSA, have said they expect to see supply chain disruption while Fiat-Chrysler has warned it may have to halt some European production if parts supply continues to be affected.
Vousden added: "Turning to the other two 'triad' markets, North America and Europe, we can see similarly concerning figures.
"North America's January 2020 sales sank by 3.6% to 1.32 million compared with January 2019, a notably faster rate than the modest 0.8% yearly decline seen a year earlier.
"Europe's January 2020 sales of 1.44 million units are a 5.8% decline on January 2019."
These sudden drops in sales across the largest vehicle markets have, understandably, led to a significant drop in the seasonally adjusted annualised rate (SAAR) of sales for 2020. Global vehicle sales SAAR was 88.5 million units in December 2019 but, just a month later, sank 10% to 79.7 million.
Vousden said: "We're seeing alarming drops in sales across the board in January 2020 and we expect that to lead to a much weaker overall market this year. Considering the market's general weakness in 2019, the emergence of COVID-19 couldn't have come at a worse time. Automakers and suppliers must prepare for lower sales, lower profits and disrupted supply chains throughout the coming year."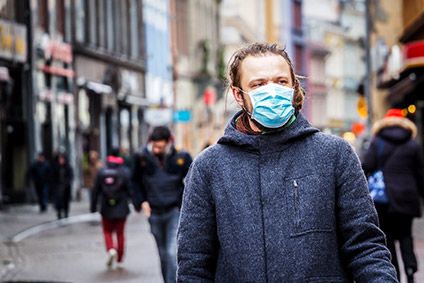 GM announces multiple segment EV strategy
General Motors has shared its electric vehicle (EV) strategy at a special gathering of "hundreds" of employees, dealers, investors, analysts, media and policymakers.
The automaker has developed a modular propulsion system and a flexible, third generation global EV platform powered by proprietary Ultium batteries which, GM said, would "allow the company to compete for nearly every customer in the market today, whether they are looking for affordable transport, a luxury experience, work trucks or a high performance machine".
It claimed its new Ultium batteries are unique in the industry because the large, pouch style cells can be stacked vertically or horizontally inside the pack so battery capacity and layout can easily be tailored to each vehicle design.
Ultium pack sizes range from 50kWh to 200 kWh which, GM estimated, "could" result in range up to at least 400 miles on a full charge with 0 to 60mph acceleration in as little as three seconds.
Motors designed in-house will support front and rear wheel drive plus regular and "performance" all wheel drive.
The Ultium EVs are designed for Level 2 and DC fast charging. Most will have 400 volt battery packs and up to 200kW fast charging ability while the truck platform will have 800 volts and 350 kW.
GM said its flexible, modular approach to EV development would drive significant economies of scale and create new revenue opportunities, including continuous improvement in [lowering] battery costs.
The joint venture with LG Chem will drive battery cell costs below $100/kWh (Kia Europe recently told just-auto such pricing was needed to enable 'parity' pricing of ICE and EV vehicles).
The cells use a proprietary low cobalt chemistry and ongoing technological and manufacturing breakthroughs will drive costs even lower.
The new global platform is flexible enough to build a wide range of trucks, SUVs, crossovers, cars and commercial vehicles with performance, packaging, range and affordability.
GM said it can spend less capital to scale its EV business because it is able to use existing land, buildings, tools and production equipment such as body shops and paint shops.
The vehicle and propulsion systems were designed together to minimise complexity and part count beyond current EVs which are less complex than conventional ICE vehicles.
The automaker plans 19 different battery and drive unit configurations initially, compared with 550 ICE powertrain combinations available now.
GM noted third party forecasters expect US EV volume to more than double from 2025 to 2030 to about 3m units on average.
It believes volume could be "materially" higher as more EVs are launched in popular segments, charging networks grow and the total cost of ownership to consumers continues to fall.
By vertically integrating the manufacture of battery cells, the company can reach beyond its own fleet and license its technology to others.
GM claimed the first generation of its future EV programme "will be profitable" and the first projects would pave the way for further growth. The technology can be scaled to meet customer demand much higher than the 1m sales worldwide the company expects by mid decade.
Mary Barra, GM chairman and CEO, said: "[We have built] a multi brand, multi segment EV strategy with economy of scale that rivals our full size truck business with much less complexity and even more flexibility."
The Chevrolet, Cadillac, GMC and Buick brands will launch new EVs starting this year. The next new Chevy EV will be a new version of the Bolt, launching in late 2020, followed by the 2022 Bolt EUV (electric SUV), launching summer 2021.
The EUV will be the first vehicle outside of Cadillac to feature Super Cruise, claimed as the industry's first true hands free highway driving technology which GM will expand to 22 vehicles by 2023, including 10 by next year.
The Cruise Origin, a self-driving, electric shared vehicle, shown to the public in January 2020 in San Francisco, was the first product revealed using the new EV platform and Ultium batteries.
Next will be the Cadillac Lyriq luxury SUV in April.
The Ultium-powered GMC Hummer EV will follow on 20 May. Production is expected to begin in autumn 2021 at the Detroit-Hamtramck assembly plant, GM's first assembly plant dedicated to EV production, which built the first Chevrolet/Opel/Vauxhall Volt range extender models.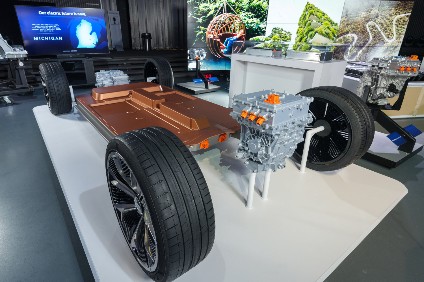 Polestar eyes beyond-vegan interiors
Geely and Volvo Cars owned EV sportscar brand Polestar is eyeing new ways to cut plastic content and lessen waste material with innovative natural and recycled source materials.
Bcomp's revolutionary powerRibs and ampliTex technology "could turn natural fibres into lightweight and safety-conscious interior panels for future production models", the automaker said.
The composite utilises flax, which differs from many bio-materials as it is both ideal for use in crop rotation programmes and does not directly compete with food crops.
With up to 50% reduction in overall weight and an 80% reduction in plastic content compared to traditional interior panels, Bcomp enables a significant weight saving by being stronger and lighter than traditional plastics.
A 3D-knit material, well-known in the fashion and active footwear industries, can be used for seating surfaces to reduce waste and promote recycled material. A single thread is used to produce a three-dimensional individual component in its entirety and the base material is 100% recycled yarn derived from PET bottles. Waste is removed in the production process since the material is made exactly to size with no offcuts.
Cork and fishing nets can be recycled for car interiors. Waste material from the cork manufacturing process and even whole bottle stoppers can be integrated into PVC interior componentry.
Recycled Nylon 6, derived from discarded fishing nets, can be turned into woven carpets and is gathered through an international collection network to infinitely regenerate this material and accept returned products from customers and consumers.
Polestar introduced a 'vegan' interior with its first 2 model.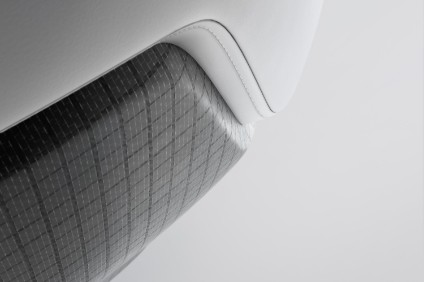 And now (drum roll), the cyclist's emoji jacket
Although the press release could almost suggest a particularly clever 1 April hoax, long a UK auto PR speciality, Ford and industrial design specialists Designworks appear genuinely to have come up with an innovation intended to reduce the number of cyclists killed on European roads - currently over 2,000 a year, according to European Commission data.
The pair's suggested answer is the so called 'emoji jacket', a prototype created as part of the automaker's ongoing Share the Road campaign.
The jacket allows the wearer to effectively communicate their emotions to other road users around them by using emoji icons.
The back of the jacket carries a large LED panel which allows the user to display mood - whether happy, neutral, or worried while travelling.
Direction indicators and a hazard symbol can also be displayed to make other road users aware of the cyclist's movements and possible dangers ahead.
These functions can all be controlled without the cyclist removing their hands from the handlebars, thanks to a wireless remote, with independent buttons, which is easily mounted on and removed from the bike.
Emoji expert Neil Cohn, a linguist, said: "Emojis have become a fundamental part of how we use language. Whether used to convey facial expressions, humour, or sarcasm, they have become integral to our ability to express ourselves and quickly. This jacket... allows riders to express their feelings and creates an important emotional link between them and other road users."
The automaker said the Share the Road campaign underlines its belief enabling more people to cycle safely, especially for short journeys, benefits all.
"Believing that by fostering harmony between road users, raising awareness, and increasing conversations between them, our roads can become a better and more accepting environment for all."