Deals activity in the automotive sector weak in 2022
Deals activity by geography
Perhaps unsurprisingly, given adverse global macroeconomic developments, deals activity in the automotive sector, as tracked and measured in GlobalData's deals database, is down so far this year – measured by both value and the volume of deals – in the major regions of North America, Europe and Asia-Pacific.
So far this year, North America leads on the volume of deals in the automotive sector, closely followed by Europe – which leads on overall deals value.

Deals activity by theme
Deals activity in automotive grouped by major thematic categories shows that activity is centred in areas of advanced and emerging technologies that are especially relevant to this vertical – especially batteries (electric vehicles) and the Internet of Things. E-commerce is also strong, indicating more interest in mobility as a service (MaaS) business models and greater uptake of in-car e-commerce technologies generally.
There are also strong showings for AI, robotics and digitalization – technological themes that will be shaping the long-term outlook for the industry's participant companies. Much of this activity has been in the supplier area of the industrial supply chain, but this year is seeing a strong showing for vehicle manufacturing and 'future mobility'.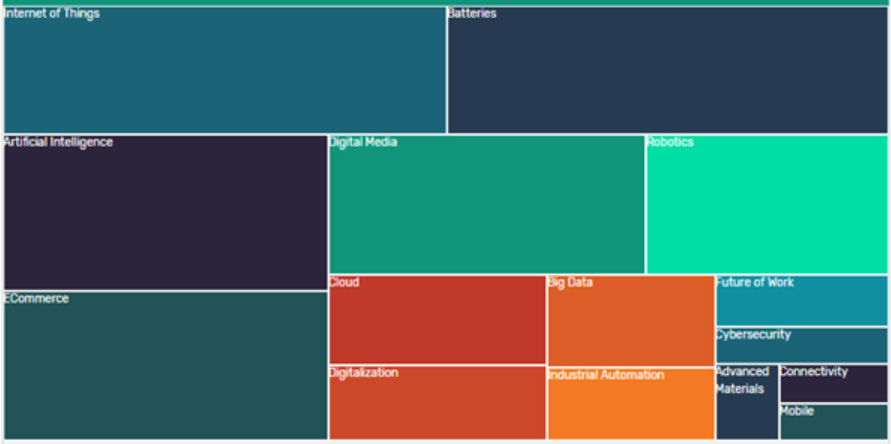 Deals by sector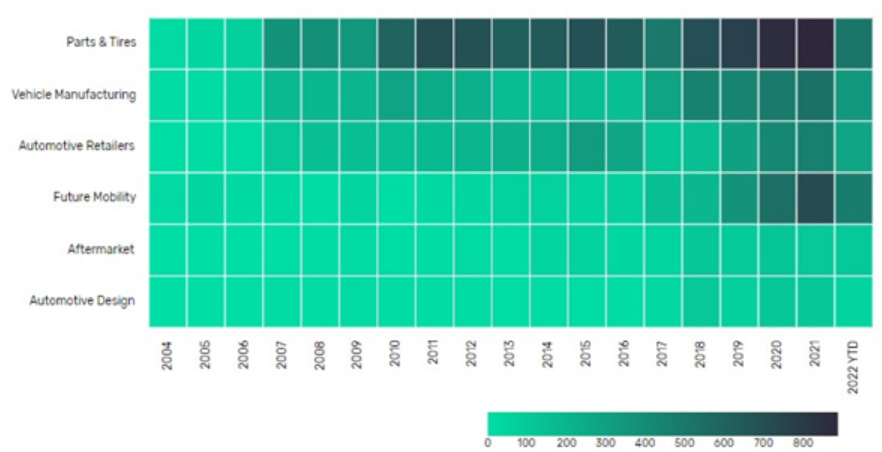 Note: All numbers as of 22 September 2022. Deals captured by GlobalData cover M&As, strategic alliances, various types of financing and contract service agreements.
For more insight and data, visit GlobalData's Automotive Intelligence Center
Latest deals in brief
GM Ventures invests in EV battery recycler
Lithion Recycling and General Motors said GM Ventures, the automaker's investment arm, has invested in Lithion's Series A financing round, supporting a new GM-Lithion strategic partnership agreement to pursue a circular battery ecosystem using Lithion's advanced battery recycling technology.
Aptiv to acquire high-voltage systems specialist
Aptiv has announced a definitive agreement to acquire an 85% equity stake in Intercable Automotive Solutions. The move broadens Aptiv's portfolio of high-voltage system solutions.
BorgWarner buying SSE EV business
BorgWarner (BW) and Hubei Surpass Sun Electric (SSE) have entered into an equity transfer agreement under which BW agreed to acquire the electric vehicle solution, smart grid and smart energy businesses of SSE.
Mercedes and Rivian join forces on electric vans
MercedesBenz Vans and electric vehicle manufacturer Rivian, have announced the signing of a memorandum of understanding for a "strategic partnership" to cooperate on the production of electric vans.
Nissan to acquire local battery maker Vehicle Energy Japan
The company currently develops and manufactures lithium ion batteries, battery modules and battery management systems for hybrid vehicles.
Hyundai Motor Group invests in BOS Semiconductors
Hyundai Motor Group has announced its investment in BOS Semiconductors, a fabless startup based in Korea that designs system-on-chip (SoC) solutions expecting to collaborate toward semiconductor of future mobility.
Harman acquires in-cabin occupant monitoring specialist
Samsung-owned Harman international has announced the acquisition of Caaresys, an Israel-based company founded in 2017 that develops vehicle passenger monitoring systems powered by contactless, low-emission radar.