Renault's
e-mobility boost
Volvo Cars to build electric car manufacturing plant in Slovakia
Volvo's new plant will build electric vehicles and adds much needed capacity for the brand in Europe.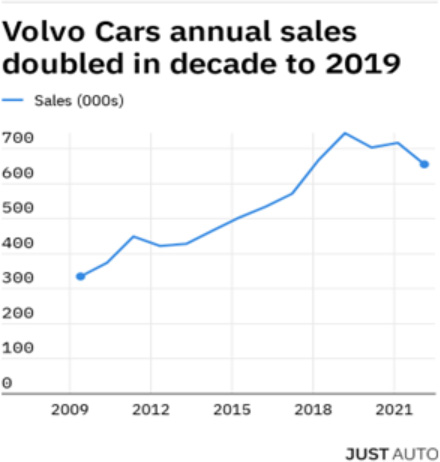 Geely-owned Volvo Cars will build a third manufacturing plant in Europe as part of its plan to become fully electric by 2030 and climate neutral by 2040.
The plant in Slovakia will be the company's third European plant covering its largest sales region and complementing the Ghent plant (Belgium) and Torslanda plant (Sweden).
Construction of the Kosice plant is planned to start in 2023, with equipment and production lines installed during 2024. Series production of next-generation, pure electric Volvo cars is scheduled to start in 2026. The facility is designed to produce up to 250,000 cars per year, the company says.
The new facility represents an investment of around EUR 1.2 billion and will be located close to Kosice, in the eastern part of Slovakia, where it will benefit from a well-established automotive supply chain as it becomes the fifth car plant in the country.
Slovakia is already well established in regional automotive supply chains. Furthermore, Stellantis, Volkswagen, Kia and Jaguar Land Rover already have vehicle manufacturing plants in the country.
Volvo Cars is targeting global annual sales of 1.2 million cars by mid-decade, which it aims to meet with a global manufacturing footprint spanning Europe, the US and Asia. Parent Geely's high ambitions for the brand follow a decade in which its annual output doubled to over 700,000 units a year.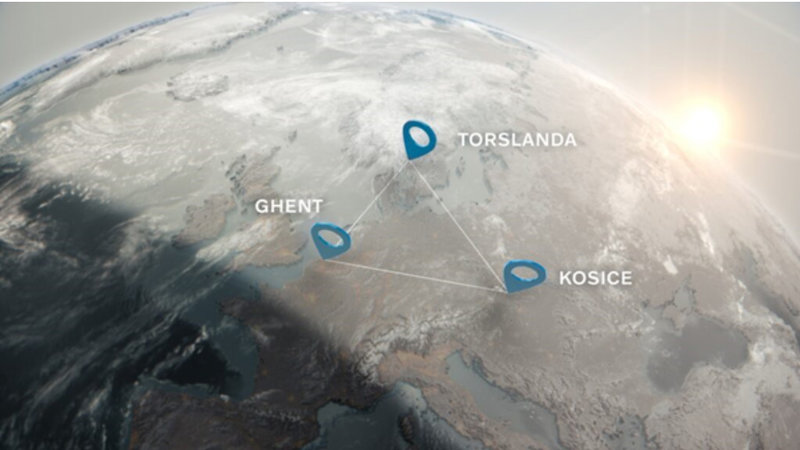 The new Slovakia plant will be Volvo's third manufacturing plant in Europe.
"We have a clear focus on becoming a pure electric mobility brand by 2030, which is in line with our purpose," said Jim Rowan, chief executive at Volvo Cars. "Expansion in Europe, our largest sales region, is crucial to our shift to electrification and continued growth. I am very pleased to expand our Volvo Cars production footprint into Slovakia and look forward to welcoming new colleagues and partners on the journey ahead."
"I appreciate that Volvo Cars has decided to build its new plant in Slovakia. The new Volvo Cars plant is important for us since it will improve the social and economic situation in the region and produce only electric cars, which provides the Slovak automotive industry with a competitive perspective in the new ecological era," said the Prime Minister of the Slovak republic, Mr. Eduard Heger.
"Personally, I am very pleased that Slovakia has succeeded in the competition for this mega investment, which will bring development and many jobs in the eastern part of Slovakia, with lots of direct and indirect job opportunities," said the Minister of Economy of the Slovak republic, Mr. Richard Sulik.
In line with Volvo Cars' ambition to have climate neutral manufacturing operations by 2025, the plant will use only climate neutral energy. It will also be designed to be a leader in sustainable and efficient premium electric car production with an optimised layout and logistics flow, while Volvo Cars says it aims for the highest global standards in energy and environmental efficiency.
Volvo Cars says Kosice offers good logistical and transport links to the rest of Europe and access to a good supplier base. The incentives offered by the Slovak government have also been a key factor in the decision to locate the plant in Kosice.
The facility is designed to produce up to 250,000 cars per year and is expected to provide several thousand new jobs in the region. The site also allows for further expansion of the plant in future.
"We look forward to welcoming new members to the Volvo Cars Kosice team and the global Volvo Cars family, as well as establishing new collaborations and partnerships in the region," said Javier Varela, chief operating officer at Volvo Cars. "It will be a modern workplace, in a state-of-the-art plant that centres on sustainability and safety."
The establishment of the Kosice plant represents the first new European manufacturing site for Volvo Cars for almost 60 years. The Torslanda plant was opened in 1964, while the Ghent factory followed a year later. Together, these facilities can produce 600,000 cars per year.
GAC claims 'graphene-based' fast-charging battery breakthrough
Guangzhou Auto (GAC) Group says it has achieved a breakthrough in graphene-based fast-charging battery technology and that its vehicle model Aion V will be equipped with the new battery, which is to start production in September.
GAC says that in recent years, graphene, a new material with excellent electrical conductivity, has been the key to breakthroughs in battery technology.
Aion V, the first vehicle to be equipped with the new battery, underwent winter testing and is initially scheduled for mass production in September this year.
At the "2020 GAC Tech Day" held last July, GAC Group demonstrated its 3DG (three-dimensional graphene) production technology with independent intellectual property rights, solving the issue of high costs of graphene, it is claimed. It says the simple, stable, and efficient production method reduces costs to only one-tenth of the conventional method.

After achieving low-cost and large-scale production of graphene, GAC Group says it has also made major breakthroughs in the downstream application of its use. Among them, the electric vehicle industry is most interested in the graphene-based super-fast-charging battery. This graphene-based battery has a 6C fast charge capability, combined with a 600A high-power charger, can be recharged to 80% capacity in 8 minutes. GAC says the battery has also passed the most stringent safety test - Battery Shooting Test, possessing quality and reliability of the highest standard.
GAC says the graphene-based battery technology will significantly shorten charging time, as well as greatly extend battery life, solving the current "pain points" of pure electric vehicles.
VW 'Project Trinity' car to lift EV/AV strategy
Volkswagen says it is planning an electric car to be built in Wolfsburg from 2026 that will set new standards in terms of range, charging speed and digitization – and will be able to drive highly automated according to SAE Level 4.
The project for the car is named Trinity and stands for three crucial themes: (1) a newly developed electronics platform, (2) the simplification of the supply structure, and (3) fully networked and intelligent production at the main plant in Wolfsburg.
"Trinity is a sort of crystallization point for our 'Accelerate' strategy, a lighthouse project, our software dream car," says Ralf Brandstätter, CEO of the Volkswagen brand. VW says the newly developed vehicle architecture will set standards in terms of range, charging speed ("charging as fast as refuelling") and digitalization.
In addition, VW claims Trinity will make autonomous driving in the volume segment possible for many people. By the planned start of series production in 2026, VW says Trinity will already reach Level 2+ and be technically ready for Level 4. "We are using our economies of scale to make autonomous driving available to many people and to build a learning neural network. In this way, we are creating the conditions for the continuous exchange of data from our vehicle fleet – for example, on the traffic situation, on obstacles or on accidents," says Ralf Brandstätter.
VW claims that Trinity gives people time and saves them stress. After a long highway trip, for example, you arrive at your destination relaxed 'because you have been driven by a chauffeur to your vacation or to your home after work'.
"Trinity therefore becomes a kind of 'time machine' for our customers," says Ralf Brandstätter.
With the production of the series version, the Wolfsburg plant will become a showcase for an intelligent and fully networked production processes, VW says. "We will completely rethink the way we build cars and introduce revolutionary approaches. Digitalization, automation and lightweight construction play an important role here," says Ralf Brandstätter.
VW maintains that future vehicle models such as Trinity will be produced with considerably fewer variants, and the hardware will be largely standardized. The cars will then have virtually everything on board and customers will be able to activate desired functions "on demand" at any time via the digital ecosystem in the car. This will significantly reduce complexity in production, the company says.
By developing the automobile into a software-based product, Volkswagen says it is creating the conditions for new, data-based business models. Entry barriers to individual mobility are to be lowered while at the same time offering 'even more attractive usage packages'.
Volkswagen intends to generate additional revenue in the usage phase – for charging and energy services, for software-based functions that customers can book as needed, or for automated driving. "In the future, the individual configuration of the vehicle will no longer be determined by the hardware at the time of purchase. Instead, customers will be able to add functions on demand at any time via the digital ecosystem in the car," says Ralf Brandstätter.
VW says that all-electric vehicles are expected to exceed 70% of European and 50% of Chinese and US sales volumes by 2030.
Half Daimler suppliers commit to carbon neutral
Almost half of about 2,000 Daimler suppliers have signed an Ambition Letter of Intent and are committed to supplying only CO2 neutral parts, said Gunnar Guethenke, head of procurement and supplier quality for Mercedes-Benz Cars.
Under its 'Ambition 2039' plan, Mercedes-Benz wants to offer a CO2 neutral new car fleet in less than 20 years. The switch to electric mobility poses supply chain challenges because, compared to ICE vehicles, the production of an all-electric is twice as CO2 intensive, mainly because of the lithium-ion batteries. But, despite the higher energy demand for production, plug-in hybrids and electric vehicles offer a clear advantage in terms of CO2 emissions compared to conventional drives already today, since only when the entire life cycle of the vehicles is considered a realistic picture emerges: electric vehicles can make up for a large part of the initially higher CO2 emissions from the upstream value chain due to their emission-free driving.
R&D head Markus Schaefer said: "With the electric EQS luxury sedan, we have already achieved important milestones in close cooperation with our partners - for example by purchasing CO2 neutrally produced battery cells.
"When awarding contracts for our subsequent electric vehicle platform - Mercedes-Benz Modular Architecture (MMA) for compact and medium-sized cars - we are already applying CO2 as a key criterion."
The automaker said it was talking with all other suppliers to jointly develop strategies for CO2 reduction.
Climate-neutrality is incorporated into contractual terms, and the ambition letter is a key criterion for awarding contracts. From 2039 at the latest, only production materials which are completely CO2 neutral will be purchased and any supplier declining to sign the ambition letter will not be awarded new contracts.
Mercedes-Benz will additionally focus on materials and components that are particularly CO2 intensive in manufacturing and processing until 2039 - items such as battery cells, steel, and aluminium which account for about 80% of the CO2 emissions in the supply chain of a fully electric vehicle.
CATL (Contemporary Amperex Technology) and Farasis Energy have committed to supply battery cells that are produced using electricity from renewable sources such as hydropower, wind, and solar energy. This reduces the CO2 footprint of an entire battery by more than 30%. The rest of the supply chain will be included next.
The goal is to consistently reduce the use of primary raw materials for electric drives by 2030 and gradually increase the share of secondary and renewable materials in vehicles.
Mercedes-Benz plants, including the global battery production network, will produce on a CO2 neutral basis worldwide from 2022. This will make them role models for the supplier network. In line with plant procedure, suppliers are required to avoid and reduce emissions as a fundamental principle. Only then can compensation via high-value projects be considered. The areas of approach for climate-neutral production are diverse, and range from reducing consumption to purchasing energy from renewable energy sources.
The company aims to have plug-in hybrids or all-electric vehicles to make up more than 50% of its car sales by 2030. Other major goals include involvement in shaping the charging infrastructure and agreeing to specific CO2 measures with suppliers.
Renault and Vitesco to develop power electronics for electric and hybrid powertrains
Renault and Vitesco Technologies (a Continental spin-off) have signed a strategic partnership for the joint development and the production of power electronics in a so-called "One Box" for electric and hybrid powertrains.
Under this agreement, both partners will jointly develop a power electronics concept that they say will be unique on the market. Renault Group will bring its electric and hybrid expertise while Vitesco Technologies will provide its technologies and processes.
The goal is a key electronic unit that combines all components in one housing: the DC-DC converte1, the on-board charger (OBC) and the inverter. The companies claim the "One Box" concept will also enable an unprecedented gain in compactness (-45 percent in terms of volume) and mass for the development of Renault's future vehicles, particularly in terms of passenger space and comfort. The configurations and assembly of the various basic components will be adapted to the types of electric and hybrid powertrains. The development platform teams will be mostly based in Toulouse.
Mercedes and Rivian join forces on electric vans
MercedesBenz Vans and electric vehicle manufacturer Rivian, have announced the signing of a memorandum of understanding for a "strategic partnership" to cooperate on the production of electric vans.
The German automaker said today all its newly introduced vans will be electric only by mid-decade.
Subject to final binding agreements and relevant regulatory clearances, the two companies will establish a new joint venture manufacturing company with the purpose of investing in, and operating, a factory in Europe to produce large electric vans for both MercedesBenz Vans and Rivian, starting "in a few years". The goal is to build a new electric only factory on an existing MercedesBenz site in central/eastern Europe.
The companies envisage production-optimised vehicle designs for efficient manufacturing on common assembly lines. They will produce two large vans, one based on VAN.EA (MB Vans Electric Architecture), the electric-only platform of MercedesBenz Vans, and the other based on the second generation electric-van, Rivian Light Van (RLV) platform. Further options for increased synergies from the joint venture will also be explored.
Blume takes over from Diess as VW Group chief
The VW Group Supervisory Board has appointed Oliver Blume as the new board chairman. Blume will also continue to act as chairman of the Porsche board. VW also said that he would continue in the Porsche role 'after a possible IPO'.
Herbert Diess is resigning as chairman of the VW board by mutual agreement. Diess was seen as a 'reformer' at VW Group, but his plans attracted some controversy at a company renowned for political infighting. In late 2020, he forced the board to extend his contract with a 'back me or sack me' ultimatum.
Volkswagen greenlights Porsche IPO
VW Group's board and supervisory board has said the company will seek to pursue an initial public offering (IPO) on the Frankfurt Stock Exchange at the end of September or early October – to be completed by the end of the year.
The move would enable the Porsche and Piëch families, which are the VW Group's main shareholders, to have a blocking minority in Porsche (25% plus one share), ensuring they can influence any key decisions after the IPO. VW Group is also preparing to list or partially sell its battery division and the Porsche IPO would assist in such a restructure.