Overview: What will 2021 bring?
A look at automotive markets and major trends that will (perhaps) shape the automotive year ahead.
Even before COVID-19 came along, investment trends in automotive meant that electric vehicles and associated advanced technologies were at a relatively advanced stage and relatively (compared say, to autonomous drive) close to providing a consistent return on investment. As some areas see a cut or pause in investment, electric vehicles seem to be more resilient and protected. The technology is production ready and there is a proven - if nascent - market for such vehicles.
When it comes to the annual business of making predictions for the next calendar year, it's fair to say that 2020 probably rates as the year that did the most to confound analysts and forecasters. The pandemic shook up the world in a big way as governments around the globe rushed to contain an unprecedented public health crisis and then had to deal with the economic fallout that followed population controls.
Unsurprisingly, automotive markets were decimated everywhere as dealers – and then factories - were shuttered. Much of the early damage was in the world's largest vehicle market, China, but the impacts were soon felt beyond China as international supply chains were broken and the COVID-19 coronavirus outbreak that was centred initially in the city of Wuhan, rapidly turned into a global pandemic.
By the spring, many countries in Europe were in lockdown as they struggled to contain infections. Fast forward to December and the picture is still somewhat mixed. After vertiginous falls to economic activity in April and May, a general recovery – albeit accompanied by social distancing measures in meeting places - set in during the summer months. By the autumn, however, infection rates were rising again and a new round of population restrictions followed in many places. The good news though, was that there has been progress in developing vaccines and these are expected to be distributed and administered during 2021. It should mean that we see a gradual relief from the worst aspects of the virus crisis, although we will be left dealing with its many after-effects and permanent legacies (not least in the bill to taxpayers for eye-wateringly large emergency government support packages) for many years to come.
The way we move people and goods around has - and will continue to be – impacted by this crisis. It has accelerated some trends and introduced others. Working from home (WFH) has become routine for many that can. Many found that their productivity improved without the drudgery of the daily commute. Video-conferencing came into its own. A proportion of the new WFH crowd will not be going back to the office as often as they did; they have embraced the new work-life balance. For large metropolitan CBDs, the consequences could be transforming for the services sector that relied on a large daily influx of office workers. While the implications may be more serious for the public transport carriers who see a big drop-off in numbers, private transport will also be impacted.
It's not all negative though; former day commuters may see renewed merit in investing in an automobile that is well suited to a pattern of more occasional journeys to meetings or the office. Many may also be deterred from the perceived risks of travelling on trains and buses. Ride-hail firms could suffer if the pool of people who may take last mile journeys from a city centre transport hub to their work or leisure destination is permanently reduced. Again, the hygiene risks associated with shared vehicular travel could prove to be a large negative.
Also, if people are less inclined to travel internationally for business or recreation, the car rental business will be adversely impacted. Electric scooters, however, could be an unlikely hit as a solution to short urban trips. Some city transport authorities have been enthusiastic in encouraging trials for e-scooters. Like bicycles, they could emerge as a winner in a post-Covid urban mobility landscape that favours private/independent modes of transport with low environmental impact. This is particularly the case for those cities that have pedestrianised streets for social distancing during the pandemic. Many will not relish going back to letting the most polluting cars roam more freely again, private cars in the firing line for more restrictions on use. Fossil-fuel burning cars will be worst affected.
One accelerated trend in 2020 has been the rise of online transactions for many goods and services that previously involved in-person dealings. Processes have been reviewed and enhanced where possible for 'click and collect' and that includes the new car. Demand for light vans used in final goods delivery has also been high and is forecast to remain so.
Political shifts (or not)
In the US, there's a changing of the guard as 2021 brings a new resident at the White House. After a turbulent four years with Donald Trump as President, Joe Biden takes over. We have yet to see how much changes under a Biden administration but a few changes of emphasis will likely emerge. The Biden team had made environmental protection a core tenet of its election pledges and most observers expect the incoming administration to uphold Obama-era stringent fuel economy and emissions requirements along with supporting the industry and vehicle-buying public on its way to an electrified vehicle fleet.
Under Biden, US emissions standards are unlikely to become more lenient.
Under Biden, US emissions standards are unlikely to become more lenient. This will be heralded as good news by manufacturers of emissions control equipment and electrification components, the demand for which is likely to remain high for the foreseeable future.
International trade disputes may also take on a different tone. That doesn't mean the US will become a soft touch – by no means. There ought to be a more constructive and less adversarial style at work though, especially with respect to trade relations with allies such as the EU.
Does that mean an early reset on the trade tensions with China? Probably not. When it comes to economic relations with China, there is a high degree of consensus in the US that China has systematically and unfairly worked the global trading system. Tariffs will likely stay where they are for now.
In the European Union's trading bloc, tensions are present. A club of 27 is bound to have disagreements from time to time, for example over budgetary priorities. However, the EU has weathered the storm of one of its biggest economies leaving and also appears to have successfully closed ranks to avoid other countries pursuing the UK's path.
At the time of writing, there is considerable uncertainty over the status of the UK's trading relationship with the EU when the transition period ends on December 31st. Negotiations are still taking place, both sides looking for last minute concessions from the other, but also both sides hoping to avoid the economic disruption that would follow a disorderly UK break in January. The initial hit from a no-deal Brexit ('no-deal' would see default to WTO tariffs on UK-EU trade) could be very tough for the UK's automotive sector in 2021 though. The Society of Motor Manufacturers and Traders (SMMT) has said that leaving the EU without a deal would most likely slash output from between 1.3m and 1.6m cars per year to 800,000 next year.
Whether a deal is struck before the deadline or not, the UK-EU economic relationship will likely be subject to further pressures during 2021 as friction is introduced to international border shipments and some degree of disruption to just-in-time supply chains is inevitable. How the two parties deal with this evolving relationship will be something that many, especially in the automotive industry, will be watching closely. The rancour and argument of the split may yet fade away as both the UK and EU realise that neighbours building on cooperation is way better for everyone's economic health.
Industry structure
Select a caption afterwards
Pressures have been at work on the structure of the global auto industry for some time, with corporate consolidation and M&A an established response to the financial pressures that flow from the dynamics of shifting demand, cost burdens and rapid technological change.
One response to such pressures is evident in a rise in the number of strategic collaborations – typically involving R&D or investments in defined areas – that enable companies to share costs. Ford and Volkswagen are working together on AI (Argo) and on electric vehicle tech (Ford gets to use the VW MEB platform). Tier 1 suppliers are also looking to work on a strategic basis with suitable partners – especially where synergies can be exploited (eg Motional – Aptiv autonomous drive tech and Hyundai vehicle engineering expertise).Toyota has shown a willingness to collaborate on selective platform and engineering sharing with smaller Japanese OEMs – notably Suzuki and Subaru. Expect to see more strategic collaborations in 2021 as companies grapple with slim margins in a global marketplace significantly down on pre-pandemic norms.
We believe more restructuring is on the way, especially involving firms that are key enablers or technology providers in CASE. The ecosystem that includes automotive firms has now broadened out to include other allied sectors (for example chip or sensor specialists), types of companies and, increasingly, start-ups.
Restructuring opportunities are present all along the supply chain as the auto industry emerges from this unprecedented crisis.
Restructuring opportunities are present all along the supply chain as the auto industry emerges from this unprecedented crisis. Many suppliers will be financially stressed, in administration or close to going out of business. In these circumstances, M&A activity will get a boost as opportunities for acquisition at low price emerge. Venture capital companies also see a sector rife with undervalued companies as well as companies that can be re-configured to be better placed for the high value product markets of tomorrow. Similarly, divested assets from companies aiming to change their specialist offering or take out cost can offer hidden value in some circumstances.
At the vehicle maker level, further consolidation is also highly possible. Stellantis (PSA and FCA merger; deal completion Q1) is one to watch in 2021 as it establishes itself organisationally and sets a business plan. The planned merger will create the 3rd largest global car company by revenues and 4th largest by volume. The new company will be led by current PSA chief Carlos Tavares and a big part of the rationale behind the move is to have the greater scale and resources to be at the forefront of the long-run CASE megatrends that are impacting mobility and the transport industry.
Markets
GlobalData's base COVID-19 forecast scenario now sees a 16% decline in global light vehicle sales in 2020 compared with 2019; a bigger one-off shock than witnessed in the two years of the global financial crisis ten years ago. Market damage was most acute in Q2, with a 31.3% drop in year-on-year sales recorded. Declines moderated in Q3 and Q4 due to pent-up demand coming to the fore, but Europe looks set to have a troubled year-end as coronavirus infections increase again and significant population restrictions returned or were tightened in a number of markets.
Turning to 2021, we to expect a rebound in the global light vehicle market of nearly 15% to 85m. However, we don't expect to see pre-Covid sales levels to be attained across global markets before 2023 due to creeping macroeconomic effects of the coronavirus-induced recession.
Strong results, in terms of YoY gains, for Q1 and Q2 are anticipated to the tune of 26% and 41% respectively because of 2020's low base for comparison.
If the vaccines can put the virus into reverse by Q2 2021, we would expect 2021's recovery to be further strengthened. However, with markets already expected to provide strong YoY comparisons in Q1 and Q2 due to lack of lockdowns the effect is expected to be a marginal 1.5% lift to recovery. That 1.5% amounts to an incremental 1.2m in sales across Asia, Europe and North America taking total sales to 86.4m, 2.5m short of 2019's pre-pandemic total and far short of 2018's record 94.3m. Of course, much depends on the extent of economic scarring and the level of demand pulled forward in 2020 by those untouched by the pandemic.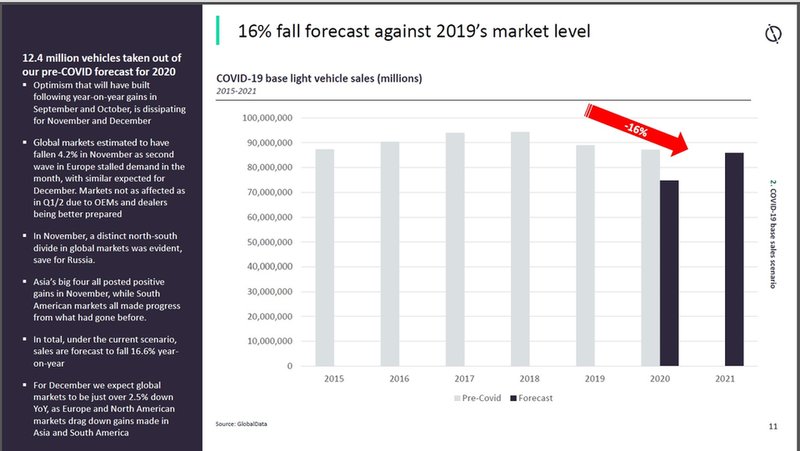 Electric momentum to continue in 2021
The momentum towards electric vehicles is now firmly established. In 2015, global production of EVs was more than 430,000 units but, by 2019, this had grown to just less than 2.1m units. GlobalData forecasts expect this figure to grow to more than 7.5m units by 2025.
The number of electric vehicle launches will also continue to grow as manufacturers fill out their ranges. Notable launches expected in 2021 include the GMC Hummer EV, Ford Mustang Mach-E, Polestar 2, Volkswagen ID.4, and possibly the Tesla Cybertruck due to be built in Austin, Texas.
Electric SUVs are expected to spearhead most launches due to the robust demand for the bodystyle and their higher profitability compared with smaller vehicles. The flexibility of most electric vehicle architectures, such as Volkswagen's modular MEB platform, means one set of parts can be used to underpin a wide range of different bodystyles mounted on top.
Electric SUVs are expected to spearhead most launches due to the robust demand for the bodystyle and their higher profitability compared with smaller vehicles.
Developments in hydrogen fuel cells will continue to advance. In established automotive manufacturing nations, fuel cell electric vehicles (FCEVs) are seen as a potential source of new industrial development as demand for combustion engines wanes and the supporting supply chains pivot to electrified vehicles. This can counter the dominance of the battery electric vehicle market by China, which holds the majority of Li-ion cell manufacture and raw materials.
Especially strong momentum for FCEVs will be found in the electrified commercial vehicle market where the fuel cost and emissions savings from switching away from combustion-engined vehicles are more acute.
Chinese manufacturers such as Great Wall, SAIC or Geely which are growing their electric portfolios rapidly, backed by China's established strength in EVs and battery production. VW has seemingly put the 2015 diesel emission scandal behind itself and has embarked on an aggressive EV strategy which will see a raft of models launched across its brands in 2021.
New EV battery chemistries; Toyota solid-state
Battery tech is something to keep an eye on in 2021. One of the main reasons Tesla has been able to drop the price of Chinese-made Model 3s is thanks to switching the battery chemistry of more affordable versions to lithium-iron-phosphate (LFP) cells.These units, supplied by local battery giant CATL, offer less energy storage potential than the previous nickel-cobalt-manganese (NMC) chemistry but are cheaper to produce thanks to cutting out the requirement for cobalt – a costly metal that also has ethical risks due to the use of child labour in certain mines in the Democratic Republic of the Congo.
The initial plan for Tesla's Berlin plant included a battery pack production line but, earlier in 2020, Tesla resubmitted plans with the battery site omitted. Then, in September, the company once again confirmed that it expected to produce batteries at the German facility but that it would need to start a new approval process with no timeline given yet.
Considering a new, smaller model for Europe would require less battery capacity than a larger vehicle, Tesla could opt to produce LFP cells in Berlin. These cells have less energy storage potential than Tesla's current NMC versions but cost less to produce – this would allow Tesla to drop the starting price of its European-made model, making it more competitive with new EV challengers such as the Volkswagen ID.3, Peugeot e-208 or Hyundai Kona Electric.
In the US, Tesla is developing a new battery production method under the umbrella of its 'Roadrunner project'. This is intended to see Tesla develop every stage of the battery production process, including designing machinery, to reduce costs and increase production rate. The ultimate goal of the Roadrunner project is to produce a so-called 'million-mile' battery – a pack that will last the service life of the vehicle with no significant capacity fade even up to one million miles of driving.
Tesla has yet to confirm which kind of battery cell it will be manufacturing in Berlin and, considering the first models are expected to roll off the line in summer 2021, it is likely that initial production runs will use imported cells from third-party producers. The cells it's aiming to produce via its Roadrunner project will likely use a more expensive chemistry than the LFP cells its uses in China but, if they were deployed in German-made vehicles, Tesla could still achieve a lower purchase price if it can realise cost savings from increased process efficiency.
Toyota has released plans to build a prototype electric vehicle in 2021 powered by solid-state batteries. This game-changingEV technology relies on replacing the liquid electrolyte found in today's lithium-ion (Li-ion) batteries with a solid one,increasing energy density, lowering recharge times, lengthening service life, and reducing the risk of fire posed by liquid electrolytes exposed to the open air. However, the correct chemistry for solid-state battery electrolytes has, until recently, proven elusive, considering it must be stable, cheap to produce and easy to manufacture.
Toyota, however, appears to have cracked the chemistry for its prototype, backed by its leading position in solid-state battery development underpinned by more than 1,000 patents in the field. The Japanese automaker claims some very impressive performance figures for the technology – a vehicle equipped with Toyota's proposed battery pack would need just 10 minutes to recharge compared with 30 for today's very best Li-ion packs. In addition, the vehicle should have roughly double the driving range of an equivalent Li-ion-powered vehicle.
Larger, curved screens
Jump into a new car today and you are almost sure to find a tablet-style touchscreen infotainment system positioned centre stage of the dash. It acknowledges that most of us no longer use maps to find our way around but expect the car to guide us to our destination and remain connected throughout the journey. For example, the Volvo XC90 comes loaded with semi-autonomous and connected car features, most of which are displayed on an intuitive centre console touchscreen.
As with most new technologies, what starts in the luxury market often trickles down the car segments. Inside the new Honda Civic, positioned at the top of the piano-black finish centre console - and drawing the eye as the push start is pressed - is a Honda Connect 2 seven-inch touchscreen, serving as the main point of contact to control the infotainment and climate control functions. This second-generation of Honda's infotainment and connectivity system incorporates Apple CarPlay and Android Auto integration.
Tomorrow's cockpits, according to Harman, will have more curved screens designed using OLED technology. The main advantage of an OLED display is that it works without a backlight, enabling it to blend into the interior.
Screens are becoming larger, too. The Tesla Model S features a huge 17-inch screen. But that is just the tip of the iceberg. China's Byton has debuted its first concept car. A notable feature of the electric SUV is a colossal 49-inch screen stretching the width of the dash.
Whether or not such high-tech wizardry will actually make it onto the road, the above concepts demonstrate the direction the auto industry is taking.
Voice recognition
While giving instructions in our cars is nothing new, putting questions to the likes of Alexa and Cortana while on the road is. Automakers are fast adopting virtual assistants, confirming that speech is becoming the preferred interface for tomorrow's cockpit.
Voice recognition is seen by some as the answer to eliminate many controls that have traditionally been manually operated. Voice can play an important part of a multimodal HMI solution for inputting information or for cutting through layers on the menus by requesting a function directly. Traditional voice control was centred on a set of fixed commands with catatonic responses which required some level of driver training prior to operation of the system. With the advent of the new low power, high performance microprocessors, smarter voice command engines linked into the HMI logic are now available. Even natural language and grammatical analysis are becoming more achievable.
Voice recognition, although already an option, looks set to play a bigger role as cars gradually become more autonomous.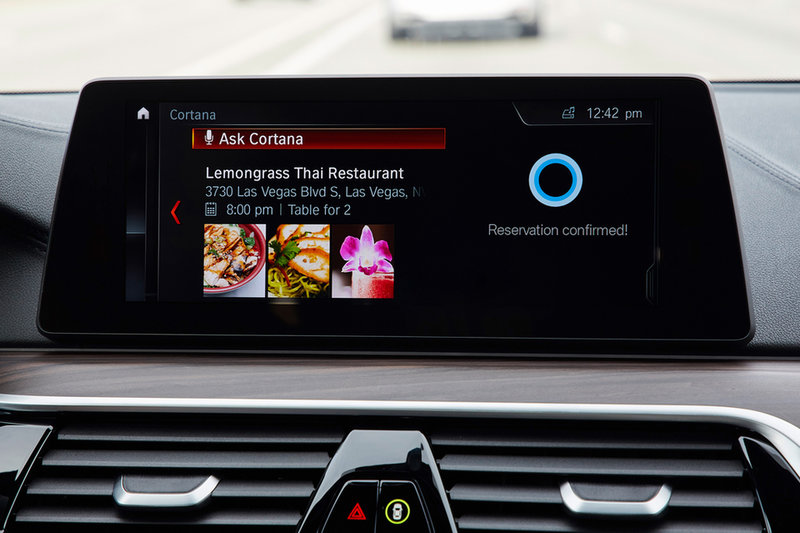 If in doubt, ask: Microsoft's Cortana AI system forms part of BMW's Connected Car vision.
Gesture recognition
Looking down at a touchscreen (without haptic feedback) can be distracting. Gesture recognition is therefore said to be the Next Big Thing, regarded as the logical next step from touchscreens and buttons. Gesture control operates via a stereo camera within the cabin that can recognise certain hand movements for pre-programmed adjustments and functions. Rotating your finger clockwise at a screen could turn up the volume or a finger gesture could answer or decline a call. While such novelties will make life simpler for the driver, it should also simplify interior design and liberate space for storage options.
Interior lighting trends
Advances have also been made in the interior lighting department. Not so long ago, interior lighting consisted of central and side headliner lights, complemented by low-level ambient lighting located mainly in the cockpit area. Today, the accent has changed, thanks to widespread use of LEDs enabling personalisation of car interiors. For example, during night time driving, the Mercedes-Benz E-Class takes on an entirely different feel thanks to the ambient interior LED lighting that can be personalised using a palette of no fewer than 64 colours. It really does start to feel like a cockpit, adding illuminating highlights to the trim, the central display, the front stowage compartment on the centre console, handle recesses, door pockets, front and rear footwells, overhead control panel and mirror triangle.