Face time, car-sharing and AVs
The driver and passenger experience is changing, with advanced technologies able to boost safety and reduce the load on the driver, as well as open up new possibilities for passengers. New business models will also play a role in the future vehicle interior.
Face time
Research by the Royal Society for the Prevention of Accidents shows that driver fatigue may be a contributory factor in up to 20 per cent of road accidents. While driver alert systems – aimed at identifying signs of driver fatigue – have been around for a while, eye-tracking and camera-based facial recognition technology are under development. When cars are finally on the road in a highly automated mode, driver monitoring will become even more significant. Hence the focus of development is on camera-based facial recognition technology.
Driver alert systems – aimed at identifying signs of driver fatigue - have been around for a while. We have seen such systems being offered by a number of automakers using different guises, including Ford (calling it Driver Alert), Mercedes-Benz (Attention Assist), Toyota (Driver Monitoring System), VW (Fatigue Detection System) and Volvo (Driver Alert Control).
Driver fatigue systems typically work by monitoring driver behaviour, noting any erratic steering wheel movements, lane departures or changing speeds for no reason. As these elements tend to suggest a drowsy driver, most solutions involve trying to grab the driver's attention via a flashing/blinking dashboard display and/or audible warning. For example, Volkswagen's system uses a flashing display and series of bleeps if it detects that a driver is starting to lose concentration. If the driver has not taken a break within 15 minutes, the system will repeat the warning. Ford's Driver Alert works along similar lines. If a dozy driver ignores a warning, the system can only be re-set by pulling over and opening the driver's door. The system then recognises that the driver has either taken a break or changed drivers.
Car sharing and implications for the interior
While some view the gradual rise of car-sharing as a threat, leading to lower sales volume, a research note from auto analysts at Deutsche Bank suggests the opposite. Analysts say that the rise of car sharing could actually create new opportunities for automakers and that the view of a shrinking market could be wrong.
The bank's team agree that the vehicle fleet will likely fall as vehicle utilisation rises, with population density serving as a key determinant of the size of the on-demand fleet. The net effect in the US could be to reduce the vehicle fleet by around 25m units. However, they point out that vehicles utilised more intensively will have a much shorter life-cycle – just three years for an on-demand and shared vehicle, they estimate. The higher rate of turnover of a smaller fleet would, according to the analysts, see sales volumes rise.
The researchers also point out that under the car sharing scenario, the auto industry becomes less cyclical, as miles travelled, rather than the state of the economy and credit conditions, will drive sales volumes.
Autonomous driving
With 'driverless cars' (autonomous) often in the media spotlight, a number of studies have been carried out to discover how people might spend their free time in such vehicles. Self-driving cars may still be some way down the road but Ford believes that many people can already foresee the life-changing difference they will make. A Ford-commissioned survey of 5,000 adults showed how drivers would spend the time in self-driving cars:
80 per cent said they would look forward to relaxing and enjoying the scenery; 72 per cent would chat on the phone
64 per cent would have a bite to eat, with enjoying books and movies close behind
16 per cent would let children travel alone, marking the end of the school run.
However we decide to use the time in an autonomous car is open to question, of course, but we can certainly expect that being chauffeured around will take some getting used to. While you might feel completely relieved of the task of driving, you could gradually be consumed or 'expected' to use the time to concentrate on more pressing work-related tasks just as if you were travelling on a train or plane. While this means you are more accessible to your employer, it could enable you to take part in face-to-face meetings or accomplish some other work outside the office. This might give you the opportunity to leave the office earlier than usual. Now there is something to look forward to.
Another topic that has, until relatively recently, been over-looked is the link between autonomous cars and motion sickness. With a new seating layout, occupants of self-driving cars will expect to use the time to read or fiddle with a handheld device, both of which can cause car sickness. Faurecia has teamed up with researchers at Stamford University to study the experience of occupants in self-driving cars, and how to design interiors that can mitigate these symptoms, thus improving their ride.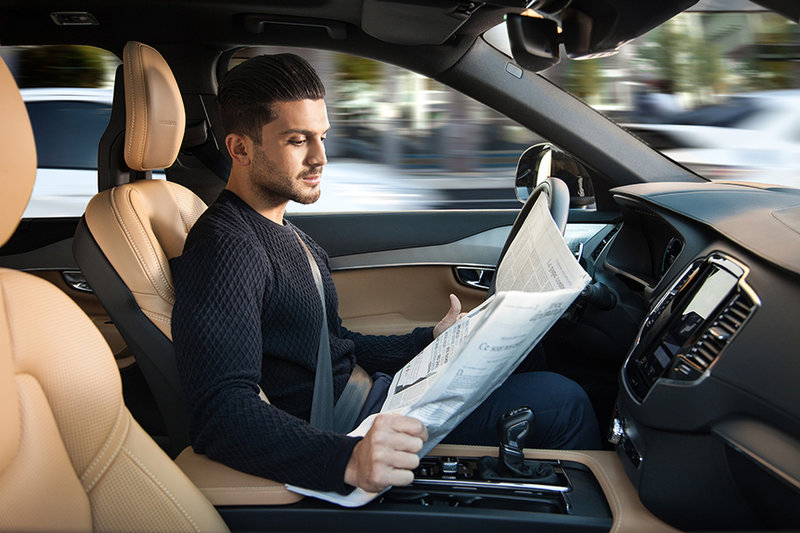 If a self-driving car could give you back an hour each day, how would you spend it?
What does it all mean?
In today's car interior, space in front of the wheel remains a priority with the explosion of added content and features. In tomorrow's car, the space behind the wheel of the self-driving car will be transformed into a comfortably designed control and entertainment centre. Tomorrow's car interiors will also feature a number of refinements, including: integrated tablet-style touchscreens with more apps and in-car connectivity; wider, all-digital instrumentation with wraparound LED screens and virtual environments; voice and gesture recognition; flexible and movable seating with new configurations that will trigger a re-think on occupant safety and airbag placement; augmented reality windscreens; and fold-away steering wheel concepts with more buttons and fewer stalks.
Looking further ahead, the autonomous car could incorporate a retracting steering wheel, reconfigurable dashboard, Star Trek looking seats and an entire windscreen that transforms into head-up display. It's a car, Jim, but not as we know it.