Lightweighting and seating
The three megatrends impacting the global automotive industry, namely fuel efficiency, individualisation and autonomous driving, strongly influence the shape and form of tomorrow's car seat.
Fuel efficiency and CO2 requirements can only really be achieved with weight reduction. Hence the relentless push for lightweighting has led to the novel use of alternative, advanced and even organic materials in seat design. Individualisation of seating is another growing trend, keeping interior designers mindful of aspects such as customisation, x-covers and niche products - all based on global platforms.
In terms of the seat structure, there is greater use of aluminium (or steel and aluminium combined) in manufacturing both the front or rear seats.
As manufacturers attempt to add more features and create greater interior space in the small car segment, designers and material suppliers are being urged to come up with new ideas, such as slimline seats. Indeed, as vehicles become smaller, we are observing a trend towards thinner seats, similar to those found in concept cars at auto shows. Not just because they look sleeker, but because they add interior space to the cabin. Seats will continue to be lighter and thinner thanks to the increasing use of high strength low alloy steels and new joining methods for both steel-to-steel and steel to other materials.
We can also expect to see more fibre-reinforced composite back frames that provide a low mass design and improved packaging efficiency.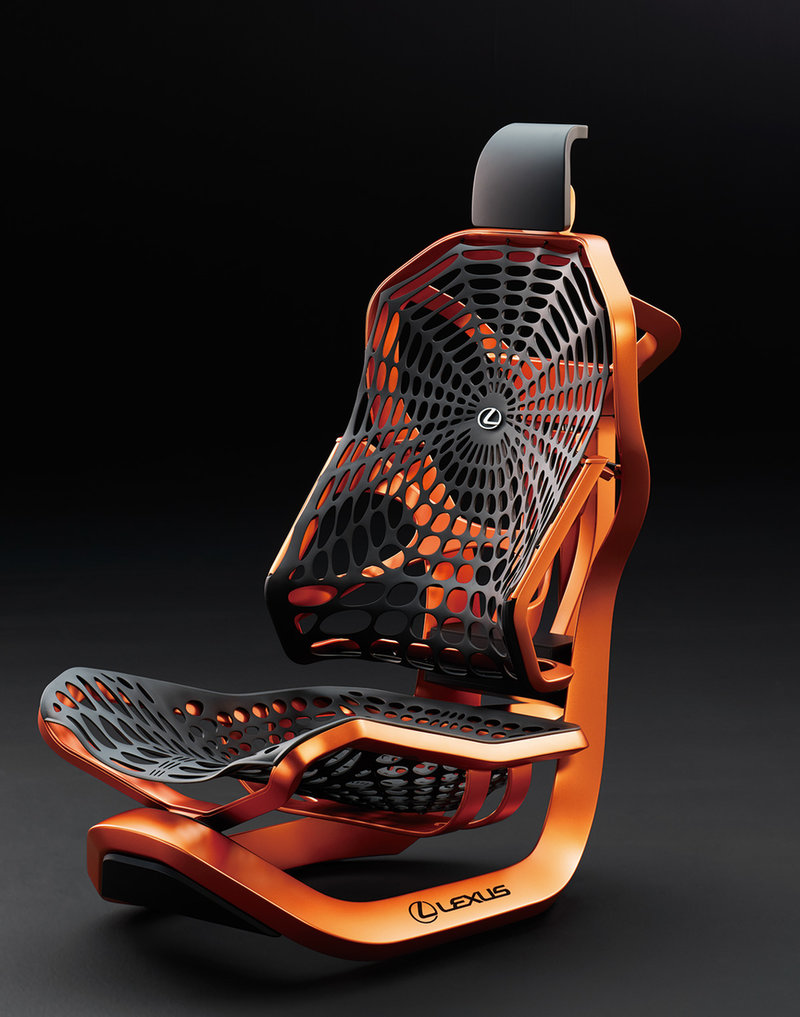 As seat designs go, this one caught our eye: The Lexus kinetic seat concept.
Take a seat
Although lighter seats remains a focus of research, other developments in vehicle seating have been taking place much faster than may be apparent on the surface. Automakers are demanding greater differentiation in their seat designs while motorists look for greater functionality and luxury.
Back in the 1970s, a vinyl car seat was a functional component with few or no added value features.
Nowadays, with drivers spending more time in their car on longer commutes, they expect a more comfortable ride. Consequently, the seat has become an integral part of the car's overall design and appeal in the showroom. More power content in the front and back is becoming commonplace.
As manufacturers develop seats that are lighter, offer more space for occupants and incorporate environmentally friendly materials, these market drivers have led to greater use of alternative and advanced materials. Space creation inside the vehicle has become critical with the explosion of added content and features. Discerning consumer tastes also cause consumers to expect more flexible living space within their cars.
While the focus has, for some time, been on improving the front seats, automakers have paid more and more attention to the second and third row seats.
Not only are seats becoming safer but more supportive, versatile and pleasant to sit in with a multitude of hidden creature comforts, such as adjustable lumbar supports, massage systems, climate control systems, memory mechanisms, height and rake adjustments, self-positioning headrests, built-in seatbelts and, of course, airbags.
While the focus has, for some time, been on improving the front seats, automakers have paid more and more attention to the second and third row seats. The Honda HR-V is equipped with the automaker's flexible 'Magic Seat' system which flips up cinema-style to provide three modes.
Yet flexible and movable seating with new configurations in the futuristic autonomous car have triggered a re-think on occupant safety and airbag placement. In the meantime, the focus on driver health and 'wellness' remains topical.
Smart materials
Smart materials, such as shape memory alloys and polymers, possess the property to change their shape, strength and/or stiffness when heat, stress, a magnetic field or electrical voltage are introduced. This opens new possibilities for many movable vehicle features, as shape memory alloys, and polymers in particular, 'remember' their original shape and can return to it.
Actuators and sensors made from these materials have the potential to improve vehicle performance and fuel economy, alongside enabling improved comfort and convenience features. These actuators and sensors can provide significant benefits when used to replace conventional motorised or hydraulic devices by reducing vehicle mass, component size and complexity, as well as improving design flexibility, functionality and reliability. Such applications include active vehicle surfaces, such as spoilers and air inlets that adjust to govern airflow, improved aerodynamics and performance, including bonnet, door latch and glove compartment releases for more convenient access.