The world of changing car interiors
In an era when the very essence of what a car interior is – how it feels, looks and operates – is rapidly changing, it can be tricky to visualise what we will be sitting in by 2030. But there is never any shortage of concept cars on display around the world's major car shows that give us a glimpse of what the future might hold. While some concepts are more out there than others, Matthew Beecham, associate editor of just-auto, highlights some common themes emerging, such as greater use of multi-screens, all-digital dashboards, personalisation and connectivity.
Designers are continually reinventing the interior to appeal to occupants of all shapes, sizes, ages and cultures. Not only is there the problem of defining comfort levels, but also cosmetic questions of colour, trim, covering materials used, durability, use of child seats, headrests and overall seating arrangement. Above all, a vehicle's interior is a critical element in the overall design process and regarded by the automaker as one area where the individuality of the car can be demonstrated.
A car interior must suit the owner's lifestyle, yet also be functional and flexible. A fine example is found in the Skoda Superb that offers a smart door panel storage solution for an umbrella, a feature previously available only in certain luxury cars. Such clever attention to detail in a mid-range segment car is not new, of course. Way back in 2009, the Citroen C4 Picasso featured door pockets that illuminated when your hand dipped in to find something and a boot light that unclipped to become a torch which lasted up to 45 minutes using the rechargeable batteries.
Car interiors with split personalities are just around the corner. Automakers already talk of a virtual interior concept of an autonomous car, dividing the cabin into 'private areas of retreat' and 'digital living spaces' with lighting to suit the mood.

Connectivity between the vehicle, passengers and outside world is also key. High resolution, touch-sensitive and/or gesture recognition screens dotted around the cabin, enable the occupants to work, rest and play. The possibilities for interaction seem endless.
Cocooned in a cockpit
The area immediately in front of the driver and front seat passenger is commonly called the cockpit. Despite the smooth lines and simple appearance, the cockpit is one of the most complicated and tightly packaged assemblies in a vehicle. It is also one of the most inaccessible. The cockpit may contain 50 per cent of the total vehicle wiring system and most of the vehicle functions are controlled from this area. With several hundred individual components, it is also one of the most common sources of quality problems. The standard of design and manufacture is therefore critical.
For some time, we have seen cockpit designers working on ways in which to display more information yet make the dash appear less complex. The general approach is to ensure that only the most essential information is displayed while remaining features are available in the background or brought up at will. But the increasing fitment of sophisticated mobile multimedia systems, alongside safety and security items, suggest that this part of the interior is still in its infancy in terms of development.
All-digital dashboards
If you appreciate uncluttered, simple dashboards, then it will come as welcome news that traditional buttons are gradually disappearing in favour of multi-functional touchscreens. The Range Rover Velar's minimalist, futuristic cockpit is at the forefront of this movement, giving it appeal in spades. It ticks a lot of boxes with its multi-screen set-up and in-car connectivity. The net result of all this interior development and tactility renders it both practical and desirable with a rich blend of comfort and style.
While touchscreens offer space-saving possibilities, designers are faced with the safety issue of distracting the driver. A continuing focus of R&D is therefore on more intuitive, safer and simple control options for motorists, including the integration of haptic feedback into touch-sensitive surfaces. This enables the driver to sense directly whether or not they have actually activated a 'touch element' after touching it.
As with most new technologies, what starts in the luxury market often trickles down the car segments. The latest generation Ford Fiesta is a case in point. Standing proud of the Fiesta dash positioned centre stage is a slick, eight-inch tablet-inspired colour touchscreen that delivers a welcome (and silent) sequence on start-up. The number of buttons on the centre console is reduced by almost half compared to the previous generation Fiesta. Only the essential rotary dials to control the HVAC system and audio volume are left in place, making it more user-friendly and ergonomic.
Mirrorless cars use video systems and dashboard screens to increase the driver's field of view, typically eliminating the blind spot by stitching together a panoramic view of what is behind and to the side of the car.
Material-wise, we are seeing more centre console screens made of flat and curved glass. Although the use of glass for touchscreens creates a classy look, this illusion is soon shattered by smudgy fingerprints. The HMI (human machine interface) therefore needs greater refinement before glass screens become widespread. Glass screens do not currently provide the user with haptic feedback, causing driver distraction when double-checking activation of functions.
Another reason tomorrow's car interiors could see more screens is the gradual disappearance of the exterior rearview mirror. Given that wing mirrors add weight, cost and wind resistance (at high speeds) to the car, it is not surprising that some automakers wish to eliminate them thereby creating a sleeker look. As suppliers anticipate a change to mirror regulations, many are developing mirrorless systems using vehicle mounted cameras and dashboard monitors.
Mirrorless cars use video systems and dashboard screens to increase the driver's field of view, typically eliminating the blind spot by stitching together a panoramic view of what is behind and to the side of the car. Although mirrorless cars will take time to get used to, most solutions we have seen feature high-resolution screens located close to where a driver would glance to check the wing mirror. Some mirrorless technologies assist the driver further by automatically adjusting to reduce sunlight glare or intensifying levels of brightness while parking at night.
With future trends pointing to the elimination of wing mirrors and the addition of screens, such black rectangles can dominate the look and feel of a car's interior. It has even been disputed as appearing a little dated; the opposite of a luxury interior designer's objective. To some extent, flexible OLED (Organic Light-Emitting Diode) displays that blend into the interior can help (see below). A balance therefore needs to be struck. Greater use of projecting driver information onto head-up displays (HUDs) and augmented reality windscreens would further reduce dashboard screens.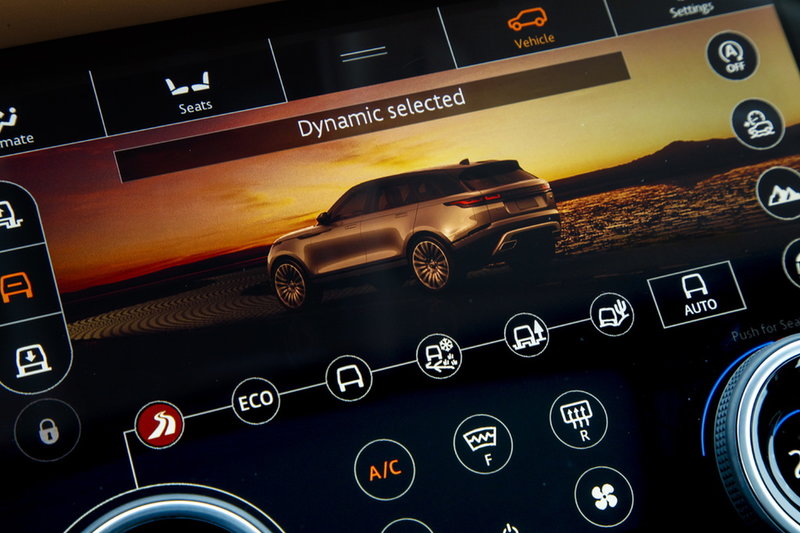 More screens, fewer buttons (Range Rover Velar).
Larger, curved screens
Jump into a new car today and you are almost sure to find a tablet-style touchscreen infotainment system positioned centre stage of the dash. It acknowledges that most of us no longer use maps to find our way around but expect the car to guide us to our destination and remain connected throughout the journey. For example, the Volvo XC90 comes loaded with semi-autonomous and connected car features, most of which are displayed on an intuitive centre console touchscreen.
As with most new technologies, what starts in the luxury market often trickles down the car segments. Inside the new Honda Civic, positioned at the top of the piano-black finish centre console - and drawing the eye as the push start is pressed - is a Honda Connect 2 seven-inch touchscreen, serving as the main point of contact to control the infotainment and climate control functions. This second-generation of Honda's infotainment and connectivity system incorporates Apple CarPlay and Android Auto integration.
Tomorrow's cockpits, according to Harman, will have more curved screens designed using OLED technology. The main advantage of an OLED display is that it works without a backlight, enabling it to blend into the interior.
Screens are becoming larger, too. The Tesla Model S features a huge 17-inch screen. But that is just the tip of the iceberg. China's Byton has debuted its first concept car. A notable feature of the electric SUV is a colossal 49-inch screen stretching the width of the dash.
Whether or not such high-tech wizardry will actually make it onto the road, the above concepts demonstrate the direction the auto industry is taking.
Voice recognition
While giving instructions in our cars is nothing new, putting questions to the likes of Alexa and Cortana while on the road is. Automakers are fast adopting virtual assistants, confirming that speech is becoming the preferred interface for tomorrow's cockpit.
Voice recognition is seen by some as the answer to eliminate many controls that have traditionally been manually operated. Voice can play an important part of a multimodal HMI solution for inputting information or for cutting through layers on the menus by requesting a function directly. Traditional voice control was centred on a set of fixed commands with catatonic responses which required some level of driver training prior to operation of the system. With the advent of the new low power, high performance microprocessors, smarter voice command engines linked into the HMI logic are now available. Even natural language and grammatical analysis are becoming more achievable.
Voice recognition, although already an option, looks set to play a bigger role as cars gradually become more autonomous.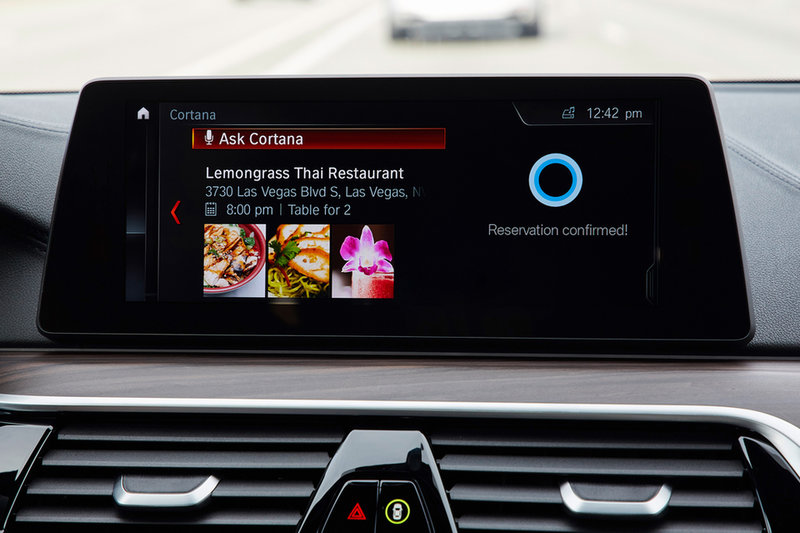 If in doubt, ask: Microsoft's Cortana AI system forms part of BMW's Connected Car vision.
Gesture recognition
Looking down at a touchscreen (without haptic feedback) can be distracting. Gesture recognition is therefore said to be the Next Big Thing, regarded as the logical next step from touchscreens and buttons. Gesture control operates via a stereo camera within the cabin that can recognise certain hand movements for pre-programmed adjustments and functions. Rotating your finger clockwise at a screen could turn up the volume or a finger gesture could answer or decline a call. While such novelties will make life simpler for the driver, it should also simplify interior design and liberate space for storage options.
Interior lighting trends
Advances have also been made in the interior lighting department. Not so long ago, interior lighting consisted of central and side headliner lights, complemented by low-level ambient lighting located mainly in the cockpit area. Today, the accent has changed, thanks to widespread use of LEDs enabling personalisation of car interiors. For example, during night time driving, the Mercedes-Benz E-Class takes on an entirely different feel thanks to the ambient interior LED lighting that can be personalised using a palette of no fewer than 64 colours. It really does start to feel like a cockpit, adding illuminating highlights to the trim, the central display, the front stowage compartment on the centre console, handle recesses, door pockets, front and rear footwells, overhead control panel and mirror triangle.