Renault's
e-mobility boost
Renault and Google deepen partnership for 'software defined vehicle'
Accelerated partnership plans software-based 'vehicle of tomorrow'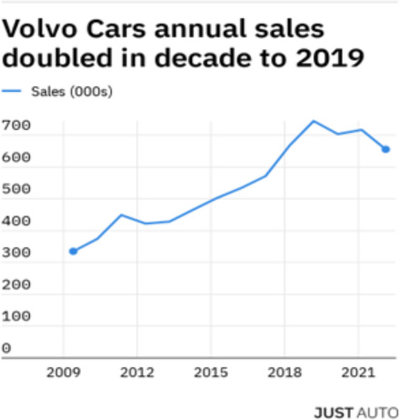 Renault Group and Google are expanding their partnership and claim the "software defined vehicle" (SDV ) will bring together the best of the automotive and digital worlds to allow for new on-demand services and continuous upgrades to be delivered to the car.
The partnership will build on the existing Android Automotive Operating System and Google Cloud technology collaboration.
Under the partnership Google becomes the preferred cloud supplier of Renault Group . The collaboration, initiated in 2018, will be extended as part of Renault Group's "Move to Cloud" digital transformation.
The two partners will develop a set of onboard and offboard software components that are dedicated to the SDV and will grow synergies and use cases related to the group's "Move to Cloud" strategy.
This collaboration on cloud computing, initiated in 2018, is accelerating today with the creation of a Digital Twin, a virtual twin of the vehicle that will feature the most advanced Artificial Intelligence (AI) capabilities, for an easier and continuous integration of new services into the vehicle and the creation of new onboard (In-Car Services) and offboard applications.
The Renault Group will eventually transform its entire operational model to the cloud for more agility, better performance, and higher profitability.
Luca de Meo, Renault Group CEO, said: "The complexity of the electronic architecture of cars is increasing exponentially, driven by the sophistication of the functionalities and services expected by customers. Equipped with a shared IT platform, continuous over-the-air updates, and streamlined access to car data, the SDV approach developed in partnership with Google will transform our vehicles to help serve future customers' needs.
"This will increase residual value and after-sales retention, which are two key drivers of our financial performance, and help Renault to roll out our portfolio of new services. Finally, our strategic partnership with Google will allow us to accelerate our end-to-end digital transformation, from the design of the car to its market launch through its production, and ultimately to bring added value to our customers. With Google, we are going beyond mere cooperation: a software champion and a mobility champion are joining forces to create game-changing technologies."
Sundar Pichai, CEO of Google and Alphabet, said: "Our collaboration with Renault Group has improved comfort, safety, and connectivity on the road. Today's announcement will help accelerate Renault Group's digital transformation by bringing together our expertise in the cloud, AI, and Android to provide for a secure, highly-personalized experience that meets customers' evolving expectations."
Renault says the collaboration will enable Renault Group to reduce costs, improve efficiency, flexibility, and speed of vehicle developments, and increase value for end-users thanks to continuous software innovation.
Renault Group will expand its use of Google Cloud technology for the SDV to better manage data capture and analytics, securely and confidentially, as well as software development for the vehicle. This supports first use cases in development, such as:
Predictive maintenance and better detection and rectification of failures in near real time if necessary.
A personalized experience onboard the vehicle (In-Car services) to adapt to driving behaviours, often-used destinations such as EV Charging Stations, etc.
Insurance models based on actual usage and driving behaviours.
Combined with the "Software Defined Vehicle" Platform and its Car Data Platform, Renault Group plans to monitor and analyse car usage for a better understanding of customers' needs and behaviours and for better and highly personalized services according to their expectations, in compliance with the security and privacy norms that apply.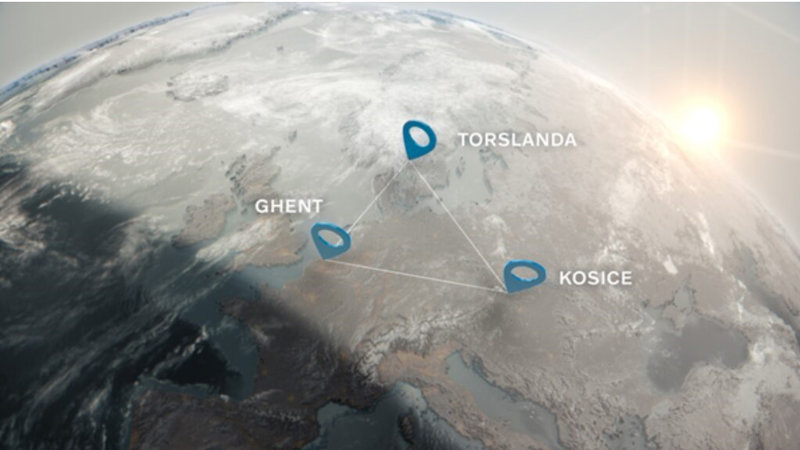 The new Slovakia plant will be Volvo's third manufacturing plant in Europe.
Renault Group 'becoming a tech company with Google Cloud'
With one billion pieces of data captured every day across all manufacturing sites, connected production lines, supply chain data hosted and analysed in the cloud, Renault Group says it has recognized the benefits of agility and performance after more than four years of partnership on cloud computing. Renault therefore appoints Google as its preferred cloud partner and intends to leverage its innovation in machine learning and AI, its constant investments in its open and always more sustainable infrastructure, and its secure cloud approach.
GAC claims 'graphene-based' fast-charging battery breakthrough
Guangzhou Auto (GAC) Group says it has achieved a breakthrough in graphene-based fast-charging battery technology and that its vehicle model Aion V will be equipped with the new battery, which is to start production in September.
GAC says that in recent years, graphene, a new material with excellent electrical conductivity, has been the key to breakthroughs in battery technology.
Aion V, the first vehicle to be equipped with the new battery, underwent winter testing and is initially scheduled for mass production in September this year.
At the "2020 GAC Tech Day" held last July, GAC Group demonstrated its 3DG (three-dimensional graphene) production technology with independent intellectual property rights, solving the issue of high costs of graphene, it is claimed. It says the simple, stable, and efficient production method reduces costs to only one-tenth of the conventional method.

After achieving low-cost and large-scale production of graphene, GAC Group says it has also made major breakthroughs in the downstream application of its use. Among them, the electric vehicle industry is most interested in the graphene-based super-fast-charging battery. This graphene-based battery has a 6C fast charge capability, combined with a 600A high-power charger, can be recharged to 80% capacity in 8 minutes. GAC says the battery has also passed the most stringent safety test - Battery Shooting Test, possessing quality and reliability of the highest standard.
GAC says the graphene-based battery technology will significantly shorten charging time, as well as greatly extend battery life, solving the current "pain points" of pure electric vehicles.
VW 'Project Trinity' car to lift EV/AV strategy
Volkswagen says it is planning an electric car to be built in Wolfsburg from 2026 that will set new standards in terms of range, charging speed and digitization – and will be able to drive highly automated according to SAE Level 4.
The project for the car is named Trinity and stands for three crucial themes: (1) a newly developed electronics platform, (2) the simplification of the supply structure, and (3) fully networked and intelligent production at the main plant in Wolfsburg.
"Trinity is a sort of crystallization point for our 'Accelerate' strategy, a lighthouse project, our software dream car," says Ralf Brandstätter, CEO of the Volkswagen brand. VW says the newly developed vehicle architecture will set standards in terms of range, charging speed ("charging as fast as refuelling") and digitalization.
In addition, VW claims Trinity will make autonomous driving in the volume segment possible for many people. By the planned start of series production in 2026, VW says Trinity will already reach Level 2+ and be technically ready for Level 4. "We are using our economies of scale to make autonomous driving available to many people and to build a learning neural network. In this way, we are creating the conditions for the continuous exchange of data from our vehicle fleet – for example, on the traffic situation, on obstacles or on accidents," says Ralf Brandstätter.
VW claims that Trinity gives people time and saves them stress. After a long highway trip, for example, you arrive at your destination relaxed 'because you have been driven by a chauffeur to your vacation or to your home after work'.
"Trinity therefore becomes a kind of 'time machine' for our customers," says Ralf Brandstätter.
With the production of the series version, the Wolfsburg plant will become a showcase for an intelligent and fully networked production processes, VW says. "We will completely rethink the way we build cars and introduce revolutionary approaches. Digitalization, automation and lightweight construction play an important role here," says Ralf Brandstätter.
VW maintains that future vehicle models such as Trinity will be produced with considerably fewer variants, and the hardware will be largely standardized. The cars will then have virtually everything on board and customers will be able to activate desired functions "on demand" at any time via the digital ecosystem in the car. This will significantly reduce complexity in production, the company says.
By developing the automobile into a software-based product, Volkswagen says it is creating the conditions for new, data-based business models. Entry barriers to individual mobility are to be lowered while at the same time offering 'even more attractive usage packages'.
Volkswagen intends to generate additional revenue in the usage phase – for charging and energy services, for software-based functions that customers can book as needed, or for automated driving. "In the future, the individual configuration of the vehicle will no longer be determined by the hardware at the time of purchase. Instead, customers will be able to add functions on demand at any time via the digital ecosystem in the car," says Ralf Brandstätter.
VW says that all-electric vehicles are expected to exceed 70% of European and 50% of Chinese and US sales volumes by 2030.
Half Daimler suppliers commit to carbon neutral
Almost half of about 2,000 Daimler suppliers have signed an Ambition Letter of Intent and are committed to supplying only CO2 neutral parts, said Gunnar Guethenke, head of procurement and supplier quality for Mercedes-Benz Cars.
Under its 'Ambition 2039' plan, Mercedes-Benz wants to offer a CO2 neutral new car fleet in less than 20 years. The switch to electric mobility poses supply chain challenges because, compared to ICE vehicles, the production of an all-electric is twice as CO2 intensive, mainly because of the lithium-ion batteries. But, despite the higher energy demand for production, plug-in hybrids and electric vehicles offer a clear advantage in terms of CO2 emissions compared to conventional drives already today, since only when the entire life cycle of the vehicles is considered a realistic picture emerges: electric vehicles can make up for a large part of the initially higher CO2 emissions from the upstream value chain due to their emission-free driving.
R&D head Markus Schaefer said: "With the electric EQS luxury sedan, we have already achieved important milestones in close cooperation with our partners - for example by purchasing CO2 neutrally produced battery cells.
"When awarding contracts for our subsequent electric vehicle platform - Mercedes-Benz Modular Architecture (MMA) for compact and medium-sized cars - we are already applying CO2 as a key criterion."
The automaker said it was talking with all other suppliers to jointly develop strategies for CO2 reduction.
Climate-neutrality is incorporated into contractual terms, and the ambition letter is a key criterion for awarding contracts. From 2039 at the latest, only production materials which are completely CO2 neutral will be purchased and any supplier declining to sign the ambition letter will not be awarded new contracts.
Mercedes-Benz will additionally focus on materials and components that are particularly CO2 intensive in manufacturing and processing until 2039 - items such as battery cells, steel, and aluminium which account for about 80% of the CO2 emissions in the supply chain of a fully electric vehicle.
CATL (Contemporary Amperex Technology) and Farasis Energy have committed to supply battery cells that are produced using electricity from renewable sources such as hydropower, wind, and solar energy. This reduces the CO2 footprint of an entire battery by more than 30%. The rest of the supply chain will be included next.
The goal is to consistently reduce the use of primary raw materials for electric drives by 2030 and gradually increase the share of secondary and renewable materials in vehicles.
Mercedes-Benz plants, including the global battery production network, will produce on a CO2 neutral basis worldwide from 2022. This will make them role models for the supplier network. In line with plant procedure, suppliers are required to avoid and reduce emissions as a fundamental principle. Only then can compensation via high-value projects be considered. The areas of approach for climate-neutral production are diverse, and range from reducing consumption to purchasing energy from renewable energy sources.
The company aims to have plug-in hybrids or all-electric vehicles to make up more than 50% of its car sales by 2030. Other major goals include involvement in shaping the charging infrastructure and agreeing to specific CO2 measures with suppliers.
BrightDrop expands to Canada and starts production at CAMI plant
BrightDrop , the General Motors owned company specialising in last-mile electric delivery, has entered its first international market, Canada, adding DHL Express Canada to its customer portfolio. The company also announced production of the BrightDrop ZEVO 600 electric delivery vans had begun at GM's CAMi Assembly plant in Ontario, making the facility Canada's first large-scale EV factory.
Thailand to build Mercedes EVs
Mercedes-Benz should soon be assembling electric vehicles (EVS ) in Thailand after it reached an agreement with the government to initially ship in completed vehicles levied reduced import tariffs ahead of local production. The imported EVs will benefit from preferential excise duty until the end of 2023. Following a memorandum of understanding (MOU ) signed with the Thai government this month, Mercedes is expected to begin EV assembly in Samut Prakan by the end of 2023.
VinFast begins EV shipments to US
Vietnamese automaker VinFast has begun exporting vehicles with the first batch of 999 battery powered VF8 SUVs shipped to the US in November. In Vietnam, 999 is considered a lucky number. Some of the VF8 models shipped to the US were destined for EV subscription company Autonomy but most were to fulfil orders placed by US retail buyers.
Mercedes to build vans in Poland as Rivian JV plan falters
Mercedes-Benz Vans says it will add electric van production based on a new platform at a plant in Jawor, Poland where it already makes combustion engines and batteries. Mercedes has signed a memorandum of understanding with the Polish government and will make use of] infrastructure at the established Jawor location to build a new plant for van production. A previous plan to expand the factory by establishing a new joint venture manufacturing company with Rivian for large electric vans is on hold due to Rivian's 'ongoing reprioritisation of projects'.
Waze available in two Renault EVs
Renault claims to be the first car brand to offer the Waze application directly integrated into the vehicle's multimedia system. The integration of Waze into the OpenR Link multimedia system with integrated Google is visible on the 12-inch vertical screen of the Austral and Megane E-Tech EVs. Without using a smartphone, the driver has access to real-time traffic information, favourite routes and saved destinations on the eye-level screen. Other vehicle features and music remain accessible when Waze is activated.