Battery recycling initiatives
Recycling of battery components plays a decisive role in closing the materials cycle as far as possible and maximising reuse of raw materials as demand for battery cells grows. We summarise some of the latest automaker initiatives to recycle batteries.
Honda Motor Europe is in the process of expanding its battery recycling partnership with SNAM (Société Nouvelle d'Affinage des Métaux) to advance the use of its end-of-life traction batteries. The pan-European arrangement will see SNAM collect and recycle batteries from Honda's hybrid and electric vehicles and either potentially prepare them for 'second-life' renewable energy storage uses or extract valuable materials for recycling if they are not suitable for that purpose. Honda and SNAM have worked together since 2013, to ensure the traceability of end-of-life batteries and dispose of them in accordance with European Union environmental standards. The expansion of this agreement will see SNAM collect Lithium-ion and Nickel Metal Hydride (NiMH) batteries from across Honda's dealer network and Authorised Treatment Facilities in 22 countries, before analysing how suitable they are for recycling and processing them accordingly.
Audi and Umicore recently completed the test phase of their research cooperation for sustainable battery recycling. The result is more than 90 per cent of the cobalt and nickel in the high-voltage batteries of the Audi e-tron can be recovered.
Since January 2020, the partners have been cooperating on a closed-loop for cobalt and nickel, with the recovered materials used in new battery cells. For the closed-loop pilot project, Umicore will receive cell modules from the Audi e-tron model, which will initially be taken from development vehicles. From those cells, the materials technology company will recover cobalt and nickel, processing them into precursor and cathode materials. From this, new battery cells containing recycled cobalt and nickel can be produced.
In March 2019, Audi said it is testing factory vehicles powered by used lithium-ion batteries at its main plant in Ingolstadt, Germany. Like all OEMs, Audi is obliged by law to take back energy carriers after they have been used in cars. Because they still have a large proportion of their original charging capacity, an Audi project team is investigating how batteries from Audi e-tron test vehicles, for example, or from hybrid models such as the Audi A3 e-tron and Audi Q7 e-tron, can continue to be used sensibly. The battery of an Audi e-tron, for example, consists of 36 individual battery modules and is located under the car's passenger cell between the axles in the form of a flat, wide block. After batteries are taken back, the project team checks each individual module for its continued usability. They then install 24 modules in each new battery tray. This has the same dimensions and weight as the previous lead-acid batteries of the factory vehicles, so the company can continue to use all of those vehicles without any major investments. In the future, specialised employees could take over the assembly of the second-use batteries in the company's own battery centre.
Batteries that are no longer fit for vehicles can be reused in stationary energy storage systems, helping to integrate renewable energy into the public power grid, increase grid stability and lower energy costs for consumers. BMW has launched several major innovations with this in mind. The automaker is also using battery storage systems to steadily optimise power supply at its plants around the world. For a number of years, BMW has been pursuing a recycling policy for battery cells in batteries that can no longer be used as stationary storage devices either. It says viable recycling techniques have been developed with partners during and since the development of the BMW i3. These and other recycling methods are now being upscaled for industrial applications. The aim is to achieve a recycling rate in excess of 90 per cent.
Tesla says it is developing a "unique battery recycling system," which the company believes will result in significant savings over the long-term.
In 2018, Tesla published its first 'impact report' which considers sustainability. In this report, Tesla specifically addressed the idea of recycling batteries: "A common question we hear is, "What happens to Tesla vehicle battery packs once they reach their end of life?" An important distinction between fossil fuels and lithium-ion batteries as an energy source is that while fossil fuels are extracted and used once, the materials in a lithium-ion battery are recyclable. When petroleum is pumped out of the ground, chemically refined and then burned, it releases harmful emissions into the atmosphere that are not recovered for reuse. Battery materials, in contrast, are refined and put into a cell, and will still remain at the end of their life, when they can be recycled to recover its valuable materials for reuse over and over again."
Tesla says it is working with third-party recyclers around the world to process all scrap and end-of-life batteries to recover valuable metals. "At Gigafactory 1, Tesla is developing a unique battery recycling system that will process both battery manufacturing scrap and end-of-life batteries. Through this system, the recovery of critical minerals such as lithium and cobalt will be maximized along with the recovery of all metals used in the battery cell, such as copper, aluminium and steel. All of these materials will be recovered in forms optimized for new battery material production."
On the supply side, Fortum, BASF, and Nornickel signed a letter of intent earlier this year to plan a battery recycling cluster in Harjavalta, Finland, serving the electric vehicle market. This would enable a closed-loop cycle to re-use critical metals present in used batteries. Using metals from recycled batteries to produce battery materials offers significant CO2 reduction in the production of electric vehicles. Additional CO2 reduction can be achieved by using electricity from renewable sources in Finland for the recycling process. BASF intends to use recycled materials from the processes developed by the companies in the cooperation in its planned battery materials precursor plant in Harjavalta, Finland.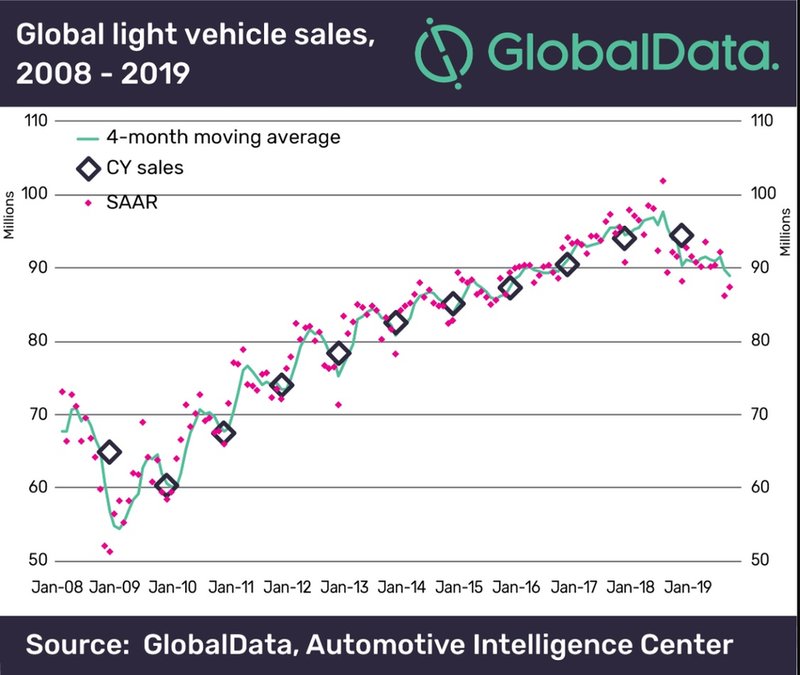 Larger, curved screens
Jump into a new car today and you are almost sure to find a tablet-style touchscreen infotainment system positioned centre stage of the dash. It acknowledges that most of us no longer use maps to find our way around but expect the car to guide us to our destination and remain connected throughout the journey. For example, the Volvo XC90 comes loaded with semi-autonomous and connected car features, most of which are displayed on an intuitive centre console touchscreen.
As with most new technologies, what starts in the luxury market often trickles down the car segments. Inside the new Honda Civic, positioned at the top of the piano-black finish centre console - and drawing the eye as the push start is pressed - is a Honda Connect 2 seven-inch touchscreen, serving as the main point of contact to control the infotainment and climate control functions. This second-generation of Honda's infotainment and connectivity system incorporates Apple CarPlay and Android Auto integration.
Tomorrow's cockpits, according to Harman, will have more curved screens designed using OLED technology. The main advantage of an OLED display is that it works without a backlight, enabling it to blend into the interior.
Screens are becoming larger, too. The Tesla Model S features a huge 17-inch screen. But that is just the tip of the iceberg. China's Byton has debuted its first concept car. A notable feature of the electric SUV is a colossal 49-inch screen stretching the width of the dash.
Whether or not such high-tech wizardry will actually make it onto the road, the above concepts demonstrate the direction the auto industry is taking.
Voice recognition
While giving instructions in our cars is nothing new, putting questions to the likes of Alexa and Cortana while on the road is. Automakers are fast adopting virtual assistants, confirming that speech is becoming the preferred interface for tomorrow's cockpit.
Voice recognition is seen by some as the answer to eliminate many controls that have traditionally been manually operated. Voice can play an important part of a multimodal HMI solution for inputting information or for cutting through layers on the menus by requesting a function directly. Traditional voice control was centred on a set of fixed commands with catatonic responses which required some level of driver training prior to operation of the system. With the advent of the new low power, high performance microprocessors, smarter voice command engines linked into the HMI logic are now available. Even natural language and grammatical analysis are becoming more achievable.
Voice recognition, although already an option, looks set to play a bigger role as cars gradually become more autonomous.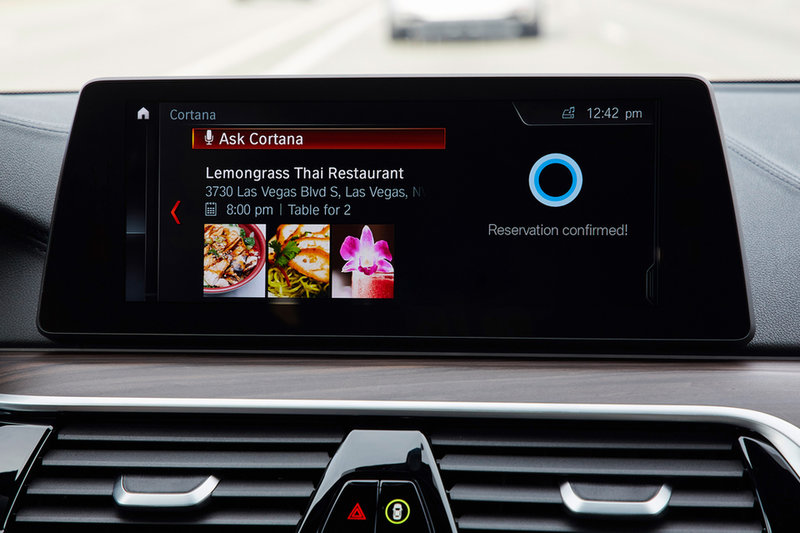 If in doubt, ask: Microsoft's Cortana AI system forms part of BMW's Connected Car vision.
Gesture recognition
Looking down at a touchscreen (without haptic feedback) can be distracting. Gesture recognition is therefore said to be the Next Big Thing, regarded as the logical next step from touchscreens and buttons. Gesture control operates via a stereo camera within the cabin that can recognise certain hand movements for pre-programmed adjustments and functions. Rotating your finger clockwise at a screen could turn up the volume or a finger gesture could answer or decline a call. While such novelties will make life simpler for the driver, it should also simplify interior design and liberate space for storage options.
Interior lighting trends
Advances have also been made in the interior lighting department. Not so long ago, interior lighting consisted of central and side headliner lights, complemented by low-level ambient lighting located mainly in the cockpit area. Today, the accent has changed, thanks to widespread use of LEDs enabling personalisation of car interiors. For example, during night time driving, the Mercedes-Benz E-Class takes on an entirely different feel thanks to the ambient interior LED lighting that can be personalised using a palette of no fewer than 64 colours. It really does start to feel like a cockpit, adding illuminating highlights to the trim, the central display, the front stowage compartment on the centre console, handle recesses, door pockets, front and rear footwells, overhead control panel and mirror triangle.