Natural and sustainable innovation materials round-up
Vehicle manufacturers and suppliers are working hard on innovations that involve natural materials or materials that have been recycled from retired vehicles or industrial process by-products. Here's a selection.
IAC sunroof frame on Mercedes E-Class
Automotive interiors supplier International Automotive Components (IAC) launched its FibreFrame environmentally-sustainable and lightweight, natural fibre sunroof frame on the 2017 Mercedes-Benz E-Class. It says the proprietary innovation is made of 70 per cent renewable raw material content and provides up to 50 per cent in weight saving compared to conventional metal-reinforced steel sunroof frames.
"Sun and panoramic roofs are increasingly popular across all vehicle sizes and segments," said IAC Director of advanced engineering Fritz Schweindl, located at the company's Ebersberg, Bavaria, technology centre. "This market trend inspired IAC to develop stiff and lightweight concepts, which help realise different fixation concepts on the car body, the sun roof or the panoramic roof module. Within its strategy of viable innovation, IAC leveraged its integrated material and process know-how to provide our OEM customers with significant weight savings, a lower carbon footprint for their vehicles and a more efficient production process."
IAC says its FibreFrame replaces the sunroof's metal reinforcement frame with a lighter frame employing strong, natural fibres using a new raw material comprised of 70 per cent renewable content. This lightweight solution is reinforced using IAC's EcoMat natural fibre-based semi-finished material, which was especially developed for this application. The fibre mat is moulded with a thermoset binder and is manufactured in-house by IAC in a hot moulding process.
"In the specification of the IAC EcoMat fibre mat, as well as in terms of tooling technology and production process of this innovation, we were able to take advantage of more than 20 years of experience working with natural-fibre-reinforced materials in automotive interiors," said Schweindl.
"By manufacturing this product in-house in our head-liner plant, we follow our strategy and expansion of vertical integration of our interior systems. Thanks to our global manufacturing footprint and standardised processes, we are now able to adapt IAC FibreFrame to customer needs and supply it around the world."
The new product has high stiffness for improved structural rigidity and enables up to 50 per cent in weight saving compared with conventional steel frames, it is claimed. Compared to conventional thermoplastic frames, FibreFrame also prevents warpage after climate testing. In addition, moulding tooling concepts for IAC's FibreFrame have much shorter lead times than conventional steel moulding tools.
FibreFrame is made at IAC's centre of excellence for overhead products in Prestice, Czech Republic.
As far as 2020 is concerned much depends on prospects for the economy and measures that Beijing may introduce to stimulate demand.
Ford recycles tyres and soybean oil for gaskets and seals
Ford and Recycled Polymeric Materials (RPM) work together to deliver environmentally friendly gaskets and seals made from recycled tyres and bio-renewable content such as soy. The gaskets and seals are derived from 25 per cent post-consumer particulate from recycled tyres and 17% bio-renewable content from soy. Ford also says that the seals offer weight savings, with more than 1,675 tons of weight removed from Ford vehicles on the road.
"When it comes to finding a way to use more renewable and recyclable content in our vehicles, Ford and our suppliers are looking at every part of a vehicle," said Dr. Cynthia Flanigan, technical leader, Research and Innovation. "As long as an application makes sense and upholds strict quality standards, we'll look to get these sustainable materials inside our vehicles."
Ford says that it has concentrated on increasing the use of recycled plastics and bio-based materials whenever possible. Examples include soy foam seat cushions, wheat straw-filled plastic, recycled resins for underbody systems, recycled yarns on seat covers and natural-fibre plastic for interior components. Today, the automaker uses eight sustainable-based materials in its vehicles including soy foam, castor oil, wheat straw, kenaf fibre, cellulose, wood, coconut fibre and rice hulls (see more details below).
According to the United Nations environment programme, 5bn metric tonnes of agricultural biomass waste is produced annually. A by-product of agriculture, the supply of materials is abundant and often underutilised. Yet the materials can be relatively low cost, and can help manufacturers to offset the use of glass fibres and talc for more sustainable, lightweight products.
Ford points out there are about 400 pounds of plastic on a typical car and there is plenty of opportunity to utilise green composites.
As far as 2020 is concerned much depends on prospects for the economy and measures that Beijing may introduce to stimulate demand.
Ford shoots for bamboo in car interiors
Ford also says it is testing bamboo - a strong natural material - for use in a composite material with applications in vehicle interiors.
The company says that 'soon' some surfaces inside vehicles could be made from a combination of bamboo and plastic to create 'super hard material'.
"Bamboo is amazing," said Janet Yin, a materials engineering supervisor at Ford's Nanjing Research & Engineering Centre. "It's strong, flexible, totally renewable, and plentiful in China and many other parts of Asia."
Bamboo grows to full maturity in just two to five years – compared to up to decades for other trees – which means it also regenerates easily.
Ford says bamboo performs comprehensively better than other tested synthetic and natural fibres in a range of materials tests, from tensile strength tests to impact strength tests. It's also been heated to more than 212 degrees Fahrenheit to ensure it can maintain its integrity.
Ford uses several sustainable materials including:
Kenaf, a tropical plant in the cotton family, is used in the door bolsters of Ford Escape
REPREVE fabric, made from recycled plastic bottles, diverts more than 5 million plastic bottles from landfill annually. Ford most recently introduced REPREVE in F-150
Post-consumer cotton from denim and T-shirts is used as interior padding and sound insulation in most Ford vehicles
EcoLon post-consumer nylon carpeting is used as cylinder head covers in Ford Escape, Fusion, Mustang and F-150
Recycled plastic bottles are becoming floor carpeting, wheel liners and shields in several vehicles including Ford Transit and C-MAX
Recycled post-consumer tyres are used in seals and gaskets
Rice hulls are used to reinforce plastic in Ford F-150 electrical harness
Soy-based foams are used as seat cushions, seatbacks and head restraints in Ford's North American vehicle lineup
Wheat straw is used in Ford Flex to reinforce storage bins
As far as 2020 is concerned much depends on prospects for the economy and measures that Beijing may introduce to stimulate demand.
Polestar eyes 'beyond-vegan' interiors
Geely and Volvo Cars owned EV sportscar brand Polestar is eyeing new ways to cut plastic content and lessen waste material with innovative natural and recycled source materials. Bcomp's revolutionary powerRibs and ampliTex technology "could turn natural fibres into lightweight and safety-conscious interior panels for future production models", the automaker said.
The composite utilises flax, which differs from many bio-materials as it is both ideal for use in crop rotation programmes and does not directly compete with food crops.
With up to 50 per cent reduction in overall weight and an 80 per cent reduction in plastic content compared to traditional interior panels, Bcomp enables a significant weight saving by being stronger and lighter than traditional plastics.
A 3D-knit material, well-known in the fashion and active footwear industries, can be used for seating surfaces to reduce waste and promote recycled material. A single thread is used to produce a three-dimensional individual component in its entirety and the base material is 100 per cent recycled yarn derived from PET bottles. Waste is removed in the production process since the material is made exactly to size with no offcuts.
Cork and fishing nets can be recycled for car interiors. Waste material from the cork manufacturing process and even whole bottle stoppers can be integrated into PVC interior componentry.
Recycled Nylon 6, derived from discarded fishing nets, can be turned into woven carpets and is gathered through an international collection network to infinitely regenerate this material and accept returned products from customers and consumers.
Polestar introduced a 'vegan' interior with its first 2 model.
As far as 2020 is concerned much depends on prospects for the economy and measures that Beijing may introduce to stimulate demand.
McDonald's coffee beans and headlamp housings
Every year, millions of pounds of coffee chaff – the dried skin of the bean – naturally comes off during the roasting process.
Ford and McDonald's say they can provide an innovative new home to a significant portion of that material. The companies have found that chaff can be converted into a durable material to reinforce certain vehicle parts. By heating the chaff to high temperatures under low oxygen, mixing it with plastic and other additives and turning it into pellets, the material can be formed into various shapes.
The chaff composite meets the quality specifications for parts like headlamp housings and other interior and under hood components. The resulting components will be about 20 per cent lighter and require up to 25 per cent less energy during the molding process. Heat properties of the chaff component are significantly better than the currently used material, according to Ford. This is the first time Ford has used coffee bean skins to convert into select vehicle parts.
"McDonald's commitment to innovation was impressive to us and matched our own forward-thinking vision and action for sustainability," said Debbie Mielewski, Ford senior technical leader, sustainability and emerging materials research team. "This has been a priority for Ford for over 20 years, and this is an example of jump starting the closed-loop economy, where different industries work together and exchange materials that otherwise would be side or waste products."

McDonald's is expected to direct a significant portion of its coffee chaff in North America to Ford to be incorporated into vehicle parts.
"Like McDonald's, Ford is committed to minimizing waste and we're always looking for innovative ways to further that goal," said Ian Olson, senior director, global sustainability, McDonald's. "By finding a way to use coffee chaff as a resource, we are elevating how companies together can increase participation in the closed-loop economy."
The collaboration with Ford and McDonald's is the latest example of the innovative approaches both companies take to product and environmental stewardship. The project also involves Varroc Lighting Systems, which supplies the headlamps, and Competitive Green Technologies, the processor of the coffee chaff.
Larger, curved screens
Jump into a new car today and you are almost sure to find a tablet-style touchscreen infotainment system positioned centre stage of the dash. It acknowledges that most of us no longer use maps to find our way around but expect the car to guide us to our destination and remain connected throughout the journey. For example, the Volvo XC90 comes loaded with semi-autonomous and connected car features, most of which are displayed on an intuitive centre console touchscreen.
As with most new technologies, what starts in the luxury market often trickles down the car segments. Inside the new Honda Civic, positioned at the top of the piano-black finish centre console - and drawing the eye as the push start is pressed - is a Honda Connect 2 seven-inch touchscreen, serving as the main point of contact to control the infotainment and climate control functions. This second-generation of Honda's infotainment and connectivity system incorporates Apple CarPlay and Android Auto integration.
Tomorrow's cockpits, according to Harman, will have more curved screens designed using OLED technology. The main advantage of an OLED display is that it works without a backlight, enabling it to blend into the interior.
Screens are becoming larger, too. The Tesla Model S features a huge 17-inch screen. But that is just the tip of the iceberg. China's Byton has debuted its first concept car. A notable feature of the electric SUV is a colossal 49-inch screen stretching the width of the dash.
Whether or not such high-tech wizardry will actually make it onto the road, the above concepts demonstrate the direction the auto industry is taking.
Voice recognition
While giving instructions in our cars is nothing new, putting questions to the likes of Alexa and Cortana while on the road is. Automakers are fast adopting virtual assistants, confirming that speech is becoming the preferred interface for tomorrow's cockpit.
Voice recognition is seen by some as the answer to eliminate many controls that have traditionally been manually operated. Voice can play an important part of a multimodal HMI solution for inputting information or for cutting through layers on the menus by requesting a function directly. Traditional voice control was centred on a set of fixed commands with catatonic responses which required some level of driver training prior to operation of the system. With the advent of the new low power, high performance microprocessors, smarter voice command engines linked into the HMI logic are now available. Even natural language and grammatical analysis are becoming more achievable.
Voice recognition, although already an option, looks set to play a bigger role as cars gradually become more autonomous.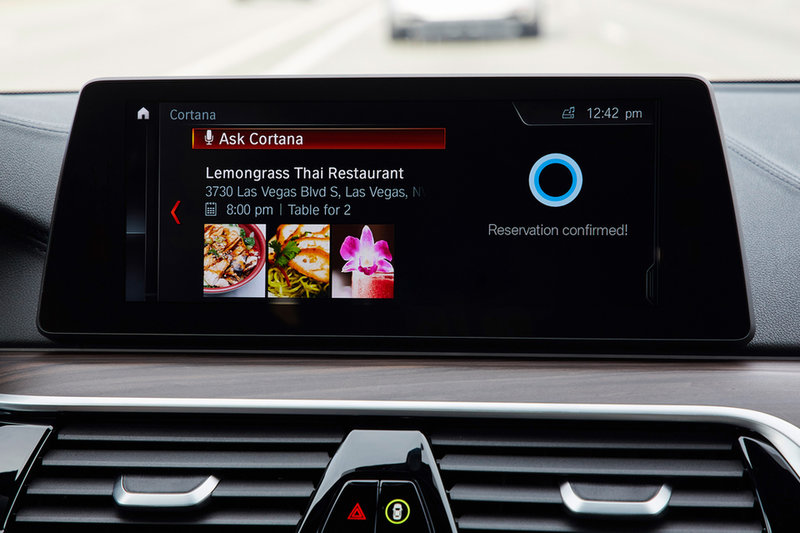 If in doubt, ask: Microsoft's Cortana AI system forms part of BMW's Connected Car vision.
Gesture recognition
Looking down at a touchscreen (without haptic feedback) can be distracting. Gesture recognition is therefore said to be the Next Big Thing, regarded as the logical next step from touchscreens and buttons. Gesture control operates via a stereo camera within the cabin that can recognise certain hand movements for pre-programmed adjustments and functions. Rotating your finger clockwise at a screen could turn up the volume or a finger gesture could answer or decline a call. While such novelties will make life simpler for the driver, it should also simplify interior design and liberate space for storage options.
Interior lighting trends
Advances have also been made in the interior lighting department. Not so long ago, interior lighting consisted of central and side headliner lights, complemented by low-level ambient lighting located mainly in the cockpit area. Today, the accent has changed, thanks to widespread use of LEDs enabling personalisation of car interiors. For example, during night time driving, the Mercedes-Benz E-Class takes on an entirely different feel thanks to the ambient interior LED lighting that can be personalised using a palette of no fewer than 64 colours. It really does start to feel like a cockpit, adding illuminating highlights to the trim, the central display, the front stowage compartment on the centre console, handle recesses, door pockets, front and rear footwells, overhead control panel and mirror triangle.