Renault and the 'circular economy'
Groupe Renault and the Ellen MacArthur Foundation - an organisation that promotes the 'circular economy' - have renewed their commitment to the circular economy.
A circular economy is based on the principles of designing out waste and pollution, keeping products and materials in use, and regenerating natural systems. The point is, it starts from first principles in product design and flows through the various stages of the product's lifecycle. Renault says that for vehicles, it can transform end-to-life parts and vehicles into a resource for the production and maintenance of vehicles, with a view to reducing the overall consumption of raw materials.

The circular economy designs out waste and promotes sustainability by moving away from linear models of manufacturing and consumption that lead to the waste of natural resources.
British yachtswoman Ellen MacArthur's foundation promotes the adoption of circular manufacturing and consumption practices across multiple economic and industrial sectors. A number of corporations have become involved in circular projects.
Renault claims it is the first carmaker to have developed an industrial system that will enable it to meet expected future mobility needs in the context of increasingly scarce natural resources. Renault claims it proves the benefit of implementing circular economy practices, generating EUR0.5bn of revenue per year from recycling and remanufacturing operations.
Renault makes a priority of replacing raw materials, based on natural resources, by "secondary" materials, made from recycling. The company says it leads the way on the use of recycled plastics on its vehicles. The use of recycled plastics is increasing from generation to generation, due to greater availability and the constant search for new applications.
Renault's eco-design policy also extends to creating repairable vehicles that it says are 'easy to dismantle and contain recyclable or recoverable materials'.
As far as 2020 is concerned much depends on prospects for the economy and measures that Beijing may introduce to stimulate demand.
'Short-loop recycling'
Renault says it works to create "short recycling loops" that brings recycled materials into conformity with the specifications of the automotive industry. The "looping the loop" approach to recycling can be done on an almost infinite basis since it preserves the material capital of all the parts of a vehicle.
The short-loop set up by Renault includes for example the copper recycling. The wire bought back from the dismantlers of end-to-life vehicles by Gaïa is processed to recover the copper. It is then re-sold either to the Fonderie de Bretagne (Groupe Renault) for the production of pearlitic cast iron or to auto suppliers for aluminium processing. Renault says the copper recycled by Gaïa is of a high-quality, enabling it to meet demanding technical specifications and to replace raw or post-industrial material.
As far as 2020 is concerned much depends on prospects for the economy and measures that Beijing may introduce to stimulate demand.
Partnership with the Ellen MacArthur Foundation
Groupe Renault and the Ellen MacArthur Foundation have embarked on a series of commitments to the circular economy. Both partners believe in the benefits of transitioning from a linear economic model to a circular economy in order to preserve natural resources and ecosystems and secure the long-term future for companies like Renault.
Jean-Philippe Hermine, Groupe Renault's Vice President of Strategic Environmental Planning, said: "We are delighted to be renewing our partnership with the Ellen MacArthur Foundation. We have been working together for seven years and are now exploring how to embed circular economy in our international operations. Some of Renault's future projects include studies into extending our European remanufacturing model into other regions of the world, such as India, Brazil, Morocco and China, as well as continuing its deployment over the lifecycle of electric vehicle batteries and new mobility solutions."
Dame Ellen MacArthur, Founder of the Ellen MacArthur Foundation said: "Renault was involved right from the beginning of the Foundation's journey - when the circular economy was just emerging as a coherent framework. Since then, Renault has put a circular economy approach into practice, demonstrating the economic rationale through many examples. I am delighted that Renault will be continuing this journey with us."
Renault says its experts engage regularly speak and meet with members of the Ellen MacArthur Foundation to seek out new technical solutions, processes and circular economic models, to liaise on strategic planning and the group's rollout of the Competitive Circular Economy programme, as well as raising awareness among employees and shareholders.
As far as 2020 is concerned much depends on prospects for the economy and measures that Beijing may introduce to stimulate demand.
As far as 2020 is concerned much depends on prospects for the economy and measures that Beijing may introduce to stimulate demand.

Larger, curved screens
Jump into a new car today and you are almost sure to find a tablet-style touchscreen infotainment system positioned centre stage of the dash. It acknowledges that most of us no longer use maps to find our way around but expect the car to guide us to our destination and remain connected throughout the journey. For example, the Volvo XC90 comes loaded with semi-autonomous and connected car features, most of which are displayed on an intuitive centre console touchscreen.
As with most new technologies, what starts in the luxury market often trickles down the car segments. Inside the new Honda Civic, positioned at the top of the piano-black finish centre console - and drawing the eye as the push start is pressed - is a Honda Connect 2 seven-inch touchscreen, serving as the main point of contact to control the infotainment and climate control functions. This second-generation of Honda's infotainment and connectivity system incorporates Apple CarPlay and Android Auto integration.
Tomorrow's cockpits, according to Harman, will have more curved screens designed using OLED technology. The main advantage of an OLED display is that it works without a backlight, enabling it to blend into the interior.
Screens are becoming larger, too. The Tesla Model S features a huge 17-inch screen. But that is just the tip of the iceberg. China's Byton has debuted its first concept car. A notable feature of the electric SUV is a colossal 49-inch screen stretching the width of the dash.
Whether or not such high-tech wizardry will actually make it onto the road, the above concepts demonstrate the direction the auto industry is taking.
Voice recognition
While giving instructions in our cars is nothing new, putting questions to the likes of Alexa and Cortana while on the road is. Automakers are fast adopting virtual assistants, confirming that speech is becoming the preferred interface for tomorrow's cockpit.
Voice recognition is seen by some as the answer to eliminate many controls that have traditionally been manually operated. Voice can play an important part of a multimodal HMI solution for inputting information or for cutting through layers on the menus by requesting a function directly. Traditional voice control was centred on a set of fixed commands with catatonic responses which required some level of driver training prior to operation of the system. With the advent of the new low power, high performance microprocessors, smarter voice command engines linked into the HMI logic are now available. Even natural language and grammatical analysis are becoming more achievable.
Voice recognition, although already an option, looks set to play a bigger role as cars gradually become more autonomous.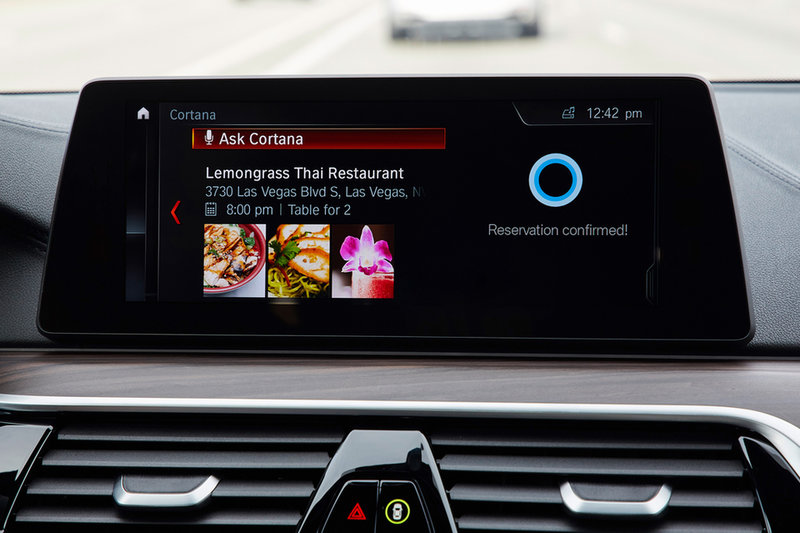 If in doubt, ask: Microsoft's Cortana AI system forms part of BMW's Connected Car vision.
Gesture recognition
Looking down at a touchscreen (without haptic feedback) can be distracting. Gesture recognition is therefore said to be the Next Big Thing, regarded as the logical next step from touchscreens and buttons. Gesture control operates via a stereo camera within the cabin that can recognise certain hand movements for pre-programmed adjustments and functions. Rotating your finger clockwise at a screen could turn up the volume or a finger gesture could answer or decline a call. While such novelties will make life simpler for the driver, it should also simplify interior design and liberate space for storage options.
Interior lighting trends
Advances have also been made in the interior lighting department. Not so long ago, interior lighting consisted of central and side headliner lights, complemented by low-level ambient lighting located mainly in the cockpit area. Today, the accent has changed, thanks to widespread use of LEDs enabling personalisation of car interiors. For example, during night time driving, the Mercedes-Benz E-Class takes on an entirely different feel thanks to the ambient interior LED lighting that can be personalised using a palette of no fewer than 64 colours. It really does start to feel like a cockpit, adding illuminating highlights to the trim, the central display, the front stowage compartment on the centre console, handle recesses, door pockets, front and rear footwells, overhead control panel and mirror triangle.