News round-up: A selection of news developments impacting automotive electrification
"At the first-ever Detroit auto show, Henry Ford said he was working on something that would strike like forked lightning," said Bill Ford, executive chairman, Ford Motor Company. "That was the Model T. Today, the Ford Motor Company is proud to unveil a car that strikes like forked lightning all over again. The all-new, all-electric Mustang Mach-E. It's fast. It's fun. It's freedom. For a new generation of Mustang owners."
Ford says it brought the Mustang Mach-E to life through a development process concentrated entirely on customer needs and desires. The result, it claims, is a sleek, beautiful SUV that delivers spirited ride and handling, with connected vehicle technology that makes Mach-E even better over time.
When it arrives in late 2020, Mustang Mach-E will be available with standard and extended-range battery options with either rear-wheel drive or all-wheel drive powered by permanent magnet motors. Equipped with an extended-range battery and rear-wheel drive, Mach-E has a targeted EPA-estimated range of at least 300 miles, Ford says. In extended-range all-wheel-drive configurations, Mach-E is targeting 332 horsepower and 417 lb.-ft. of torque – with the standard all-wheel-drive variation targeting quicker times to 60 mph than the base Porsche Macan series.
Ford also will offer two special performance versions. The GT is targeting 0-60 mph in under 4 seconds, making it faster off the line than a Porsche Macan Turbo3. The GT Performance Edition, meanwhile, is targeting a comparable 0-60 mph in the mid-3-second range to a Porsche 911 GTS.3 Both GT configurations are targeting an estimated 342 kW (459 horsepower) and 830 Nm (612 lb.-ft.) of torque.
GM pioneering wireless battery management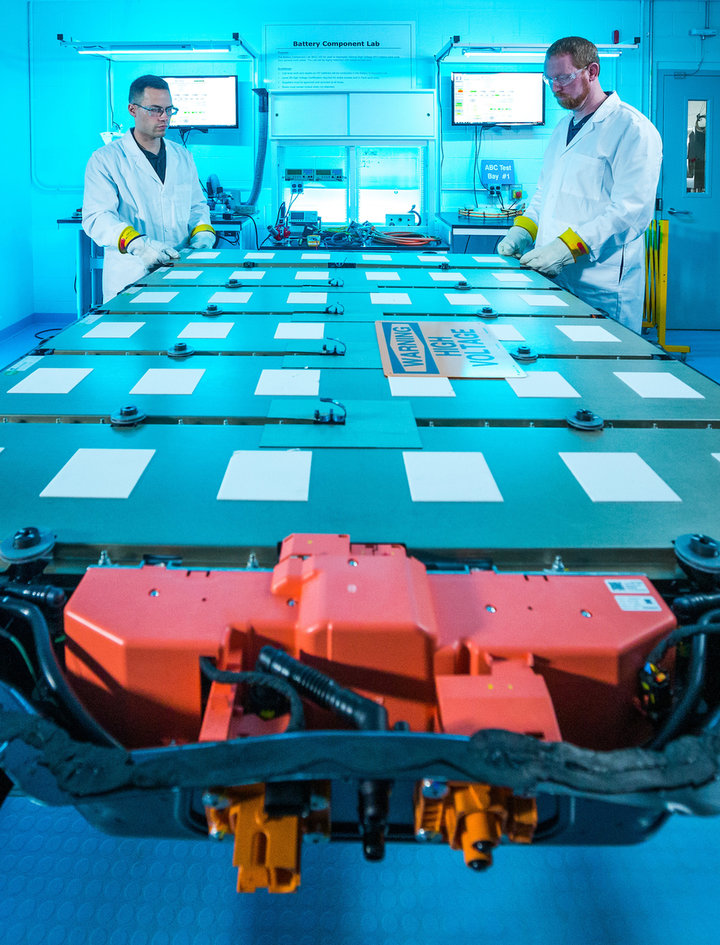 General Motors said it would be the first automaker to use an almost completely wireless battery management system, or wBMS, for production electric vehicles.
The wireless system, developed with Analog Devices, would allow it ultimately to power many different types of electric vehicles from a common set of battery components, the automaker said.
The wBMS is expected to help GM get its Ultium-powered EVs on sale faster, as time won't be needed to develop specific communications systems or redesign complex wiring schemes for each new vehicle. Instead, the wBMS helps to ensure the scalability of Ultium batteries across a future model line, for different brands and vehicle segments, from heavy duty trucks to performance vehicles.
Much like the pack design of the Ultium batteries, which is flexible enough to incorporate new chemistry over time as technology changes, the wBMS' basic structure can easily receive new features as software becomes available. With expanded over the air updates provided by the automaker's new Vehicle Intelligence Platform, the system could be upgraded with new software based features via smartphone style updates.
"Scalability and complexity reduction are a theme with our Ultium batteries – the wireless battery management system is the critical enabler of this amazing flexibility," said Kent Helfrich, GM executive director of global electrification and battery systems. "The wireless system represents the epitome of Ultium's configurability and should help GM build profitable EVs at scale."
The wBMS will help GM's electric vehicles balance chemistry within the individual battery cell groups for optimal performance. It can also conduct real-time battery pack health checks and refocus the network of modules and sensors as needed – this helps safeguard battery health over the vehicle's lifespan.
By reducing wires within the batteries by up to 90%, the wireless system can help extend charging range by creating lighter vehicles overall and opening extra room for more batteries. The space and flexibility created by this reduction in wires not only enables a cleaner design, but also simpler and more streamlined battery restructuring as needed and more robust manufacturing processes.
This wireless system also provides a unique repurposing capability for battery reuse in secondary applications more easily than conventional wired monitoring systems. When the wireless packs lose capacity to the point where they are no longer ideal for optimum vehicle performance, but still functional as consistent power supplies, they can be combined with other wireless battery packs to form clean power generators. This can be done without a redesign or overhaul of the battery management system traditionally required in second life usage.
GM said its wireless battery management system is protected by cybersecurity measures that are a foundation of the company's new electrical architecture or vehicle intelligence platform. The DNA of this system includes protective features within the hardware and software layers, including protection of wireless communications.
The wireless battery monitoring system will be standard on all planned GM vehicles powered by Ultium batteries.
Renault/Nissan ink EV MoU with Uber
Renault and Nissan, within their Alliance, have signed a Memorandum of Understanding (MoU) with Uber with the aim of electrifying its customers' journeys in Europe.
The companies will now explore a partnership to provide partner drivers on the Uber App with affordable electric vehicles in European markets, notably in the UK, France, Netherlands and Portugal. It follows a successful pilot between Nissan and Uber in the UK.
The MoU between the companies was announced as part of Uber's announcement to become a zero-emission mobility platform. By 2025, 50% of kilometres driven on Uber's platform in aggregate across seven European capitals (Amsterdam, Berlin, Brussels, Lisbon, London, Madrid and Paris) will be in electric vehicles.
This will mean riders will be able to select a zero-emission vehicle in cities representing 80% of Uber European business by the end of 2021.
Through the MoU, the companies will now explore how working together can accelerate the adoption of electric vehicles and the electric ecosystem in European cities, including efforts to:
Offer partner drivers on the Uber App access to Renault and Nissan electric vehicles: Renault ZOE and Nissan Leaf and future new EVs from both companies
Extend the UK pilot into France by the end of 2020, with a view to scaling the programme to the Netherlands, Portugal and other markets
Launch joint marketing and education plans to promote the electric vehicle offers and benefits to Uber's partner drivers and offer test drives to allow them to experience the cars
"This MoU with Uber is an acknowledgement of our ability to [conquer] new markets and to support professionals in their energy transition," said SVP, Electric Vehicles & Mobility Services, Groupe Renault, Gilles Normand.
"Today, we capitalise on our competitive advantage: an attractive EV-offer that contributes to large scale electric mobility roll-out. We have worked closely with local authorities over the past years to propose solutions to the growing challenges facing cities: transportation, decarbonisation and air quality.
"With the signature of this MoU we aim to join our forces to accelerate the movement."

Hyundai Motor announces Ioniq EV brand
Hyundai has announced the launch of a new Ioniq brand dedicated to battery electric vehicles. Previously it was a model line nameplate.
Under the Ioniq brand, Hyundai will offer customer centric EV experiences centered on connected lifestyle solutions in line with Hyundai's vision of 'Progress for Humanity'.
The brand will introduce three new models over the next four years with more to follow.
"The creation of Ioniq brand is in response to fast-growing market demand and accelerates Hyundai's plan to lead the global EV market," the automaker said in a statement.
"The Ioniq brand will change the paradigm of EV customer experience," claimed Wonhong Cho, EVP and global chief marketing officer at Hyundai Motor Company. "With a new emphasis on connected living, we will offer electrified experiences integral to an eco-friendly lifestyle."
Hyundai first introduced the term Ioniq, which fuses "ion" and "unique", when it announced Project Ioniq, a long term research and development project focused on eco friendly mobility. Based on the project, in 2016 it introduced a vehicle named Ioniq which offers three electrified powertrain options - hybrid electric, plug-in hybrid and battery electric within a single body type, so far, unique in the industry.
Now, said HMC, "Ioniq represents Hyundai's growing commitment to sustainability and innovation and will be instrumental in achieving the company's clean mobility goals".
Hyundai will launch a range of numerically named EVs under the new brand, with the even numbers used for sedans and odd numbers for SUVs.
The first will be the 5 midsize CUV in early 2021, based on the concept 45 which Hyundai unveiled at the 2019 Frankfurt show.
The 6 sedan will follow in 2022, based on the EV Prophecy concept unveiled in March, followed by the 7, a large SUV, in early 2024.
Ioniq brand models will sit on an electric global modular platform, known as E-GMP, that will "enable fast charging capability and plentiful driving range".
The EV-dedicated platform will allow Hyundai to reimagine the vehicle interior as smart living space with highly adjustable seats, wireless connectivity and unique features such as a glove box designed as drawers. User interfaces will be simple, intuitive and ergonomically designed to help occupants feel at ease.
HMG recently announced it aims to sell 1m units BEVs and take a 10% share to become a leader in the global EV field by 2025.
HMC aims to become the world's third largest automaker of eco-friendly vehicles by 2025, with 560,000 BEV sales in addition to FCEVs.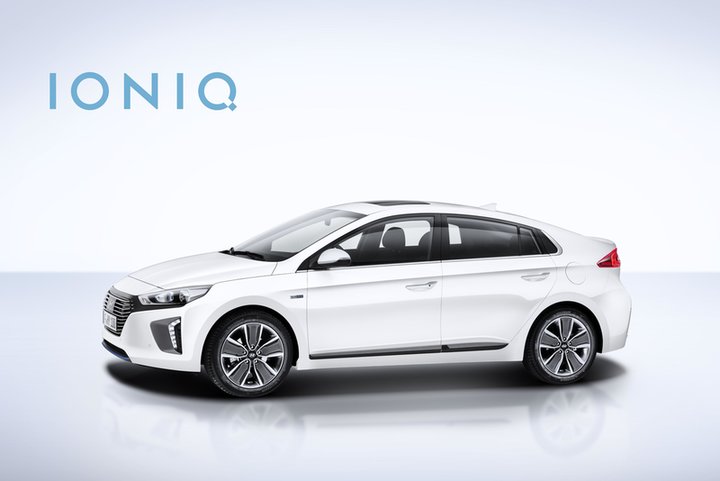 Amazon orders 1,800 e-vans from Mercedes
Amazon has announced it is adding more than 1,800 electric vehicles from Mercedes-Benz Vans to its delivery fleet in Europe this year.
Amazon and Mercedes-Benz say they share a commitment to reduce emissions from the transportation sector, and Mercedes-Benz also announced it has joined The Climate Pledge, which calls on signatories to be net zero carbon across their businesses by 2040 — a decade ahead of the Paris Agreement goal of 2050.
"We welcome the bold leadership demonstrated by Mercedes-Benz by signing up to The Climate Pledge and committing to ambitious action to address climate change. We need continued innovation and partnership from auto manufacturers like Mercedes-Benz to decarbonize the transportation sector and tackle the climate crisis," said Jeff Bezos, Amazon founder and CEO. "Amazon is adding 1,800 electric delivery vehicles from Mercedes-Benz as part of our journey to build the most sustainable transportation fleet in the world, and we will be moving fast to get these vans on the road this year."
"At Mercedes-Benz, we have set ourselves the ambitious target to make the transformation of mobility a success story. By joining 'The Climate Pledge' we are building on our goal to consistently pursue emission-free mobility and sustainable vehicle production," said Ola Källenius, Chairman of the Board of Management of Daimler AG and Mercedes-Benz AG.
"We stand with Amazon, Global Optimism and the other signatories of The Climate Pledge, in a commitment to being net zero carbon by 2040 – ten years ahead of The Paris Agreement. I am pleased that we will be able to gain even more momentum on our sustainability offensive with this step."
As part of Mercedes-Benz's commitment as the latest signatory of The Climate Pledge, the company says it is doubling down on its commitment to "Ambition 2039," a roadmap to CO2-neutral mobility. The company is evaluating ways to remove carbon from its entire value chain, from development to the supplier network, from its own production to the electrification of products and beyond, as well as to ensuring renewable energies for the use phase of electric vehicles. With its goal to have a CO2-neutral fleet of new cars in less than 20 years, Mercedes-Benz is making an important contribution to slowing climate change. The company is already making good progress in this direction: By the end of this year, the vehicle portfolio will comprise five fully electric models and more than 20 plug-in hybrids. Signatories to The Climate Pledge also have the opportunity to share access to technologies, best practices and innovations in supply chain enhancements. They are also able to co-invest in new technologies and emerging solutions.
Largest ever order of e-vans for Mercedes
Amazon's Delivery Service Partners will have access to the new fleet of zero-emission vehicles to make deliveries to customers in Europe this year, helping to save thousands of metric tons of carbon. The order is a milestone for Mercedes-Benz Vans, marking the largest order of electric vehicles for the manufacturer to date, and makes Amazon its largest sustainable transportation partner worldwide. More than 1,200 EVs in the order will be comprised of the newest electric commercial van available at Mercedes-Benz – the eSprinter, a larger model than the manufacturer's first zero-emission vehicle, the eVito. The eSprinter includes state-of-the-art safety features including, electrical parking brake, active brake assist, reverse camera, blind spot assist, and more. The remaining 600 vehicles will be comprised of the manufacturer's midsize electric van, the eVito, to give Delivery Service Partners operating in geographies that require a smaller-format vehicle access to a zero-emissions delivery option.
"I am delighted that we are further intensifying our long-standing partnership with Amazon and working together on the battery-electric future of transportation," said Marcus Breitschwerdt, Head of Mercedes-Benz Vans. "With the eVito and the eSprinter, we have electric vehicles in our portfolio, which are ideally suited for the requirements of the courier-, express- and parcel-service industry for goods delivery on the so-called 'last mile' in terms of their equipment and range. They show that local emission-free driving, convincing performance, comfort and low operating costs can be combined perfectly."
"Amazon's investment is a strong and concrete sign of its commitment and alignment to EU priorities," said Fabio Massimo Castaldo, Vice President at the European Parliament. "Amazon continues to contribute to the achievement of the EU Green Deal goals, foster technological innovation and generate resilient and sustainable jobs in Europe. I hope that other corporations will follow Amazon's example in the near future."
Amazon is also committed to powering its growing electric fleet with clean energy. As part of The Climate Pledge, Amazon is investing in renewable energy as a critical step toward addressing our carbon footprint globally and has committed to run on 100% renewable energy by 2025. Globally, Amazon has 91 renewable energy projects that have the capacity to generate over 2,900 MW and deliver more than 7.5 million MWh of energy annually. These projects include 31 utility-scale wind and solar renewable energy projects and 60 solar rooftops on fulfillment centers and sort centers around the globe.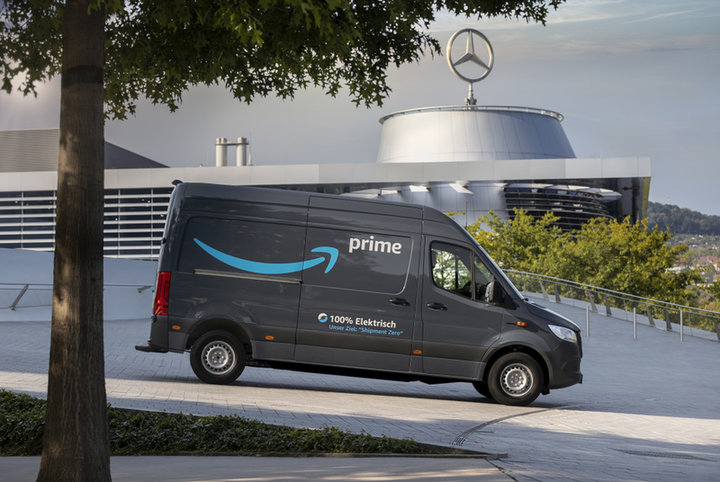 Volkswagen reveals ID.4 interior
Volkswagen has revealed the interior of its new electric ID.4 SUV.
It said the new model has "ample space, purist design, high effect lighting and sustainable upholstery materials [and] is a modern feel-good lounge that opens up the new character of the brand's first fully electric SUV to all the senses".
The first vehicles will be delivered before the end of 2020. The ID.4 will be built in Europe, China and, later, the US.
VW designers took a new approach to the cabin because the compact electric drive frees up more space. Design chief Klaus Zyciora said "the ID.4 brings a new sense of space to its category thanks to the new MEB platform, our modular electric drive matrix".
Exterior door handles are flush with the body and unlock electrically. Driver and passengers access through large door openings and benefit from a high seating position while the rear seat bench is claimed to offer as much space as a larger conventional SUV. Luggage volume is 543 litres with the rear seat backrests upright.
The dash panel seems to be floating, as it is not linked to the centre console which has been designed as an independent component. A large, tilting panoramic glass sunroof is optional. Background lighting can be adjusted within a 30 colour spectrum. Zyciora claims the entire display and operating concept has been designed logically: "the intuitive operability brings a new, electric ease to the crossover SUV category".
ID. Light is a new feature in all models – a light strip below the windscreen. Intuitive lighting effects in different colours signal to the driver the drive system is active and the car has been unlocked or locked. It accentuates information from driver assist and navigation systems and signals braking prompts and incoming phone calls. In conjunction with navigation, it helps to guide drivers through traffic: by blinking, it recommends a lane change and can also warn if the car is in the wrong lane.
In the ID.4 1ST Max limited edition model, which will be available in Germany at launch, the seats have been approved by the German campaign for healthier backs (AGR). They have electrical adjustment and pneumatic lumbar support with massage function. Two future limited edition models will have seat covers made from animal-free materials. They are constructed of a combination of leatherette and ArtVelours – a microfibre material that consists of around 20% recycled PET bottles.
Interiors will come in colours called Platinum Grey and Florence Brown. The steering wheel, steering column, the housings of the display and control panels in the doors are in Piano Black or Electric White.