Overview: 2020, the year electric cars sparked to life
This year will, of course, chiefly be remembered for the impact that COVID-19 has had on automotive markets and the industry. However, as car markets recover and factories restart, electrification is turning out to be a resilient industrial trend that may turn out to be a relative 'winner' from the crisis. We review the latest developments.
Even before COVID-19 came along, investment trends in automotive meant that electric vehicles and associated advanced technologies were at a relatively advanced stage and relatively (compared say, to autonomous drive) close to providing a consistent return on investment. As some areas see a cut or pause in investment, electric vehicles seem to be more resilient and protected. The technology is production ready and there is a proven - if nascent - market for such vehicles.
Fully electric cars still account for a small percentage of the global light vehicle market – it was around 2.5% in 2019, but we are at the very beginning of the EV cycle. Today, there are around three million electric vehicles on the world's roads, but this could rise to 300 million by 2040. This implies EVs, as a proportion of new registrations of the world's passenger vehicles, will rise to more than 15% by 2030.
Large scale commercial production of EVs by the big car makers is unlikely to take off until 2025. This presupposes that there will be a continued fall in the cost of lithium-ion batteries, the industry's current technology of choice. Presently, batteries account for around 50% of the cost of battery electric vehicles (BEVs), far in excess of the most complex internal combustion engine (ICE) which can account for anywhere between 25% and 40% of a vehicle's bill of materials (BOM).
Strategic partnerships are becoming a key way for automotive companies to navigate the new world of mobility as they move outside of their traditional core competencies.
Strategic partnerships are becoming a key way for automotive companies to navigate the new world of mobility as they move outside of their traditional core competencies. The COVID-19 pandemic is providing an additional push as companies face cost pressures and balance sheet challenges. Ford and VW are already talking on an autonomous vehicle partnership and exploring ways to share VW's electric MEB EV platform.
Honda is working with GM. General Motors and Honda have agreed to jointly develop two new electric vehicles for Honda, based on GM's highly flexible global EV platform powered by proprietary Ultium batteries. The exteriors and interiors of the new EVs will be designed by Honda and the platform will be engineered to support the automaker's "driving character". Production of these Honda electric vehicles will combine the development expertise of both companies and they will be manufactured at GM plants in North America. Sales are expected to begin in the 2024 model year in the US and Canada.
In the battery field specifically, BMW had agreed a EUR4bn order with China's CATL for supply of lithium-ion batteries for the next decade. The German automaker then took the decision in November 2019 to increase this order to a total of EUR7.3bn. CATL is in the process of setting up a European production centre in Erfurt, Germany, from which BMW will receive the first production runs. This supplements BMW's contract with South Korea's Samsung SDI for EUR2.9bn worth of Li-ion cells.
To ensure BMW's batteries are made ethically – no doubt driven by the fact that child labour is sometimes used to extract cobalt for use in cell manufacture – it will source its own lithium and cobalt and then supply it to CATL and Samsung SDI for use in its batteries.
Tesla has long been tied to Japan's Panasonic for supply of the 18650 and 2170 cylindrical cells used in its cars. However, as the automaker has introduced a Chinese production line, it has now diversified its suppliers to include local giant CATL and established South Korean firm LG Chem to ensure it has enough cells to meet its lofty production ambitions.
Europe an EV growth pole
Select a caption afterwards
Europe is also emerging as a growth pole for electrified vehicles. At the light end of the spectrum are the electric motor assisted 'mild hybrids'. Mild hybrid versions of the Ford Puma and Fiat 500 are emerging as high volume sellers. Plug-in hybrids are now coming into the market in much bigger numbers (models such as the Ford Kuga, Volvo XC40) and with the capability to run for greater distances in electric-only mode – an increasingly attractive option as European regulators tighten up on city centre vehicle emission rules.
New registrations of pure electric cars (BEVs) in Europe (EU27) are running at around 4% of the total market and have more than doubled over year ago levels (they were around 55,600 units in the month of July 2020). BEV model offerings are proliferating with new to the market models such as the Peugeot 209, Mini Electric, MG ZS, Porsche Taycan and Skoda Citigo. The VW ID.3 is about to be launched, followed by the ID.4 SUV. While Tesla has experienced shipping delays to Europe, its Model 3 has been well received by European consumers.
As new product becomes available, governments are also tilting incentives towards greener cars as part of the recovery from the COVID-19 pandemic. There are scrappage incentives and tax policies designed to encourage more take-up of low-CO2 and, especially, electric vehicles. Emission-free motoring is seen as part of a broader desire for cleaner air in cities as economies get going again – one of the few positives that population lockdowns highlighted.
Our expectation that the electric vehicle market will not be significantly affected by coronavirus can be seen in our forecast for the sector made before and after the COVID-19 outbreak.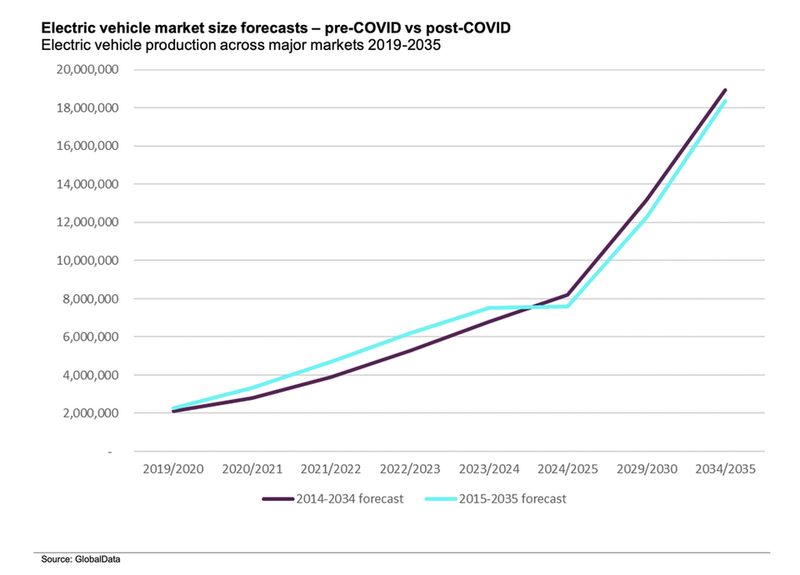 Our pre-COVID forecast (purple) predicted a gradual increase in the number of vehicles fitted with an electric powertrain. Growing from around two million in 2019 to nearly 19 million by 2034. Our revised forecast following the COVID-19 outbreak (light blue) tracks a similar trajectory, expecting around two million EVs built in 2020 and nearly 19 million by 2035.
There can be no doubt that electrified cars will make up an increasing proportion of new vehicles sold as pressure to reduce fossil fuel usage increases. GlobalData estimates that, in 2025, nearly 15 million electrified vehicles will be built per year, rising to 24 million in 2030 and 35 million in 2035.
This is backed up by the predicted growth in advanced batteries – encompassing those fitted to pure electric vehicles (BEVs), mild hybrids, full hybrids, 48V hybrids and plug-in hybrid electric vehicles (PHEVs). GlobalData expects that advanced batteries will be fitted to 34 million cars and light vehicles in 2025, increasing to 48 million in 2030. By 2035, 68 million vehicles produced annually will be fitted with advanced batteries, equating to a worldwide penetration of nearly 60% while, in Europe and China, penetration is likely to exceed 70%.
Despite the strong long-term prognosis, there are some concerns though. One is slower EV sales in China as subsidies were removed. Beijing is addressing that, but the New Energy Vehicle (NEVs – comprises plug-in hybrids and BEVs) sector has slipped back.
To reduce a car's weight, a well-trodden path is to replace steel with lighter materials.
Cobalt concerns
Another concern surrounds the supply chain and especially the possibility of difficulties due to short-supply of some important commodities or vital components. Cobalt, used in lithium-ion batteries, is a good example. Blockchain technology is being increasingly employed for greater visibility of complex battery supply chains.
Some companies are forming relationships for the very long-term to secure supplies of valuable commodities. The Volkswagen Group and China's Ganfeng Lithium have signed a memorandum of understanding on long-term lithium supplies for battery cells. Ganfeng will supply lithium to the VW group and its suppliers for the next decade. VW said the deal secured "a significant share of its lithium requirement for batteries".
Larger, curved screens
Jump into a new car today and you are almost sure to find a tablet-style touchscreen infotainment system positioned centre stage of the dash. It acknowledges that most of us no longer use maps to find our way around but expect the car to guide us to our destination and remain connected throughout the journey. For example, the Volvo XC90 comes loaded with semi-autonomous and connected car features, most of which are displayed on an intuitive centre console touchscreen.
As with most new technologies, what starts in the luxury market often trickles down the car segments. Inside the new Honda Civic, positioned at the top of the piano-black finish centre console - and drawing the eye as the push start is pressed - is a Honda Connect 2 seven-inch touchscreen, serving as the main point of contact to control the infotainment and climate control functions. This second-generation of Honda's infotainment and connectivity system incorporates Apple CarPlay and Android Auto integration.
Tomorrow's cockpits, according to Harman, will have more curved screens designed using OLED technology. The main advantage of an OLED display is that it works without a backlight, enabling it to blend into the interior.
Screens are becoming larger, too. The Tesla Model S features a huge 17-inch screen. But that is just the tip of the iceberg. China's Byton has debuted its first concept car. A notable feature of the electric SUV is a colossal 49-inch screen stretching the width of the dash.
Whether or not such high-tech wizardry will actually make it onto the road, the above concepts demonstrate the direction the auto industry is taking.
Voice recognition
While giving instructions in our cars is nothing new, putting questions to the likes of Alexa and Cortana while on the road is. Automakers are fast adopting virtual assistants, confirming that speech is becoming the preferred interface for tomorrow's cockpit.
Voice recognition is seen by some as the answer to eliminate many controls that have traditionally been manually operated. Voice can play an important part of a multimodal HMI solution for inputting information or for cutting through layers on the menus by requesting a function directly. Traditional voice control was centred on a set of fixed commands with catatonic responses which required some level of driver training prior to operation of the system. With the advent of the new low power, high performance microprocessors, smarter voice command engines linked into the HMI logic are now available. Even natural language and grammatical analysis are becoming more achievable.
Voice recognition, although already an option, looks set to play a bigger role as cars gradually become more autonomous.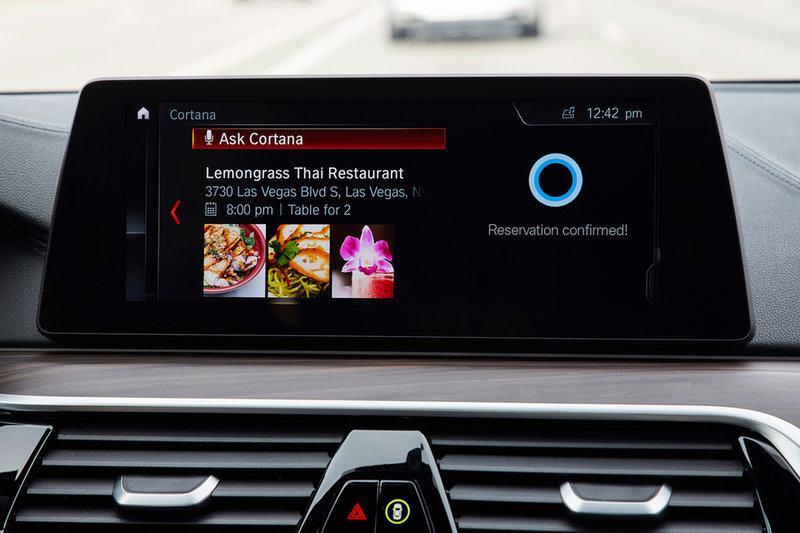 If in doubt, ask: Microsoft's Cortana AI system forms part of BMW's Connected Car vision.
Gesture recognition
Looking down at a touchscreen (without haptic feedback) can be distracting. Gesture recognition is therefore said to be the Next Big Thing, regarded as the logical next step from touchscreens and buttons. Gesture control operates via a stereo camera within the cabin that can recognise certain hand movements for pre-programmed adjustments and functions. Rotating your finger clockwise at a screen could turn up the volume or a finger gesture could answer or decline a call. While such novelties will make life simpler for the driver, it should also simplify interior design and liberate space for storage options.
Interior lighting trends
Advances have also been made in the interior lighting department. Not so long ago, interior lighting consisted of central and side headliner lights, complemented by low-level ambient lighting located mainly in the cockpit area. Today, the accent has changed, thanks to widespread use of LEDs enabling personalisation of car interiors. For example, during night time driving, the Mercedes-Benz E-Class takes on an entirely different feel thanks to the ambient interior LED lighting that can be personalised using a palette of no fewer than 64 colours. It really does start to feel like a cockpit, adding illuminating highlights to the trim, the central display, the front stowage compartment on the centre console, handle recesses, door pockets, front and rear footwells, overhead control panel and mirror triangle.