Deals activity in the automotive sector weak in 2022
Deals activity by geography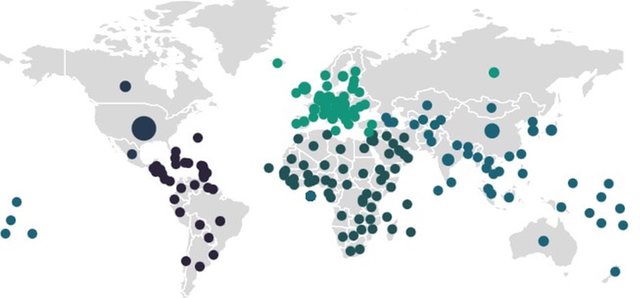 Perhaps unsurprisingly, given adverse global macroeconomic developments, deals activity in the automotive sector, as tracked and measured in GlobalData's deals database, is down so far this year – measured by both value and the volume of deals – in the major regions of North America, Europe and Asia-Pacific.
So far this year, North America leads on the volume of deals in the automotive sector, closely followed by Europe – which leads on overall deals value.

Deals activity by theme
Deals activity in automotive grouped by major thematic categories shows that activity is centred in areas of advanced and emerging technologies that are especially relevant to this vertical – especially batteries (electric vehicles) and the Internet of Things. E-commerce is also strong, indicating more interest in mobility as a service (MaaS) business models and greater uptake of in-car e-commerce technologies generally.
There are also strong showings for AI, robotics and digitalization – technological themes that will be shaping the long-term outlook for the industry's participant companies. Much of this activity has been in the supplier area of the industrial supply chain, but this year is seeing a strong showing for vehicle manufacturing and 'future mobility'.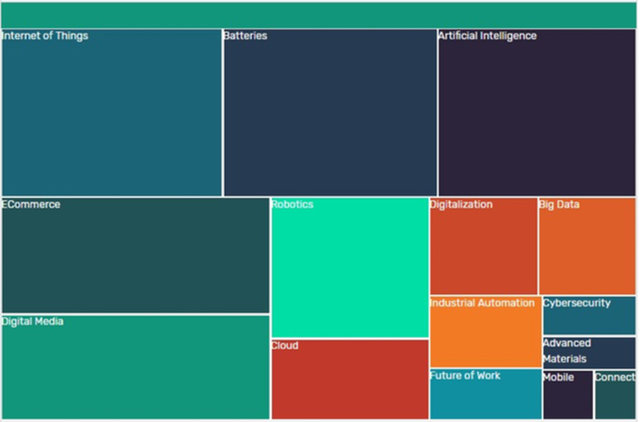 Deals by sector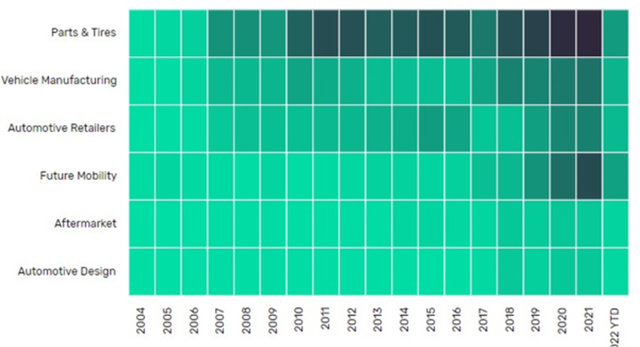 Note: All numbers as of 22 June 2022. Deals captured by GlobalData cover M&As, strategic alliances, various types of financing and contract service agreements.
For more insight and data, visit GlobalData's Automotive Intelligence Center
Latest deals in brief
Honda and Sony ink EV/mobility JV deal
Sony Group and Honda have signed a joint venture agreement to establish a new company to engage in the sale of high-value-added electric vehicles (EVs) and provide services for mobility.
Stellantis acquires car sharing unit from BMW and Mercedes
Stellantis's mobility and car sharing unit Free2move has signed an agreement to acquire car sharing company Share Now, a car sharing joint venture formed by Mercedes-Benz Mobility Group and BMW Group in 2019.
Renault and supplier ink battery casings JV MOU
Renault Group and supplier Minth Group have signed a memorandum of understanding for a joint venture to produce battery casings, based in France. The JV will locate this at the Ruitz plant in Renault ElectriCity.
Tata Motors to buy Ford India plant
Tata Passenger Electric Mobility Limited (TPEML), a subsidiary of Tata Motors Ltd, and Ford India Private Limited (FIPL), have signed a Memorandum of Understanding (MoU) with the Government of Gujarat (GoG) for the potential acquisition of FIPL's Sanand vehicle manufacturing facility. The MoU covers land and other assets at the Sanand facility. Under the agreement FIPL will operate its Powertrain manufacturing facilities by leasing back the land and buildings of the Powertrain unit from TPEML.
Geely to acquire 34% of Renault Korea Motors
Geely Automobile Holdings and Renault Group have reached an agreement under which Geely Auto will acquire 34.02% of the shares in Renault Korea Motors (RKM) through a capital increase mechanism.
Johnson Matthey sells battery materials business
Johnson Matthey announced the sale of part of its battery materials business to EV Metals Group, a global battery chemicals and technology business, for GBP50 million cash. Johnson Matthey will also receive a minority equity stake in EV Metals Group.
Hyzon Motors acquires Orten Betriebs and Orten Electric Trucks
Hyzon Motors, a supplier of zero-emissions hydrogen and fuel-cell powered commercial vehicles, has announced the signing of a definitive agreement to acquire Orten Betriebs GmbH and subsidiaries, and Orten Electric Trucks GmbH, German manufacturers of truck and trailer bodies for the beverage industry.
LG Chem in cathode materials JV with China's B&M
South Korea's LG Chem Ltd announced it has agreed to establish a joint venture to produce cathode materials for electric vehicle batteries (EVs) in partnership with Tianjin B&M Science and Technology (B&M), a battery materials producer controlled by China's Zhejiang Huayou Cobalt
Meritor buys Siemens CV unit
Meritor has agreed a deal with Siemens to acquire its commercial vehicles business for approximately EUR190 million in cash, adjusted for changes in working capital at closing.