Renault's
e-mobility boost
Renault shows hydrogen powered prototype
Renault says a hydrogen powered car based on the concept could be commercially available after 2030.
Renault has unveiled a hydrogen-powered car – the 'Scenic Vision'. The company says it embodies Renault's commitment to sustainable development and reflects the brand's plan to decarbonize its entire lifecycle.
Luca de Meo, Renault Group CEO said: "All our corporate commitments are not enough if we are not taking them all the way down to our vehicles. That's why I requested the Renault teams to come up with the 1st concept-car that fully embodies our new ESG strategy and its 3 pillars: environment, safety, and inclusion. We called it Scénic Vision. Scénic, like our iconic "voiture à vivre", and Vision because it fits people's new expectations."
Renault says eco-design and circular economy innovations, incorporating over 70% recycled materials, including several closed loops, and 95% recyclable, contribute directly to resource conservation.
Its hybrid electric and hydrogen powertrain aims to reduce downtime related to energy recharging while reducing the carbon footprint, including the battery. Renault Scénic Vision is zero emission in production and in use with a 75% smaller carbon footprint than a conventional battery electric vehicle.
Renault says the exterior reveals the shapes and style of a new all-electric family model that will be marketed in 2024.
The company says the hydrid electric and hydrogen powertrain, reflects Renault's desire to find solutions for all types of use and is part of a longer-term vision, beyond 2030. This design opens the way to new perspectives, that of a world where cars and people converge towards the same values.
Gilles Vidal, VP Renault Brand, Design, said the concept's exterior design previews a new electric car planned for 2024.
"Scénic Vision represents a new chapter in the history of Renault Group and for the brand. This concept prefigures the exterior design of the new Scénic 100% electric model for 2024 and the new Renault design language," he said. "The interior design is a forward-looking study of future Renault interiors. Scénic Vision provides a suite of technologies and innovations at the service of a more sustainable mobility."
There is also a collaboration with musician Jean-Michel Jarre. Scénic Vision sets the beginning of a close collaboration with Jean-Michel Jarre. The artist will be an ambassador of the Renault brand, working with the teams on future solutions to be included into the product lineup.
Some 70% of the materials used in the vehicle are recycled and over 95% of the vehicle is recyclable, including the battery.
The floor of the vehicle was composed by agglomerating plastic scraps from other sources (milk bottles, plastic pipes, etc.). On the whole vehicle, 30% of the plastic is biosourced. The vehicle's fittings are made of recycled carbon from the aeronautical industry.
Short loops are being deployed on strategic materials such as platinum, copper, aluminum and steel as well as the battery's minerals.
The leather is abandoned and replaced by 100% recycled low carbon polyester. The fuel cell tank is made of carbon fibre from recycled paper waste.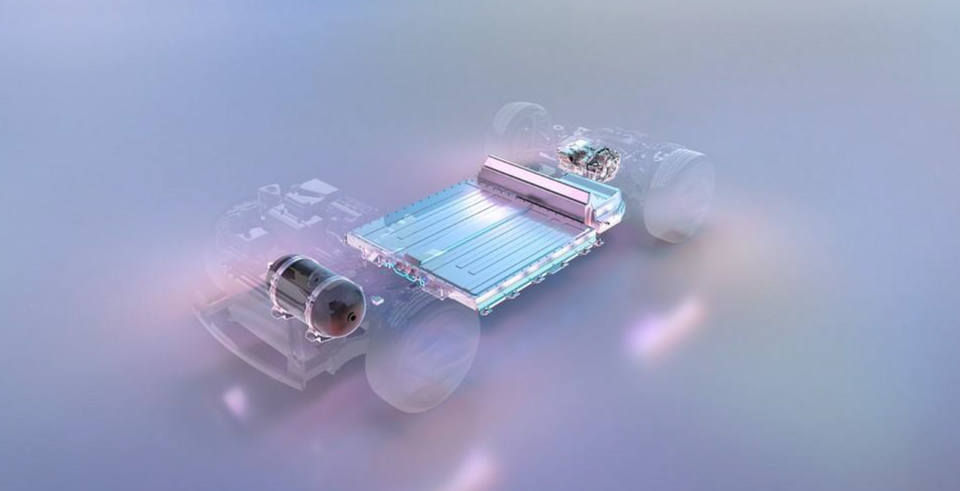 Powertrain: H2-Tech technology
H2-Tech technology means a hybrid vehicle, both electric and hydrogen, equipped with a 16kW fuel cell. The H2-Tech technology is based on the "range extender" technology, which makes it possible to carry a battery that is twice as light, for the same range, thus contributing to decarbonization beyond the electrification of the vehicle. Although this solution is a vision for a passenger car, Renault Group through Hyvia (joint venture with Plug Power) already offers H2 solutions on LCVs.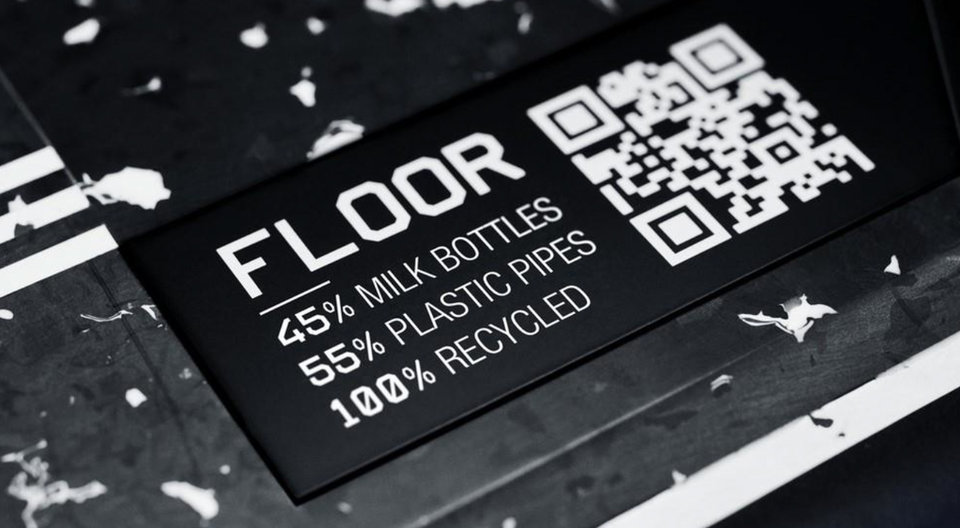 Timeline
Renault is targeting 2030 and beyond for this tech, once the network of hydrogen stations is large enough. It says by then you should be able to drive up to 800 km – or, for instance, 750 km from Paris to Marseille – without stopping to charge the battery. You will only have to stop for 5 minutes or less to fill the hydrogen tank.
Renault claims that following on from the partnerships already entered into, this vehicle has a carbon footprint that is 75% smaller than that of an electric vehicle such as the Megane E-Tech electric. Its battery is up to 60% less carbon intensive than an equivalent battery, thanks to the use of short loops and low-carbon sourcing of minerals, and the use of low-carbon energy to assemble and produce the battery.
GAC claims 'graphene-based' fast-charging battery breakthrough
Guangzhou Auto (GAC) Group says it has achieved a breakthrough in graphene-based fast-charging battery technology and that its vehicle model Aion V will be equipped with the new battery, which is to start production in September.
GAC says that in recent years, graphene, a new material with excellent electrical conductivity, has been the key to breakthroughs in battery technology.
Aion V, the first vehicle to be equipped with the new battery, underwent winter testing and is initially scheduled for mass production in September this year.
At the "2020 GAC Tech Day" held last July, GAC Group demonstrated its 3DG (three-dimensional graphene) production technology with independent intellectual property rights, solving the issue of high costs of graphene, it is claimed. It says the simple, stable, and efficient production method reduces costs to only one-tenth of the conventional method.

After achieving low-cost and large-scale production of graphene, GAC Group says it has also made major breakthroughs in the downstream application of its use. Among them, the electric vehicle industry is most interested in the graphene-based super-fast-charging battery. This graphene-based battery has a 6C fast charge capability, combined with a 600A high-power charger, can be recharged to 80% capacity in 8 minutes. GAC says the battery has also passed the most stringent safety test - Battery Shooting Test, possessing quality and reliability of the highest standard.
GAC says the graphene-based battery technology will significantly shorten charging time, as well as greatly extend battery life, solving the current "pain points" of pure electric vehicles.
VW 'Project Trinity' car to lift EV/AV strategy
Volkswagen says it is planning an electric car to be built in Wolfsburg from 2026 that will set new standards in terms of range, charging speed and digitization – and will be able to drive highly automated according to SAE Level 4.
The project for the car is named Trinity and stands for three crucial themes: (1) a newly developed electronics platform, (2) the simplification of the supply structure, and (3) fully networked and intelligent production at the main plant in Wolfsburg.
"Trinity is a sort of crystallization point for our 'Accelerate' strategy, a lighthouse project, our software dream car," says Ralf Brandstätter, CEO of the Volkswagen brand. VW says the newly developed vehicle architecture will set standards in terms of range, charging speed ("charging as fast as refuelling") and digitalization.
In addition, VW claims Trinity will make autonomous driving in the volume segment possible for many people. By the planned start of series production in 2026, VW says Trinity will already reach Level 2+ and be technically ready for Level 4. "We are using our economies of scale to make autonomous driving available to many people and to build a learning neural network. In this way, we are creating the conditions for the continuous exchange of data from our vehicle fleet – for example, on the traffic situation, on obstacles or on accidents," says Ralf Brandstätter.
VW claims that Trinity gives people time and saves them stress. After a long highway trip, for example, you arrive at your destination relaxed 'because you have been driven by a chauffeur to your vacation or to your home after work'.
"Trinity therefore becomes a kind of 'time machine' for our customers," says Ralf Brandstätter.
With the production of the series version, the Wolfsburg plant will become a showcase for an intelligent and fully networked production processes, VW says. "We will completely rethink the way we build cars and introduce revolutionary approaches. Digitalization, automation and lightweight construction play an important role here," says Ralf Brandstätter.
VW maintains that future vehicle models such as Trinity will be produced with considerably fewer variants, and the hardware will be largely standardized. The cars will then have virtually everything on board and customers will be able to activate desired functions "on demand" at any time via the digital ecosystem in the car. This will significantly reduce complexity in production, the company says.
By developing the automobile into a software-based product, Volkswagen says it is creating the conditions for new, data-based business models. Entry barriers to individual mobility are to be lowered while at the same time offering 'even more attractive usage packages'.
Volkswagen intends to generate additional revenue in the usage phase – for charging and energy services, for software-based functions that customers can book as needed, or for automated driving. "In the future, the individual configuration of the vehicle will no longer be determined by the hardware at the time of purchase. Instead, customers will be able to add functions on demand at any time via the digital ecosystem in the car," says Ralf Brandstätter.
VW says that all-electric vehicles are expected to exceed 70% of European and 50% of Chinese and US sales volumes by 2030.
Half Daimler suppliers commit to carbon neutral
Almost half of about 2,000 Daimler suppliers have signed an Ambition Letter of Intent and are committed to supplying only CO2 neutral parts, said Gunnar Guethenke, head of procurement and supplier quality for Mercedes-Benz Cars.
Under its 'Ambition 2039' plan, Mercedes-Benz wants to offer a CO2 neutral new car fleet in less than 20 years. The switch to electric mobility poses supply chain challenges because, compared to ICE vehicles, the production of an all-electric is twice as CO2 intensive, mainly because of the lithium-ion batteries. But, despite the higher energy demand for production, plug-in hybrids and electric vehicles offer a clear advantage in terms of CO2 emissions compared to conventional drives already today, since only when the entire life cycle of the vehicles is considered a realistic picture emerges: electric vehicles can make up for a large part of the initially higher CO2 emissions from the upstream value chain due to their emission-free driving.
R&D head Markus Schaefer said: "With the electric EQS luxury sedan, we have already achieved important milestones in close cooperation with our partners - for example by purchasing CO2 neutrally produced battery cells.
"When awarding contracts for our subsequent electric vehicle platform - Mercedes-Benz Modular Architecture (MMA) for compact and medium-sized cars - we are already applying CO2 as a key criterion."
The automaker said it was talking with all other suppliers to jointly develop strategies for CO2 reduction.
Climate-neutrality is incorporated into contractual terms, and the ambition letter is a key criterion for awarding contracts. From 2039 at the latest, only production materials which are completely CO2 neutral will be purchased and any supplier declining to sign the ambition letter will not be awarded new contracts.
Mercedes-Benz will additionally focus on materials and components that are particularly CO2 intensive in manufacturing and processing until 2039 - items such as battery cells, steel, and aluminium which account for about 80% of the CO2 emissions in the supply chain of a fully electric vehicle.
CATL (Contemporary Amperex Technology) and Farasis Energy have committed to supply battery cells that are produced using electricity from renewable sources such as hydropower, wind, and solar energy. This reduces the CO2 footprint of an entire battery by more than 30%. The rest of the supply chain will be included next.
The goal is to consistently reduce the use of primary raw materials for electric drives by 2030 and gradually increase the share of secondary and renewable materials in vehicles.
Mercedes-Benz plants, including the global battery production network, will produce on a CO2 neutral basis worldwide from 2022. This will make them role models for the supplier network. In line with plant procedure, suppliers are required to avoid and reduce emissions as a fundamental principle. Only then can compensation via high-value projects be considered. The areas of approach for climate-neutral production are diverse, and range from reducing consumption to purchasing energy from renewable energy sources.
The company aims to have plug-in hybrids or all-electric vehicles to make up more than 50% of its car sales by 2030. Other major goals include involvement in shaping the charging infrastructure and agreeing to specific CO2 measures with suppliers.
Volkswagen Group and BP launch strategic partnership
Volkswagen and energy giant BP have announced a strategic partnership that they say will boost the adoption of electric vehicles (EVs) across Europe. The pair have unveiled the first charger in Dusseldorf, Germany. The charger locations will be integrated into the navigation and other in-car apps of VW, Seat and Skoda vehicles as well as into Volkswagen's charging application, Elli, making it easier for drivers to find available charging points. Any EV driver will be able to use the new chargers as part of the bp pulse and Aral pulse network enabling all EV drivers to sign up and collect rewards from bp/Aral loyalty programmes.
Hertz to purchase up to 65,000 electric vehicles over five years
Hertz and Polestar have announced a new global partnership that includes purchasing up to 65,000 electric vehicles (EVs) over five years. Availability is expected to begin in mid-2022 in Europe and late 2022 in North America and Australia. Hertz will initially order the Polestar 2 model. The partnership with Polestar builds on Hertz's announcement last October to offer its customers the largest EV rental fleet in North America and one of the largest in the world. In addition to making the fleet available to its business and leisure customers, Hertz says it is extending EVs to rideshare drivers as a way to further accelerate electrification.
Honda and Sony ink EV/mobility JV deal
Sony Group and Honda have signed a joint venture agreement to establish a new company to engage in the sale of high-value-added electric vehicles (EVs) and provide services for mobility. The announcement follows the discussion of a mobility strategic alliance between the parties as announced back in March. The new company will aim to bring together Honda's environment and safety technology, mobility development capability, vehicle body manufacturing technology and after-sales service management experience, with Sony's expertise in the development and application of imaging, sensing, telecommunication, network and entertainment technology, to realize a new generation of mobility and services.
Another VW EV factory comes on stream
Volkswagen has expanded global production capacity for electric vehicles by making the ID.4 in Emden as well as Zwickau and Chinese plants in Anting and Foshan. Chattanooga and Hanover will also commence EV production this year. The company plans capacity for 1.2 million EVs a year based on the MEB platform. It spent EUR1 million converting the Emden plant (8,000 employees) to EVs. It is spending EUR21 billion in Lower Saxony up to 2026 to make the federal state Germany's centre for electric mobility.
Subaru to invest US$1.9bn in new EV plant, batteries
Subaru plans to spend JPY250bn (US$1.9bn) to build a dedicated electric vehicle (EV) factory in Japan and in-house (EV) battery manufacturing capacity over the next five years. The automaker plans to build a new EV production line at its main vehicle assembly plant in Gunma prefecture at a cost of JPY100bn with completion scheduled for 2027. Japanese automakers lag behind in the shift to electric vehicles with EV sales accounting for less than 1% of total vehicle sales in the country last year.